Have you ever wondered how to make glitter slime? It's actually incredibly easy to make with just 5 ingredients needed! We added a fun bubble gum scent and pink glitter to make this homemade slime perfect to gift as a party favor or just to have a fun kids activity any time of the year.
Glitter Homemade Slime Recipe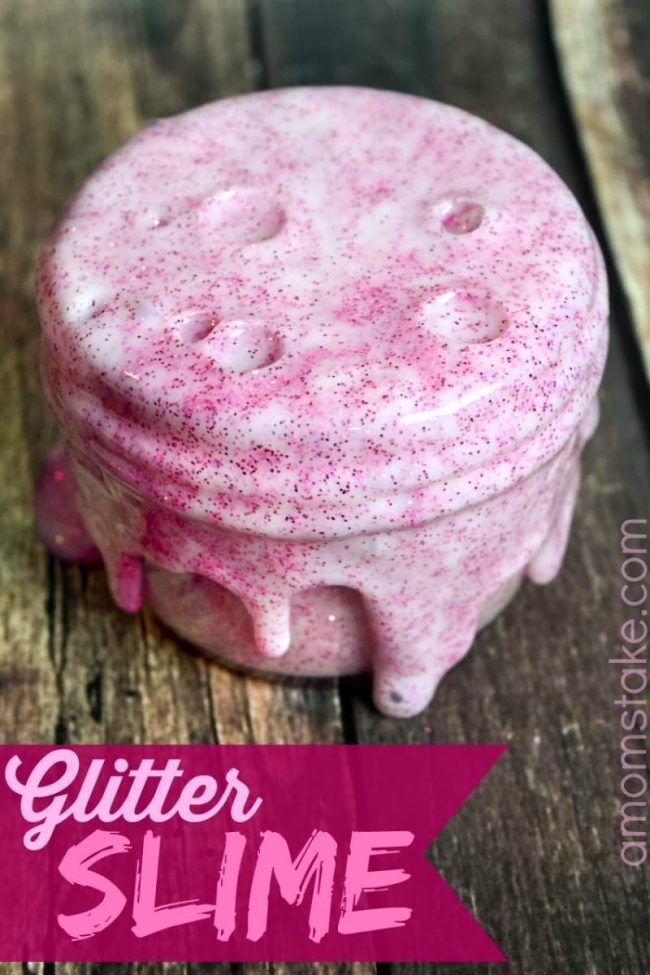 Supplies:
1 Tbsp Borax Powder
1 1/2 Cup Water
1 Bottle of White School Glue
Pink Glitter
Directions:
You can find Borax at your local grocery store, or pick up a box of Borax online. You can use it for so many different things around the home from laundry to cleaning so having a box on hand is a good idea, anyways.
Grab a medium sized mixing bowl and pour in the entire bottle of white glue into the bottom. Next pour 1/2 cup of water over the glue and stir it up until it's all mixed together.
Now grab a small sized mixing bowl and pour in 1 cup of water and 1 tablespoon of borax powder and stir up well. Set your small mixing bowl aside and focus on the medium size bowl for now.
Pour in a large amount of pink glitter and stir it together with your glue/water mixture. Once all the glitter is mixed in add about 20 drops of bubble gum fragrance oil and give it a quick stir. You could of course substitute this out of any other fragrance and make homemade slime with a different theme!
Now grab your small mixing bowl and pour the liquid contents into the middle of the glue/glittered mixture. Wait about 5 minutes for the mixture to become a solid form and dig your hands in there and start forming a ball.
You'll notice there is an excess amount of water in the bottom of the bowl that needs to be poured out in your sink. Keep squishing up the slime until you're happy with the consistency.
You can easily store the slime in a mason jar or a Ziploc baggie to help keep your homemade slime fresh. Finish this off as a party favor with a cute string wrapped around the mason jar and one of our free printable Bubbalicious Slime tags! These are going to make the most perfect party favors for any kids party and it also makes the perfect rainy day activity for the kids.
Who will you make this homemade slime recipe with?