With my first little one, I remember jolting out of bed in the middle of the night and running into peek on my four month old because his baby monitor was just too quiet. I hadn't heard a peep from him in three hours, he was typically up every two hours still at this point. I was sure something was wrong.. the monitor must be busted and not revealing his cries.. or surely he wasn't breathing. Of course, as I made it to my sons room he was perfectly fine and was completely sound asleep, until I busted into his room and woke him up.
Over the years, I've been able to upgrade our baby monitor as technology has advanced and move away from a sound only monitor to one that gives me peace of mind with a visual picture as well as sound. Thankfully, I've also relaxed a lot more as a parent, too. But I still find myself checking in on my boys throughout the day even though my youngest is now a toddler.
This is a sponsored post brought to you by VTech. All opinions are my own.
We have even used our baby monitor in some really creative ways, so I thought I would share a few other uses for baby monitors to consider when your baby is all grown up.
4 Other Uses for Baby Monitors
Playroom Monitor – We converted our garage into an insulated playroom. I absolutely love it because my boys can go out and play and my house is actually quiet for a good 15-20 minutes while they happily play. They leave the door to the garage open, but because of the space and insulation, their laughs and fights are muffled out a lot when I'm inside our home.
When I no longer needed a night monitor for my toddler, our monitor went right out into our playroom so I can keep an eye on my kiddos while I work on lunch in the kitchen. It lets me quickly see if I need to referee a fight or remind my boys the rule of only one bucket at a time to put out fires before they begin. It also lets me sneak a peek on precious and rare moments when my kids are happily playing as best friends and creating something together.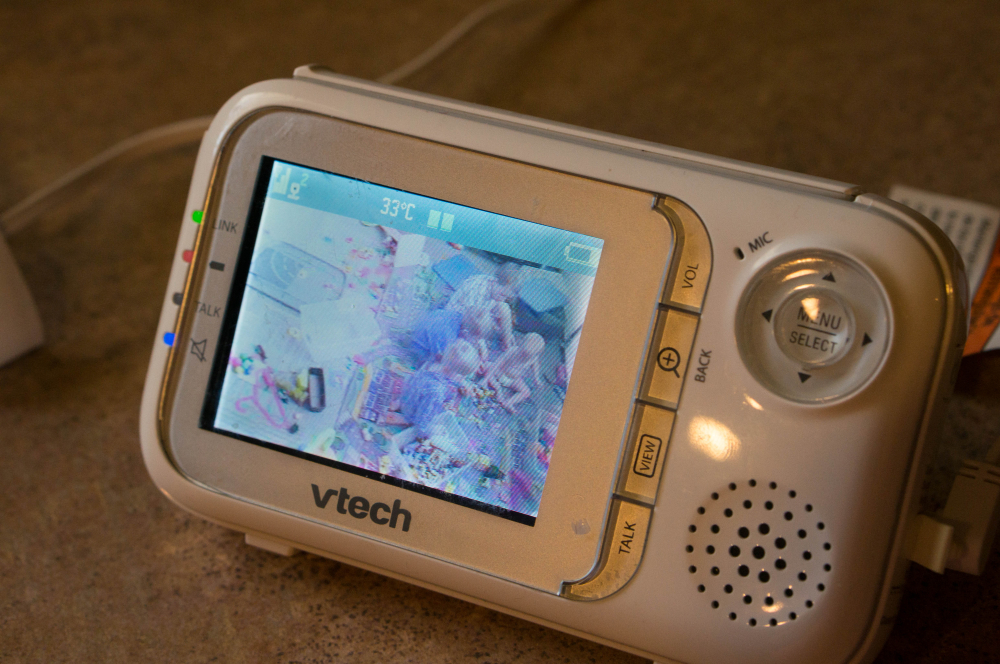 Front Door Protection – A baby monitor can be set up indoors facing your front door to give you peace of mind against invaders. It's a cost effective solution to home monitoring if you are ready to pass along your baby monitor for another use. As a bonus, it can also alert you if your kiddos are up and out of bed sneaking a midnight snack or trying to sneak out of the house.
Hide-n-Seek Game – My boys play this game all the time, no matter where our monitor is set up. If you have your monitor still mounted in a room, let one child hide in that room and then give the second child the parent unit and let them pan, tilt and zoom through the room trying to find their hiding sibling or friend. The VTech VM333 monitor has a 2-way intercom which lets the seeker announce when they've found the hiding child, which always leads to lots and lots of giggles.
Caring for the Sick or Elderly – When I was a teenager, my grandma was caring for her elderly widowed mother. Once a week or so, I would go over and visit and sit with my great-grandma to give my grandma a chance to get out of the house and run errands. I thought it was really neat that even way back then, about 15 years ago, my grandma would use a baby monitor to help her in caring for her mother. It gave her the peace of mind to know if something was wrong without needing to be with my great-grandma 24/7. This type of setup would also be extremely helpful when you have a sick child or a scenario where your loved one needs a bit more monitoring than you are able to offer non-stop.
Life never stops moving, every day I seem to pause for a second while looking at one of my boys or hearing something crazy one of them just said and realize how fast they are each growing up. Just this week, my youngest learned three new words. He finally has started saying "mama".
Of course, he could say mama before but whenever we asked him to, he'd giggle and say "dada" to get a big reaction out of us. He's turning out to be just like his father with a witty sense of humor. However this past week he's called me mama several times, it always makes me smile.
I've watched as my 7 year old stops to help one of his younger brothers fix a toy they've been working on or read a story to one of them and it completely melts my heart. My middle two boys are learning new letters and how to read which excites me as they gain new independence with these important skills. It's these moments that as a parent I'm so thankful to get to capture.
The VTech VM333 monitor comes with support for up to 4 cameras that can be monitored from a single parent unit. You can show all four cameras at once or cycle through the camera feeds every few seconds to see a larger view on the parent unit. This is such a neat feature when you want to monitor several rooms or children. You can also move the camera right from the parent unit with a pan feature that gives you a 270° view of the room side to side and some tilt up/down adjustments can be made as well. The camera has a 2x zoom when you need a closer look.
To learn more about the VTech VM333 monitor you can visit the VTech website.
Do you have any other uses for baby monitors?