This post was sponsored by Lunchbox. All opinions are my own.
I've been through many different baby monitors in my time as a mom of 4 boys and even before I had my own kids when I worked as a live-in nanny. Baby monitors have come such a long way since then, 10 years ago. My very first baby monitor had a huge handheld unit with a big tall antenna. It would making an annoying fuzzy noise all the time which made it hard to hear the baby. It had to be plugged in to work, no rechargeable battery unit at all. Of course, the monitor was sound operated only so I had to guess about what was going on or try to sneak into the room to check on the baby, which of course always woke him up.
Baby Monitors Full of Features!
VTech® has introduced their new VM333 Safe & Sound™ Pan & Tilt Full Color Video Baby Monitor that is now available at Walmart.com! It gives you the ability to connect up to 8 different cameras to one parent unit so you can check on all of your children or monitor their playroom and other areas of your home as your busy toddler heads to play all over the home. You can select the camera to view, split the screen to view them all at once, or select patrol mode which will rotate between your cameras every 7 seconds.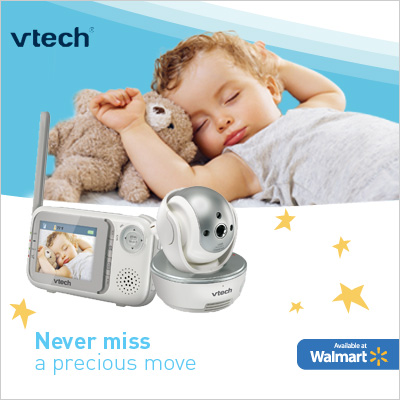 You can pan the camera using your handheld parent unit that acts as a remote to adjust your view 270 degrees side-to-side and as much as 124 degrees up and down. Or, use the zoom to get a closer view at 2x zoom.
This monitor is loaded with a whole bunch of other features, those two are just my very favorite! Best of all, VTech gives you all the top features without the high end price tag! You can find it at an everyday low price at Walmart stores locally and at Walmart.com.
My Thoughts on the Safe & Sound Baby Monitor
This video monitor is awesome! The picture is very clear both in daylight and in night mode. I was really impressed that it makes absolutely NO sound when your baby isn't fussy. There wasn't even a tiny bit of fuzzy, humming, or other noises from the monitor. Since my son is a year old and sleeps through the night most nights, I have the sensitivity set to it's lowest level so it will alert me to actual crying, not rolling over, sneezes, or even tiny fusses in his sleep. I love this! Now, I can be sure to go to him only when he really needs me rather than lay in bed at night staring at the baby monitor wondering if that little peep that came through meant my baby was awake.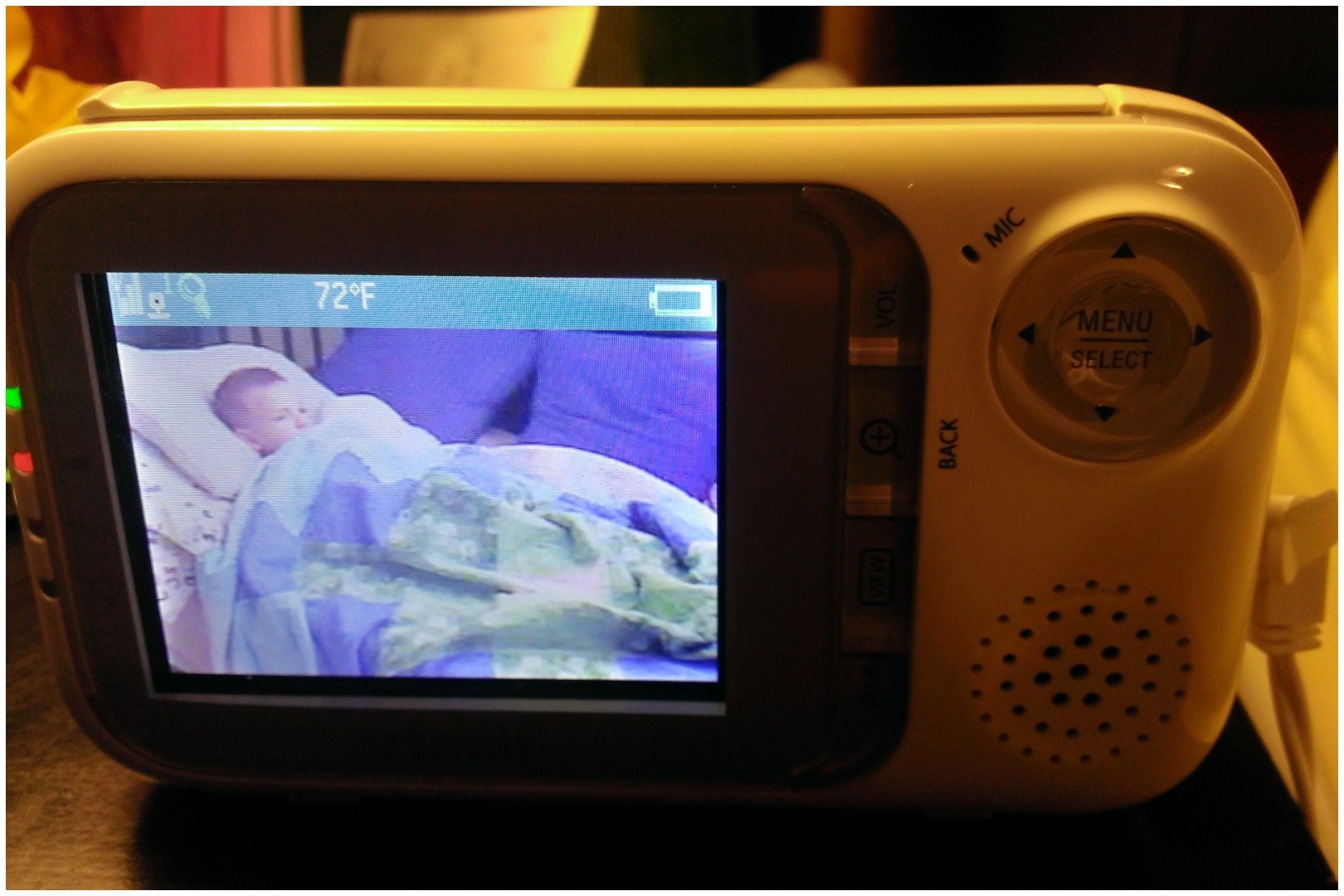 My one year old shares a room with his big brother who is five. Once in a while, I have wanted to be able to check in on him in bed as well, but didn't have the capabilities. Now, I can just pan the camera around to point at his bed and check if he's awake getting into things, playing or reading quietly in his bed like he's allowed to do, or see if he has finally drifted off to sleep.
Want to see an overview? Check out this quick video!
How does it compare to the baby monitors you have owned?