I received play sets in exchange for this post. All opinions are my own.
For my little girls first birthday we got her a play kitchen. I wasn't sure how much my kids would play with it, but I am pleasantly surprised that it has become our most played with toy. I have been on the look out for some cute and fun dishes for it. Right now they just have a cheap set of kids plastic kids plates just like the ones we use for their lunches and snacks, and they are constantly getting mixed up with our actual dishes. They all end up in the actual cupboard and not in their kitchen!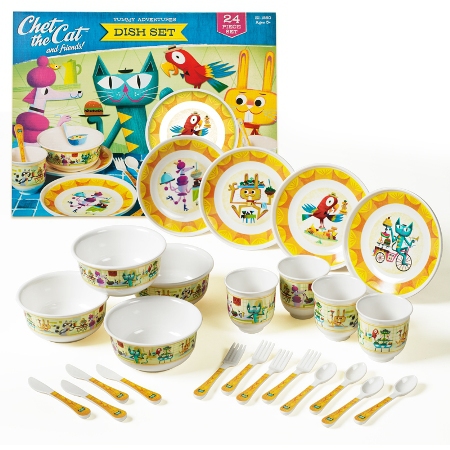 I was so excited to see the cute dishes by Educational Insights featuring Chet the Cat and Friends. These dishes are so cute and not cheesy! Your kids will love their new friends Chet the Cat, Parfait Poodle, Ready Rabbit, and Marv the Parrot. These little characters are colorful and charming.
All of the dishes and pieces are made of food grade melamine and are dishwasher safe. So if you choose to make the make believe picnic real or if your kids make that choice without you, you can just toss them in the dishwasher! They are the best!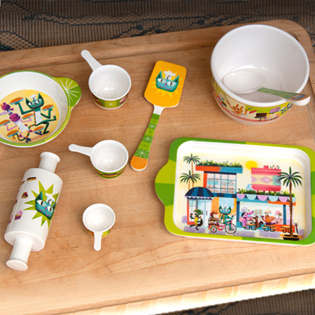 There are three different sets, the dish set, the cooking set, and the baking set. I think the baking set is my kids favorite, they love to use the cookie sheet as a serving tray, they bring me "lunch" all the time!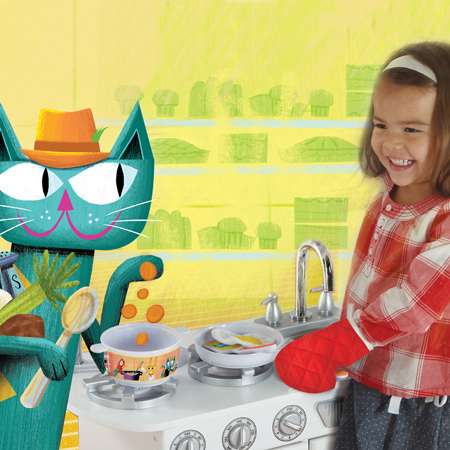 You can find all of these cute sets on Educational Insights or on Amazon. They retail for $21.99-29.99.