I LOVE having an organized and well kept home. However, the process of actually acquiring such a home often takes time and patience. Not to mention, once things are FINALLY organized, it can be hard to keep them organized. However, I've found that by undertaking one small organization project a week, my house is more likely to stay organized. This week's organization project includes the pantry! By following these 5 quick and easy pantry organization tips, you'll be wondering why you didn't clean out the pantry sooner!
Quick and Easy Pantry Organization
Clean and De-clutter: First, clean out the pantry and get rid of old food and things you no longer want or need. Take all items out and place them on the counters. Clean the whole pantry, inside and out, and make sure you haven't missed any hidden nooks and crannies. You don't want old food just sitting there, possibly smelling and definitely taking up space.
Zone and Organize: After your pantry is sparkling clean, you need to zone it. This means that you will place only certain items in that zone. For example, the top right shelf could be Zone One: The zone where you place baking items you rarely use. The upper left hand corner can be Zone Two: The zone where you will keep all canned goods. Do this for your entire cabinet until you have all food items zoned. Then, go to the food on your counter and organize it based on the zones you have created. Place all canned goods in one spot, all pastas and boxed dinners in another, and so forth until you have all the food organized.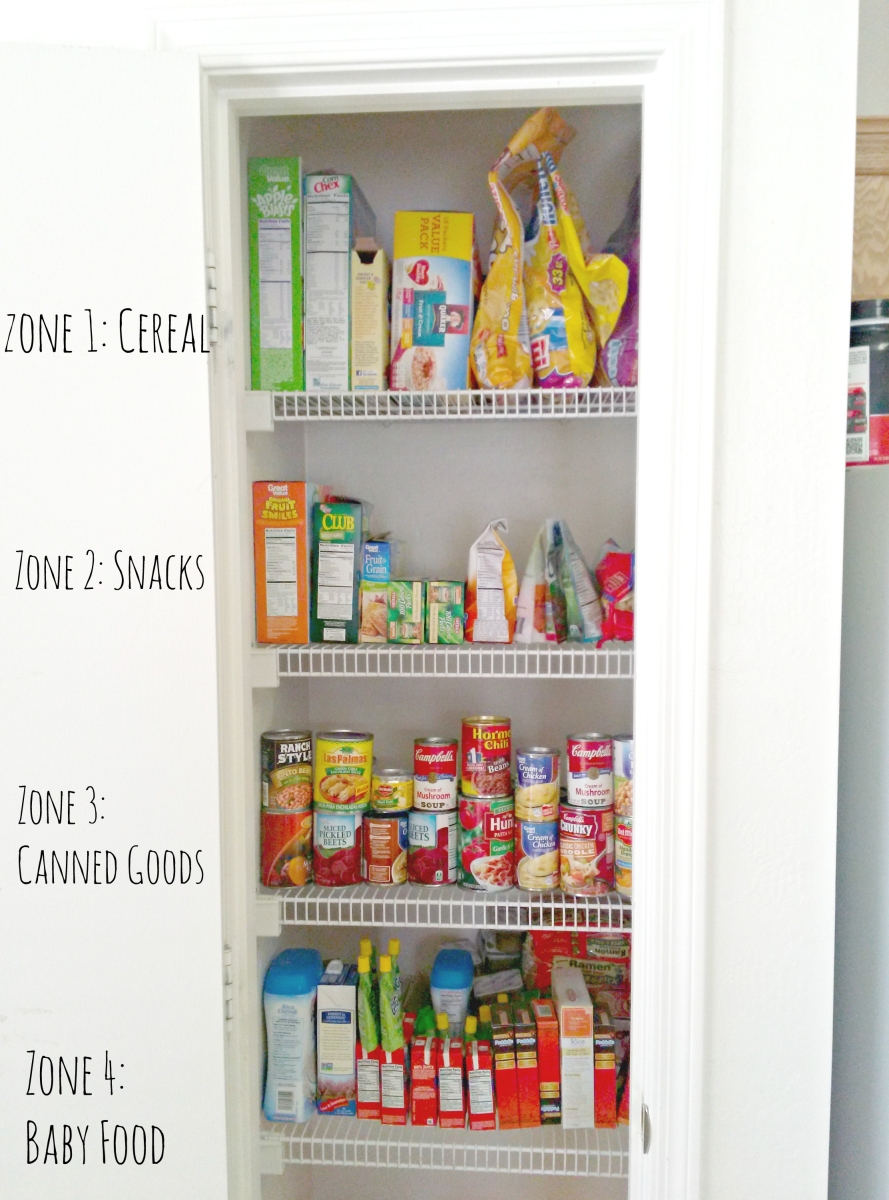 Label and Store: Next, place all the food in storage containers and label it. Clear containers are best. For example, cereals can be taken out of bulkier cardboard boxes and placed in slimmer clear containers. You can do this with all of your baking goods, pastas, chips, snacks, and other foods that won't perish too quickly as long as they are stored correctly. Label them all so that when they're low or empty you know what goes in them and you know when to buy. I'm still working on this portion of my pantry organization. Although this isn't mandatory, think of how organized your pantry will look with slim, clear containers.
Face and Front: Next, place all the items back in the cabinet based on the zones you have designated. Then, move the containers to the front so you're not tempted to shove things in the back where they can be lost or forgotten. Then, make sure all labels are facing forward so that you can find what you're looking for easily. By doing both of these things you will save yourself time and money when making a grocery list because you'll be able to clearly see what you need and what you don't need to purchase.
Preach and Practice: Once you're done, practice the system, keep things organized, and preach it to others in your home. Teach them the way to properly store and pace items in the pantry by the zones and containers listed, and then follow up often that they are doing it properly- and that you are, as well! A pantry can't stay organized unless you work to keep it so.
Now that your pantry is clean, it's time to organize other aspects of your life! No matter how organized you are, I guarantee that you have an abundance of random "things" that you value and care about. But where are these "things"? Sitting in the back of the cupboard? In the attic? Under the bed? What about all of the miscellaneous details surrounding these precious "things"? Do you have those documented somewhere? What if I told you that you could easily organize all of these valuable "things" in one place for FREE?
Thanks to Snupps, you can easily organize your collectibles, home furnishings, electronics, gadgets, documents, receipts, family keepsakes, etc. all in one place. All you have to do is simply take a picture of the item, write a brief description, and place it on a virtual shelf. Using your iPad, iPhone, or computer, you can easily access these photos and information 24/7. Whether you choose to keep these items private or share with a friend, Snupps provides protection and organization at its finest. Simple enough, right?
This is by far one of the coolest organization tips and tricks I've ever used. Before using Snupps, my counter-top was covered with various files containing important documents. However, because of the abundance of these files, I could never quickly find what I needed. By downloading Snupps on my iPad, all I have to do is take a picture of these files and store it on my virtual shelf. When I need these documents, I can find them within seconds. Not to mention, Snupps provides incredible protection in case of a home fire or break-in – all of my valuables are documented and organized to perfection. Let me show you the simplicity and effectiveness of Snupps.
Start by creating your virtual shelves. Rename these shelves to fit your valuables.
Now it's time to fill your shelves. All you have to do is simply take a photo of your item and fill out all known information concerning this item.
Fill your shelves with things that matter most and enjoy finding and viewing these items in an extremely organized manner.
Organize your life for FREE with Snupps App and Snupps Website. Trust me, you won't regret it!
In your home, how do you keep things organized?