It's no secret that space is not abundant in dorm room in most cases the budget for designing your special college room space is not abundant either. Here are some great ideas for crafting your own designs that will save you space and money, while adding your own special unique touch. I does not take much effort to design your craft projects to match the current color scheme and décor since each of the products below are completely customizable, you can even color coordinate your designs with your school colors.
Dorm Room Designs
Space Saving Study Space:
Photo Credit: Pinterest
Dorm roommates can each have their own space with this set up without taking up too much of it. Notice the great basket craft project that you can hand on the side of the shelving system. Leave no space unused and keep it organized all at the same time.
Organized Bathroom Space: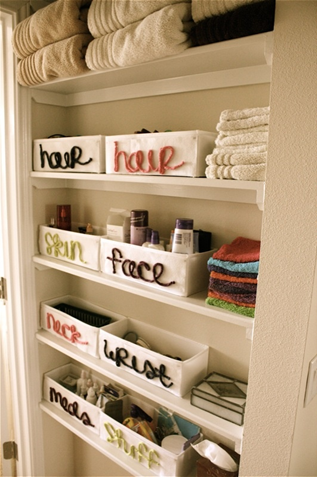 Photo Credit: Pinterest
This idea seems simple enough, but you may not think about it until you see it all organized here like this. You can make this out of tissue boxes, cover with paper or paint of your choice and then use yarn, ribbon, or any other crafting technique of your choosing to label all of your vanity supplies.
School Tools: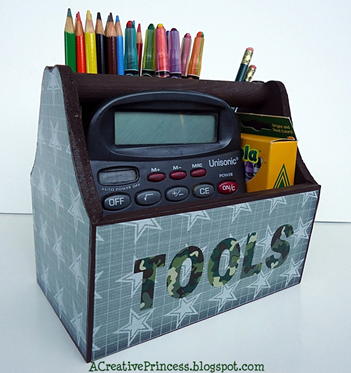 Photo Credit: A Creative Princess
Using wall paper or craft paper, you can cover a tool box and use it to organize your school supplies, you may not need the colored pencils or crayons like in this picture, but you can fit any number of supplies in an organized way that represents your style.
Office Supplies:
Photo Credit: Mod Podge Rocks Blog
This is a creative and inexpensive way to keep your desk organized and looking so cute. Believe it or not, these organizers are made from recycled cereal boxes and paper towel or toilet paper rolls! Just cover with your own choice of craft paper or gift wrap.
Magnetic Pencil Holder:
Photo Credit: Crafts by Amanda
This innovative idea is not only space saving because the magnet means your pencil holder does not have to take up space on your desk, but the creative way of labeling it. The secret is a high powered magnet glued to the wall that the aluminum can sticks to. Keep in mind, this does not have to be just for pens and pencils, depending on where you need to save space, you can use this to store your bathroom supplies, Q-tips, hair ties, jewelry, even your tooth brush and tooth paste so that counter space is saved in a very inexpensive way.
The Junk Drawer:
Photo Credit: Pinterest
Who doesn't have a junk drawer? What better way to organize all those little things that tend to get out of control all over the place!
This guest post is brought to you by RHL.org, leading online supplier of dorm bedding and essentials.