Pumpkin is one of the flavors that says fall the most!  This time of year it seems almost everything comes in pumpkin flavor.  These Mini Pumpkin Pie Bites are a twist on the traditional pumpkin pie and would be a delicious little treat for fall.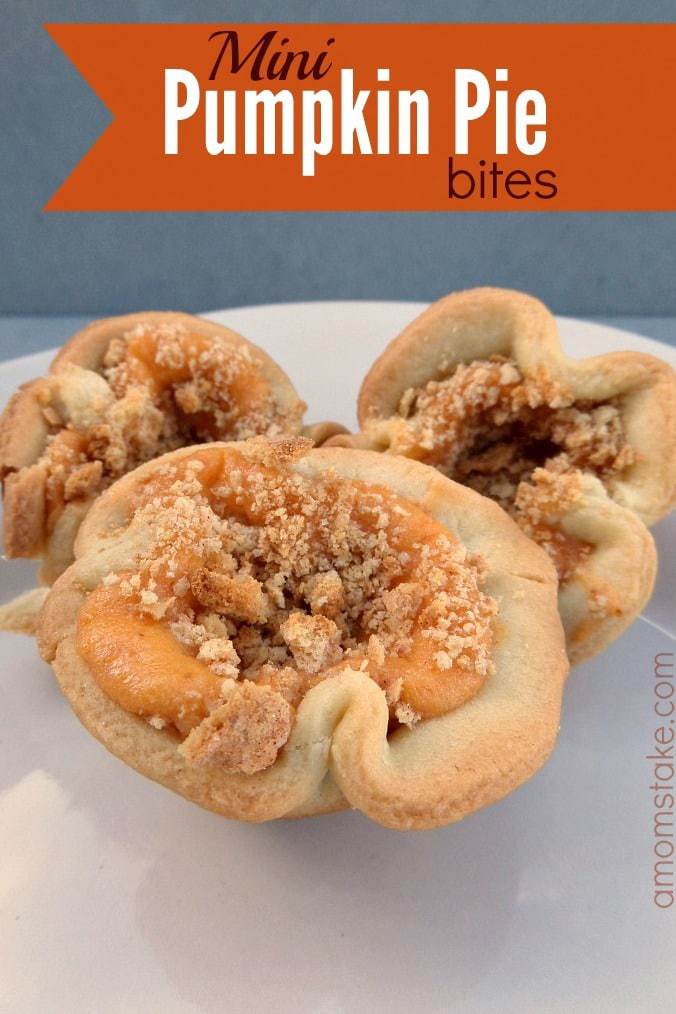 Mini Pumpkin Pie Bites
Ingredients:
½ cup Pumpkin Pie Filling
½ cup Cream Cheese
½ cup Powdered Sugar
Graham Cracker Crumbs
Instructions:
Preheat oven – you will preheat to the temperature according to baking instructions for the cookie dough.
In the bowl of your stand mixer, combine the pumpkin pie filling, the cream cheese, and the powdered sugar.  Mix on medium to high speed until you have a smooth and creamy consistency.  You can also add cinnamon and nutmeg to the filling for extra flavor depending on preference.
Roll your sugar cookie dough to approximately 1/8-1/4" thick.  You can use your favorite homemade sugar cookie recipe or choose refrigerated cookie dough from the store.  Cut dough into circles using a circle cookie cutter or a glass.  You should make the circles about 3".  Carefully press the cookie dough circles into a greased mini muffin pan or donut hole pan as shown.  The cookie dough makes a great crust that is a little sweeter than traditional pie crust.
Fill the cookie cups with approximately 1 tbsp of the pie filling. Sprinkle with graham cracker crumbs.
Bake in preheated oven for 5-8 minutes or until cookie dough crust is golden brown.
Remove mini pies from oven and allow them to cool in the pan for 10-15 minutes on a cooling rack.
Once pies have cooled, remove from the pans.
The mini pumpkin pie bites can be served warm or at room temperature.  Serve with ice cream, whipped topping, or alone for a delicious fall dessert.
What's your favorite pumpkin dessert?