I usually have an endless supply of cinnamon rolls in my fridge. Last week my kids were begging for cinnamon rolls for breakfast so I preheated the stove and went to the fridge to get the can. That's when I realized it was a can of crescent rolls, not cinnamon rolls! So, I decided to try to make my own!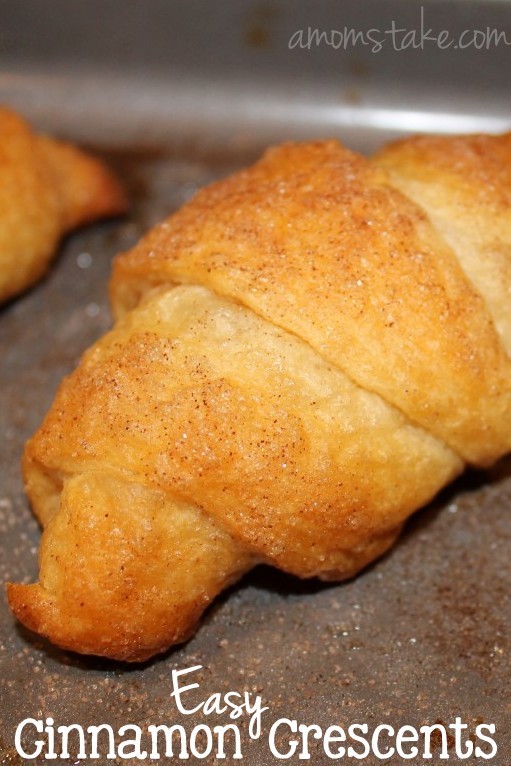 I'm sure this recipe has been invented at some point, so I am not taking credit for the idea. I have tried other recipes where I rolled different things into crescents like hotdogs, ham and cheese, cream cheese and chicken. This was the first dessert/breakfast I have made with them. So here is the simple recipe!
First make cinnamon sugar with 1 Tablespoon Cinnamon and 1/2 Cup Sugar. Then melt 1/4 Cup butter, margarine, or spread.
Open the crescents and brush with melted butter. Sprinkle cinnamon sugar over butter. Roll up crescents and repeat. (more butter and more cinnamon sugar)
Bake at 375 for 9 minutes. Easy right? They are so flaky and delicious! I have thought of a few variations since then. You can drizzle with frosting or chocolate, fill with cut up apples, mix cream cheese in with the cinnamon sugar, or even serve with Tabasco sauce like my 8-year-old! (I take no responsibility for the Tabasco Sauce outcome)
If you have any other ideas for variations please feel free to comment! I am going to try to post one super-easy recipe a week! I am actually a pretty good cook, but most of my creations don't have measurements so they would be a lot more complicated! Easy recipes are my favorite 🙂