The holidays are one of my favorite times of the year to be a parent. I love being a mom, but it is so fun to facilitate a little magic around the holidays and see your kids eyes light up. I love to spend time with my kids making crafts, watching movies, and drinking hot chocolate, but nothing tops curling up under the tree with a blanket and good book.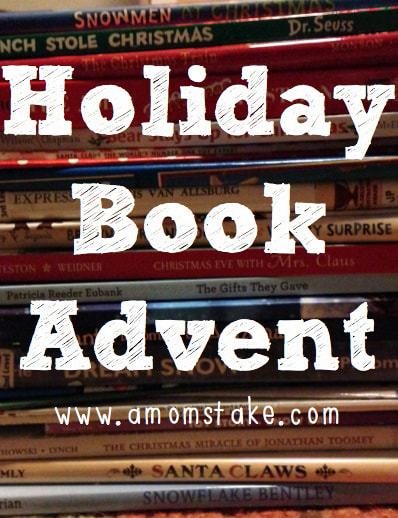 One of my favorite of our many traditions is our Holiday Book Advent. Each December I wrap of 25 of our favorite holiday books and we open one each night and read it before bed. It took me a few years to collect enough books. We have a good mix of holiday classics, santa books, nativity books, and even some board books for my chubby babies fingers! I like to add a few books each year and rotate through the books that are wrapped up.
Supplies needed:
25 of your favorite books
Leftover wrapping paper, tape, scissors
A good movie to watch while you wrap them up!
A basket to hold them under the tree (I am currently looking for a new, bigger basket for our books.)
You can number the books if you want, or put them in a specific order if you want them to align with other events or traditions. I personally just throw them in the basket and let the kids take turns picking one each night and opening it.
If you don't have that many holiday books wrap the ones you do and throw in some of your kids everyday favorites. After Christmas sales, garage sales, local thrift stores, or your local library book sales are great places to find used books that are in great shape for cheap! I also do searches every once and a while on Ebay or Amazon for used books at a great price. Most of my books were purchased one at a time over the years or from the book orders that I sent home with my students when I taught school.
We have classics like The Polar Express and The Grinch, but my current favorite Holiday book in our stash (this changes daily) is Santa Claus the World's Number One Toy Expert by Marla Frazee.
What is your favorite Holiday Book? I am always on the look out for new ones!