I received sample clothing in exchange for this post. All opinions are my own.
It is Cyber Monday! Have you already been shopping all morning? One of the items that is always on my holiday shopping list is baby clothes! Even when my own babies didn't need them it seems like there is always someone to buy cute baby things for. And if you are anything like me, buying baby clothes is almost as fun as a new baby!
This Cyber Monday check out Little Me for all the little people on your list! They have so many cute options for boys and girls and everything is 40% off, so you can't go wrong! There are a ton of cute footies and gown for newborns and a great selection of everyday wear. They even have awesome dressy options for your holiday events. Here are of few of my favorite finds from Little Me.
For Boys:
I am loving this Blue Santa Footie, perfect for Christmas Eve!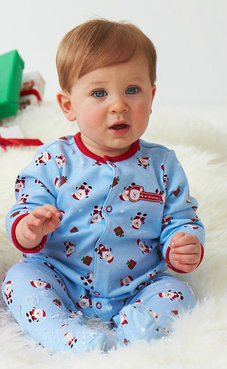 This Classic Navy Peacoat Set is to die for. Any little guy would be the most handsome in the room wearing this cute outfit.
And how snuggly and cute would your little man look in this High Flyer Set?
For The Girls:
I am so into stripes and polka dots for my little girl this season. This Barberry Flock Dress and Legging set is just too cute!
This Footie set proves you don't have to sacrifice fashion for comfort, that ruffle is the perfect touch!
I love the classic collar and cut of this dress! Just the right amount of Preppy for my girl!
Wether you have kids on your holiday list to scoop things up for or need a stash of to die for baby shower gifts, Little Me has it. Even better? Today they have it for 40% off!