A variety of samples were received for inclusion in this feature. All opinions are our own.
Back to school season is officially here! Whether you have a child starting Kindergarten or your sending one off to college for the first time or anywhere in-between, these fun back to school picks will help you get the school year off to the right start. We've picked out some favorites in style, tech, snacking, and play to help kick off the new school year.
Style for the New School Year
The first thing we often think of when getting ready for back to school after glue sticks and crayons is back to school style. If they are looking for ways to stand out from the crowd and show off their unique personality, these are perfect suggestions for a stylish new school year.
Dress the Part – For schools that require uniforms, French Toast is the perfect place to shop online for all their back to school needs. They offer a great selection of affordable uniform styles that are designed with kids and durability in mind. I'm a big fan of their bottoms that have adjustable waists and a second layer of fabric at the knees that keep my boys uniforms lasting through their whole school year. Their styles for girls with adorable skorts and jumpers give you variety to what might feel like a boring wardrobe. Best of all, many schools are linked to French Toast's website so your school can benefit from your purchase and you can browse their pre-selected colors and styles to make sure you are staying within the dress code.
Show Your Style – The easiest way to show your unique personality and style is with a pair of shoes! LightInTheBox.com in an online retailer with a huge variety of everything you could hope for during your back to school shopping, including a big variety of cook kicks! We picked out these two fun shoe styles that give my son something to wear for back to school everyday outfits and for his church and more dressed up attire. As you can see, he's already put in love on the sneakers! Visit LightInTheBox.com to check out all the unique products they carry.
Wear Your Ambition – Children will love the imagination that is sparked as they try on an Up Up Away Jacket! These absolutely adorable jackets have styles that boys and girls will love featuring favorite careers they may dream and aspire to grow up to be. Pick from a race car driver, space shuttle control, police officer, girl's rock and roll jacket, and many other awesome styles! Sizes range from 12 months up to a youth 14. Generally, jackets run one size smaller, so plan accordingly.
Relax and get comfy! After a long day of running around from classroom and across the school campus, there's no better way to start unwinding at the end of the day by slipping off your shoes and grabbing a comfy pair of slippers. Dearfoams Slippers give you that comfort while also having a range of cute styles to choose from all while being affordable. They have moccasin, thong, slip-on, and more styles to meet every preference.
Make Shopping the Easy Part– FabKids takes all the guess work out of school shopping! Take a quiz, get a personalized shop and get buying. At $29.95 per outfit their prices can't beat! The clothes are so cute and are amazingly well made. No matter how many times I wash them, they hold their color and shape and keep my kids looking put together. Sign up for their membership program you get an outfit on the 1st of every month. Shopping doesn't get much easier than that! My little guy is loving his motorcycle cool outfit, and I am amazed by the quality and fit of his new jeans!
Cover Up On The Playground- Monkey bars and dresses. Slides and skirts. Let's face it, the playground and cute girls fashion does not always mix! That is until I found Broxies! Broxies are the perfect mix between underwear and fitted shorts. They allow for girls to stay covered without a ton of bulky layers. They come in two, soon to be three, styles and a selection of colors and patterns. Whether your choose the Broxies with lace or the Broxie short, your little lady will be able to play to her hearts content without worrying about showing off her underwear!
Back to School Gear & Tech
When you're busy loading up the backpacks and getting your kids ready for school, a bit of tech can go a long way in helping them to have a fun and successful year. Grown kids heading off to college will love most of these great picks, too!
Power on the Go – No matter where they may head, a portable battery can help them stay connected. The myCharge Transit 2600 is a great find for staying charged. It includes a built-in wall prong and a car adaptor so you can recharge the Transit wherever you may be. Then, just plug in your device for a quick charge of your device while out and about with a USB connection. It can provide up to 11 hours of additional talk time on your smartphone and saves up to 25% of charge time with it's Fast Charging technology. Best of all, the myCharge Transit 2600 is compact and can fit in your pocket.
Step Back in Time – Relive your own youth with this retro portable speaker – The Rewind by Jam Audio. It looks just like an old cassette tape including a carrying case designed exactly like a cassette case. This powerful and compact speaker has four speakers and a battery life that lasts up to 8 hours on a single charge. While it may have a throwback style look, the sound quality is fantastic and the controls are really easy to manage giving you the ease of switching between calls and music.
Express Individuality – Does it seem like everyone has the same tech devices? DecalGirl has skins for everything you need. Their high quality vinyl skins and decals are thin, but tough enough to withstand scratches and everyday wear and tear. They go on bubble free and come off without leaving a residue. I have been using their decals for over a year now and I absolutely love them! I just traded out my all over skin for one of their brand new Disney MacBook Decals. These decals are made out of the same material as their skins, so I know that t will last forever. It is the perfect way to set my computer apart from all the others just like it! A must have for any college or high school student!
Safely Connected – When we're busy busing the kids back and forth between school and after school activities, the BTC455 Bluetooth hands free car kit will make all the difference. This easy to set up kit upgrades your existing car's stereo system using a 3.5mm AUX input to provide bluetooth functionality. It can pair up to two devices at the same time and let you accept phone calls hands free to keep your eyes safely on the road while you drive. You can also use the device to stream your own music library through your stereo system – commercial free! The BTC455 Bluetooh kit is available on Amazon for under $45.
School Snack Break
They say hunger can completely distract you from learning. I know that's true for me. When my stomach starts growling or I just feel like grabbing something to munch on while reading through textbooks, I always had a really hard time sitting still and focusing until I grabbed a bite and studied while snacking. My boys always come home from school roaring hungry for a snack, too. So no matter if you're planning for a mid-school snack or looking for snacks that will work after school, try some of these yummy treats!
Popcorn makes a delicious and really fun snack perfect to take to school! However, popping up microwave popcorn or making popcorn from scratch cuts into those precious early morning moments trying to get out the door. G.H. Cretors Popcorn is ready-made, delicious popcorn that is naturally healthy! It is naturally gluten free, cerfitied Kosher, an is made using a special popping corn variety that gives it large, fluffy kernels. Just pour some of their unique Chicago Mix popcorn, which combines caramel corn and cheese corn in a single mix, into a small snack bag and it's ready to go! You can find G.H. Cretors popped corn at natural food and mainstream grocery stores across the country with an SRP of $3.99 for a 7.5 oz bag.
Candies and Sweets that are all natural? Yup! YumEarth Organics has become the leader in organic candy with yummy goodies that you can feel good about giving to your children as a reward when they are doing great at school! They are made with natural and vegan ingredients and use no artificial colors or flavors. They are also free from common allergens including gluten, nuts and dairy which means they are a hit for all kids! Their product line includes fruit snacks, sour beans, candy drops, organic pops, and more! Visit YumEarth for more information or shop for YumEarth locally at Walgreens!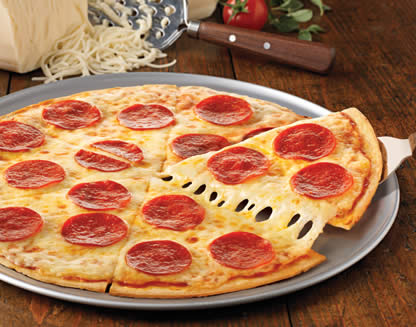 A Quick Meal – When you are in need of a quick meal or more filling afternoon snack, try Jack's Frozen Pizza. They are a great option for your busy weekday nights when you are running between school pick-ups and after school activities like soccer, dance, or music lessons. Jack's pizzas are available at most major grocery, drug, and convenience stores and can also be found at Sam's Club.
Smoothies are a really fun way to cool off and unwind after a long day of school. Plus, it gives you the opportunity to sneak in extra fruits and veggies into your child's diet, without them even realizing you've just served a healthy treat! Use a NutriBullet that will extract and break down the ingredients while leaving them in their most nutritious state! Try this delicious recipe from the NutriBullet blog that's sure to please kids! Just add all ingredients to your NutriBullet and extract and serve!
Tropical Blast
1 banana
½ cup of chunked pineapple, fresh or frozen
1 cup of chunked mango, fresh or frozen
handful of spinach
coconut water or pineapple coconut water to max line
3 ice cubes
You can buy the NutriBullet on their website, it retails for $119.94 + 19.95 S&P. It would make a perfect gift for a college-bound student, too!
Back to School Activities & Fun
Active Play – Back to school often means back to household chores. It's never too early to have your little ones start helping around the house. Thanks to American Plastic Toys, your future landscaper can work alongside mom and dad in the yard using this colorful gardener set ($15). Designed for children 2+, these colorful and durable plastic toys provide hours of entertainment. My son absolutely loves pushing his lawnmower and wheelbarrow alongside of his dad in the yard. In fact, his lawnmower is currently his toy of choice. Using the rake, hoe, and shovel make him feel like one of the big boys doing yard work. What a fun way to help prepare my son for household chores.
A Creative Outlet – As a perfect way to transition kids back into the school year or to keep younger kids occupied and learning through the year, The Happy Trunk kits are just the ticket! They provide a curated box each month with hands on activities designed for one of two age groups, 3-7 or 8-11. Each box is filled with 2-3 projects relating to STEAM (Science, Technology, Engineering, Art and Math). That means, they'll be learning with easy science projects or creating with fun crafts. Whatever your child's interest, this is a really cute loaded box! Our box came with directions and supplies to make our own chalkboard paint and then a project that uses the paint. The kit also had a lesson plan that taught about DNA. The Happy Trunk subscription is just $19.95/month with free shipping.
Clean & Germ Free – When you get that itch to clean and leave your home or classroom sparkling clean and free of germs, Zep Quick Clean Disinfectant can help! Zep is a professional-strength, all-purpose cleaning product for homes that kills 99.9 percent of all bacteria in only 5 seconds! Most people think cleaners kill germs immediately, but most take time to work and sanitize, often up to 10 minutes! That's where Zep is different. It can disinfect your space against bacteria like Staph and Klebsiella pneumonia. Most virus are killed within 30 seconds to 2 minutes using Zep. You can find Zep Quick Clean Disinfectant at retailers nationwide including The Home Depot and other hardware and home improvement stores for an SRP of $3.47.
Late Night Reading – When your child ends up putting off reading that book until the last few days before the report is due, they'll be grabbing for a Clamplight to make reading or studying late at night easier. This unique flashlight can be clipped or stand on it's own and angled to shine the light right where it's needed. The compact stand doubles as a handle making it the perfect multi-purpose tool.
Music Learning Made Fun – Keep up your child's learning by making it fun! Casio offers a CTK-2400 Sound EFX Sampler keyboard that lets them practice their piano lessons and play around with sounds and tones for a unique music mix. You are also able to make your own sounds and tones with 5 recordable slots and the built-in microphone lets you mix in voice samples, too! When they're ready to make a masterpiece, record the audio and then play it back all right from this cook keyboard!
What are you shopping for this back to school season?