I love Easter. I love getting together with family. I love the good food. I love attending Church on Easter Sunday. I love egg hunts and I really love Easter baskets. I remember being a kid and waking up Easter morning with a basket full of goodies. It was like Christmas all over again. Being a child born in December, it was the one other time of the year for little gifts.
Now I'm a mom and it's my turn to make sure my kids get to feel that joy and excitement. If you're looking for some great ideas of things to put in your families baskets this year, look no more. We have found a few of our favorite Easter basket ideas and shared them with you here.
We received a variety samples for inclusion in this post. All opinions are our own.
Easter Basket Gifts They'll Love
Decorate their Easter baskets with some cute and colorful eco-friendly, Eco-Shred basket filler from Wrappily. Made from 100% recyclable and compostable newsprint, it's the perfect alternative to the plastic filler strands you get from the store. Not to mention that it is way cuter. Wrappily has a large selection of Eco-friendly wrapping paper, basket filler, present toppers, paper string and more. Everything you need to wrap your gifts and feel good about it.
Give their Easter basket a pop of color and creativity with some fun stuff from RoseArt. RoseArt's Ultimate Artist line has the perfect gifts for the older child or serious artist in your family. The bright color Supertip markers and 24 count Gel pens have every color they need for their creative needs.
Add the Mixed media coloring pages book and they will be coloring and creating nonstop. For the little ones, you can never go wrong with RoseArt's broad selection of sidewalk art supplies. Stamp, paint, draw or spray your sidewalks in beautifully bright colors for spring, then wash it off and start over. Wherever their imagination takes them, RoseArt has the supplies to get them there.
Transform a pack of new Gold Toe socks into a darling spring bouquet! Pick out fun bright colors for print or soft pastels, either way you'll cheer up their Easter basket this year. For a perfect basket filler, add Gold Toe's Turn-Cuff Eyelet socks or go for a splash with a tie-dye style! Matching will be a piece of cake with the smart EZ MATCH sizing – just count the number of gold rings on the toe to pair the socks effortlessly.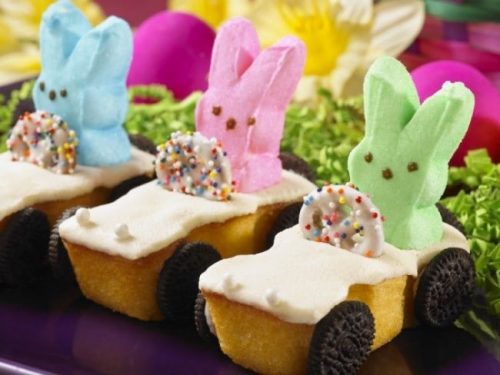 Give a classic Easter basket treat an easy upgrade! Just start with 1 box of Tastykake Butterscotch Krimpets. Use the Krimpets as the base of the treat. Cut a small slit into the treat to make room for a Peep bunny as a driver. Separate two mini Oreos and use each individual cookie as a tire wheel.
Finally, add a chocolate covered pretzel as a steering wheel. Tastykake has a variety of yummy treats that are perfect for the Easter basket! Our favorites are the classic Tastykake Easter Snowballs covered with a pink coconut marshmallow coating!
Their Easter baskets will give a whole new splash of color with Pilot Pen! Add their FriXion Colors erasable marker pens that will take adult coloring pages to a whole new level. The can easily add color to everyday tasks and can be erased when a simple mistake is made. If you haven't tried Pilot Pen's erasable pens, markers, and highlighters, you're missing out! This is an innovative new tool that needs to be in every pencil box, pen drawer, and Easter basket.
Looking for Easter basket gadgets for the older members of your family? OLALA offers a wide variety of (Apple MFi Certified) iPhone accessories. Whether you're looking for flash drives, charging devices, cords, etc, OLALA has it all. I am totally obsessed with OLALA's iPhone Flash Drive with Lightening and USB Connector.
This 64 GB external hard drive quickly frees up memory on your iPhone/iPad. Using an extremely user-friendly app, you're able to allow iPhone/iPad data to be directly stored onto your OLALA Flash Drive, freeing up your mobile device's memory. Designed with a very classy look and secured via password, this OLALA is the perfect addition to every Easter basket.
Book time is my absolute favorite time spent with my kiddos. It seems like a no brainer to add them to their baskets! Books last longer than toys and they have so many added benefits! DK's wide range of children's books are the perfect Easter basket picks for toddlers and young readers.
Board books are perfect for your little ones and my older kids love their Ultimate Sticker Collections. My favorite thing about DK's boards are their wide variety of topics that allow my kids to think, learn, imagine, discover and explore their interests. This Easter fill your kid's baskets with items that will spark their imagination and encourage them to learn and grow with books from DK Publishing!
Peaceable Kingdom knows how frustrating board games can be. Who won, who cheated… if you have kids you know the arguments I am talking about. In an effort to change the tone of family game time, they provide an incredible line of cooperative board games! All of their games are beautifully made, kid tough, affordable, and they will even replace individual pieces if you happen to loose something. Genius, right?
In addition to their amazing games they have the most adorable reusable sticker totes, kits, and activity books. My kids are going to be so excited when they see their new goodies from Peaceable Kingdom in their baskets. They are truly one of our go to shops for gifts and family fun!
One of my absolute favorite Easter traditions is putting a stuffed animal in my kids' Easter Baskets. This year, I can't wait to see the look on their faces when they see their adorable Bunnies from Bunnies By the Bay. You guys, Bunnies By the Bay is the most ADORABLE company featuring all varieties of stuffed animals, bunnies, clothing, books, teething rings, blankets, etc.
Basically, everything you need to create memorable Easter Baskets for your little ones. With their new launch of 75 + products this Spring, you'll instantly fall in love with items like their Bloom Bunny, Blossom and Bao Bao Board Book, Silky Blankets, and more! So head on over to Bunnies By the Bay and explore their new spring arrivals! Plus, don't forget to enter the contest below for your chance to win a $100 gift card to Bunnies By the Bay.