Who else is so excited that Christmas is almost here? I can't wait for the sparkling lights, the Christmas music, decorating our tree, and all the other fun things that come with this time of the year! We like to pass out treats to our friends and neighbors for the holidays as a nice reminder that we have been thinking about them and appreciate their friendship. I'm excited to share with you a cute, and easy, Christmas cupcakes that you can make this year that will be perfect for any upcoming holiday parties, classroom treats, or as gifts for your neighbors!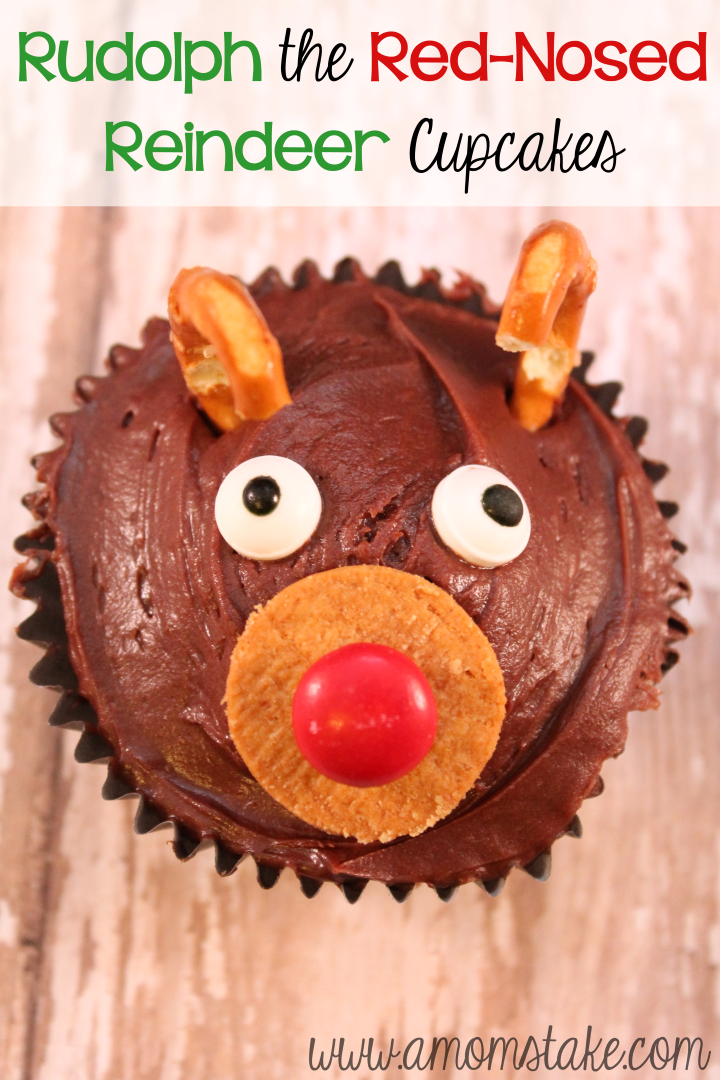 Start by whipping up a batch of cupcakes and top them with your favorite chocolate frosting. I have a recipe for a great homemade chocolate frosting in the printable recipe box below. Just click to save or print it so you can easily reference back to the recipe later. While your cupcakes are cooling, mix up a batch of frosting.
To make your reindeer, you will need mini pretzels, candy eyes, red or brown M&M's, and mini nutter butter cookies. Break your mini pretzels and use the longer outer edge piece to form the antlers (in the above picture, you would use the piece shown on the right). Press them into the cupcake just a bit so that they stay in place but are still easy to see.
Place the candy eyes below your antlers. Then, take your mini nutter butter cookies, and separate the cookie into two halves. Use one of the halves on each cupcake. Use a small dab of frosting on the "M" side of your M&M and then place it the frosted side down on the center of the cookie. There you have it, your reindeer is ready to be the life of the party!
You can refrigerate any leftover cupcakes in an airtight container for another day or prepare the cupcakes the night before and store them in the freezer until it is time to share them!
This is a recipe that is really easy for the kids to help with making in a fun activity to do with your kids! Plus, it's a fun way to expand upon the favorite Christmas movie, or book, Rudolph the Red-Nosed Reindeer!

Reindeer Cupcakes Recipe
Cute, easy to make, festive cupcakes for the holidays!
Author:
Janel at A Mom's Take
Ingredients:
Chocolate Frosting Ingredients:
½ Cup Butter, softened
3 Cups Powdered Sugar
⅓ Cup Half and half cream
2 tsp vanilla extract
½ Cup Unsweetened Cocoa Powder
Reindeer Ingredients:
Mini Pretzels
Candy Eyes
Red or Brown M&M's
Mini Nutter Butter Cookies
Directions:
In a large bowl sift together powdered sugar and cocoa powder.
In a mixing bowl, cream butter until light and fluffy. Add in cream and vanilla and beat until combined.
Slowly add in dry ingredients ½ cup at a time, mixing well in between each addition.
Beat until well combined.
Frost cooled cupcakes.
Break apart a mini pretzel and using the longer outer edges, place them into your cupcake for the antlers.
Place candy eyes below the antlers.
Take your mini nutter butter cookies, and separate the cookie. Place one half onto your cupcake.
Using a bit of frosting as glue, dab it onto the "M" side of your M&M and place it in the center of your cookie.
Refrigerate leftovers in an airtight container.
Do you have any creative or unique Christmas Cupcakes you like to make?
Here's another holiday recipe perfect to gift to friends and family this year on your treat plates!