Water parks provide many fun activities to keep cool during hot summer months. However, if you're anything like me, taking a toddler to a water park can be a daunting task. I've found that with a little planning, water parks can be an enjoyable experience for the entire family. I will be sharing our top tips of what to bring to a water park with toddlers, plus how to make sure the whole family enjoys the day!
Whether you're headed to an indoor water park for toddlers (like Great Wolf Lodge!) or planning to spend all day outdoors at a big resort water park (like Wisconsin Dells or the Kalahari Resort), you'll want to follow our what to pack for water park with kids — packing guide to be ready for your visit! A few weeks ago, my family packed up and headed to a local water park with toddlers in tow. Following these simple tips and tricks, we had a blast spending the day at the park.
I received Complimentary Big Surf Park Admissions in exchange for this post. All opinions are my own.
Packing Guide: What to Bring
to the Outdoor Water Park for Toddlers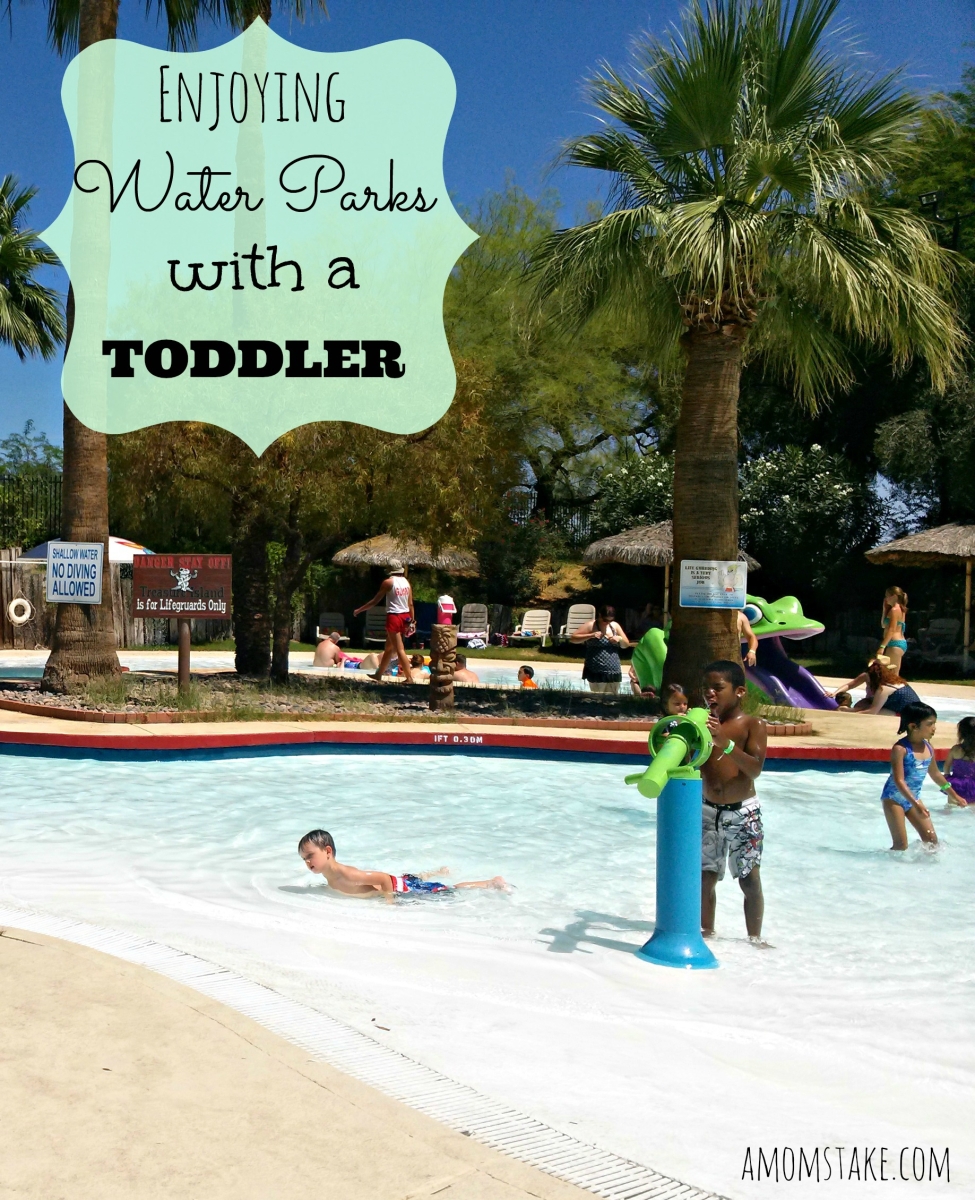 1. Sunscreen is a Must!
When attending a water park, make sure to bring a lot of sunscreen. Because your child will be in the water, be sure to re-apply sunscreen at least every 80 minutes.
To help make sunscreen even easier, we love using a rash guard (which is a fancy name for a swim shirt) to help cover and protect a lot of their skin and this really cuts down on how much exposed skin they have left to need sunscreen. A rash guard also helps cover some of those crucial areas that are always getting burned like shoulders and back.
Another tip is to add a water-friendly hat to your supplies. If your toddler will wear one, a hat an provide a lot of protection for their face and head from the UV rays. Cheeks and noses are one of the first thing to sunburn!
2. Food and water
It's extremely important to keep hydrated while at a water park. A lot of times we forget to drink while swimming because we are surrounded by water. However, it's especially important that your toddler stays well hydrated while out in the sun.
Check the rules before you head out, but many water parks will allow water bottles into the park. They may have a preference between disposable water bottles that are still sealed or an empty water bottle that can be filled up at water fountains, so check ahead of time and know what you're allowed to bring.
Many parks even have specific rules and options for bringing your won food. That may look like sealed small snacks are allowed or packing your lunch in a cooler ad exiting the park for a short lunch break right outside the entrance near the parking lot. Many even have picnic areas just for this purpose!
Small children will need extra snack breaks throughout the day to keep them fueled. Even if the water park doesn't technically allow outside food and water, I've found that if I explain that the food and water is for my toddler, they let me bring it in.
Even if you have big plans to take advantage of the snack bar or restaurants, having some food and snacks and your drinks on hand will save you extra money and allow you to splurge on just the fun treats or pickup a meal to share when the lines aren't super busy.
3. A Personal Flotation Device
Having my son wear a flotation device made our water park experience extremely enjoyable. We put on his Puddle Jumper floaty the second we stepped inside of the water park and made him wear it the entire time. Having my son wear a Puddle Jumper helped me not to worry about his head going under the water and allowed him the freedom to swim wherever he wanted.
If you are looking for a flotation device, I would highly recommend looking into a Puddle Jumper; they keep your kids afloat and are coast guard approved. A life jacket is another good choice to ensure your child's safety – especially in areas like the lazy river!
Most water parks (and any amusement park that has a water area) will provide life jackets in all sizes free of charge. You can rely on the parks supply, but it's a good idea to bring your own life vest or other floatation device for little kids because those run out quickly and you don't want to spend your time waiting for one to become available.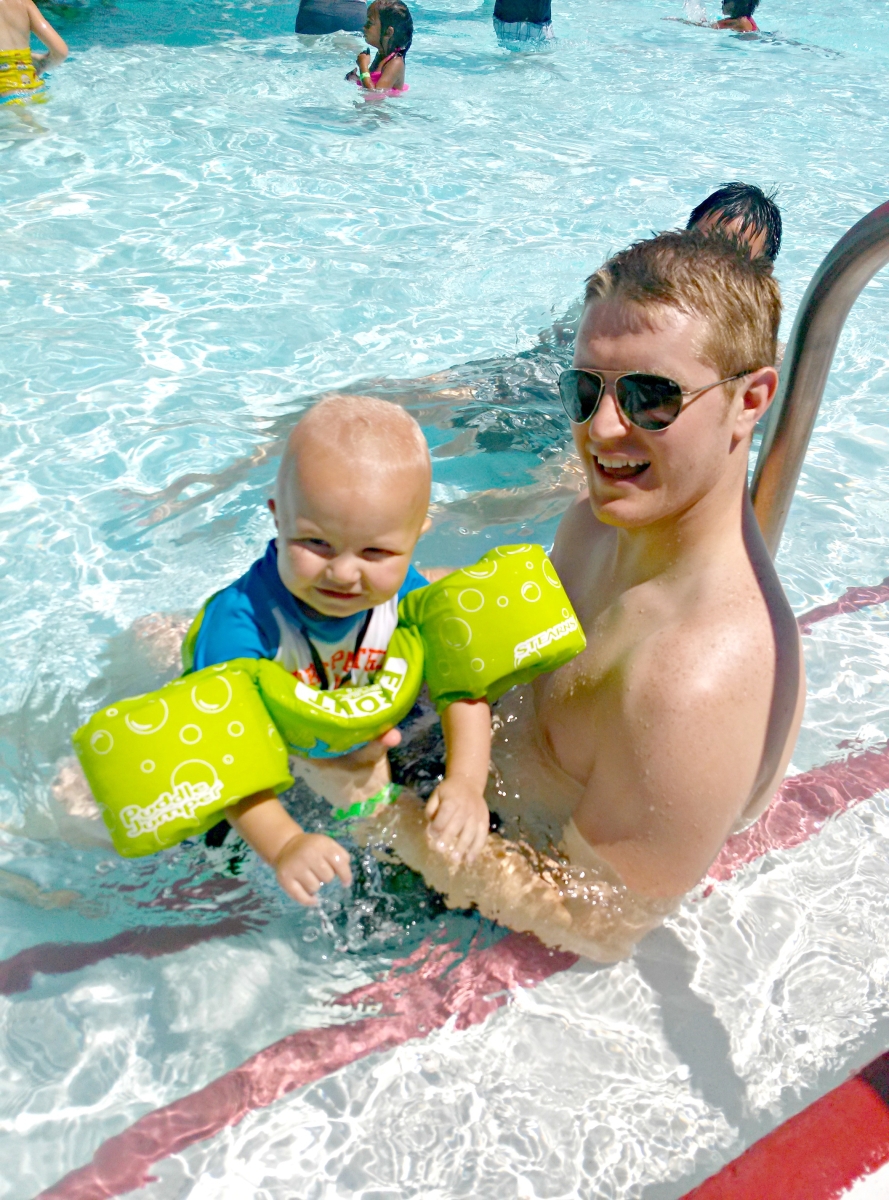 4. Extra Supervision!
Make sure that when you attend water parks that you bring enough supervision for your children. Grandparents can come along and relax on the lounge chairs and keep their eye on young children while the adults take a minute to hit one of the popular tube slides or ride on a double ride attraction.
You can also bring along responsible older kids or a young adult and pay for their admission in exchange for some help with watching out for your toddler while at the splash pad or wading pool while you grab a meal or peruse the park map to make a plan for what's next. The "big kids" won't mind taking on some of the responsibility in exchange for so much fun had on the big slides the rest of the time!
Having multiple people around to help watching and keep an eye on little ones makes it less stressful and more enjoyable for everyone in your group. Then, by the end of the day trip, everyone has had a chance to play, inner tube, and even get soaked under the tipping bucket in the kids zone while helping to share the task of childcare.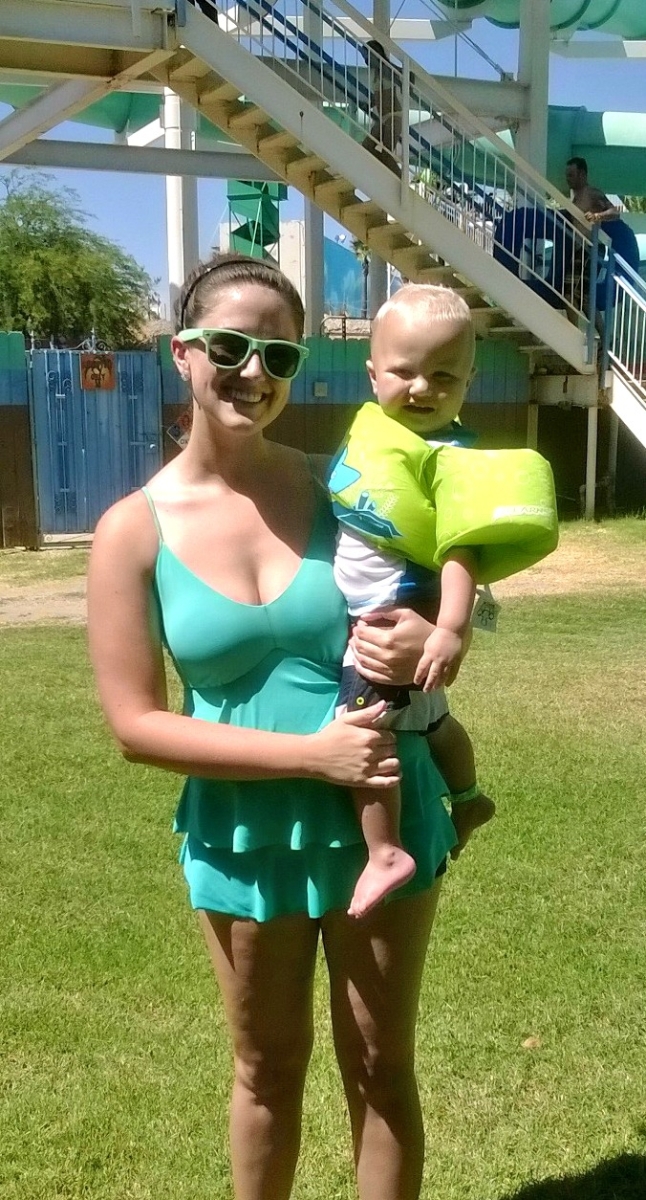 5. Dry Clothes & Towels
When your toddler is ready to call it quits with all the fun at the outdoor water park, they will love a fresh change of clothes. This helps to transition them from water time to your next activity. Whether that's exploring other fun things around the park or signaling that it's almost time to go home, changing them out of wet clothes will be one less thing to do at the end of your day of play.
Pull off the wet bathing suits and stuff them into a wet bag (or a grocery sack) to keep the rest of your extra clothes and other items dry. We even switch into dry clothes when we want to help our toddler take a quick nap during the park day.
6. Swim Diapers & Swim Shoes
Many parks require children that are not potty trained, or even children under a certain age or height restrictions level, to wear a swim diaper while at the park. They're much more expensive while in the park, so be sure to pack your own along for the trip!
You'll want one in the kiddie pool area for sure, if your child is still in diapers, to let them run and play through all the fun areas like up into the tree house and splashing everyone with the water cannons. Having a couple swim diapers will let them play and give you peace of mind. Bring extra, though, so you can change them throughout the day – as needed.
Another great way to be prepared is wearing water shoes to the park! We love the strap on closed-toe sandals that are water safe and provide a lot of support, stability, and protect their sensitive feet from the really hot cement. Once we're in the water or hanging out on any of the water slides, we'll kick off any shoes and keep them in a locker with our other valuables. Flip flops can also work, though they can make you slip!
7. Bonus Supplies to Pack for Your Toddler (and family!)
There are a couple little extra I like to toss into my swim bag, as well. I always grab extra hair ties. You never know when one will come off and if you have a toddler girl, she may want that hair up out of her face!
I also grab ear drops to help any issues with swimmer's ear. That's the best way to avoid a ruined day with someone feeling miserable!
Lip balm is another essential! Your lips can dry and crack with all the exposure to chlorine, and a little dab of lip balm makes a world of difference!
Pin or Print It: Water Park
Packing List for Toddlers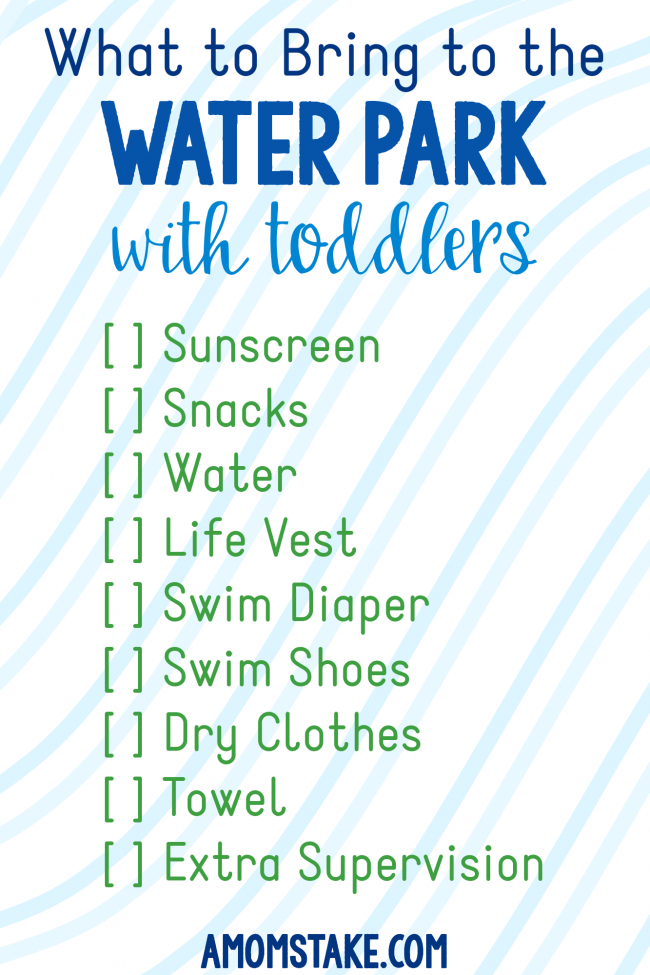 What to Do at a Water Park with Toddlers:
Make Sure to Take Breaks!
When you notice your little one becoming tired, take a break. A little rejuvenation can go a LONG way. If you know that you will be attending a water park around nap time, plan ahead and bring something that your child can sleep in. Make sure you scope out all of the shaded rest areas. These shaded areas are perfect for naps, snacks, and lounging, and of course reapplying sunscreen!
One of the reasons that I love going to water parks is the variety of activities for the whole family. There are plenty of water slides for confident swimmers, shallow water for younger kids, and a fun wave pool for the whole family. Having a toddler, you will want to take a good amount of time checking out all the kid friendly attractions.
In fact, I like to look up a map of the park and check out the water rides ahead of time so we know what is available and are able to have the best time with all of the family members along for the trip — adults, babies, toddlers, and everyone in between!
You'll likely spend a lot of time at the sprinkler splash pad area (often a big multi-leveled ship the kids can climb all over) with a toddler in tow, so we make that our designated meeting area and set up a space for our belongings and claim a few chairs for our group. It's usually in a very central location in the waterpark, too, which is another perk! If you must bring a stroller (for hauling in all your gear) it's also nice to have a place to park it so you don't have to spend your whole day pushing it around the lagoon!
Our Experience at Big Surf
Water Park with a Toddler
My family LOVED the abundance of shade provided at Big Surf. We spent a lot of our time underneath this canopy while watching my son swim in this shallow 2 foot pool. In fact, I counted 4 different Big Surf pools that provided shallow swimming perfect for toddlers.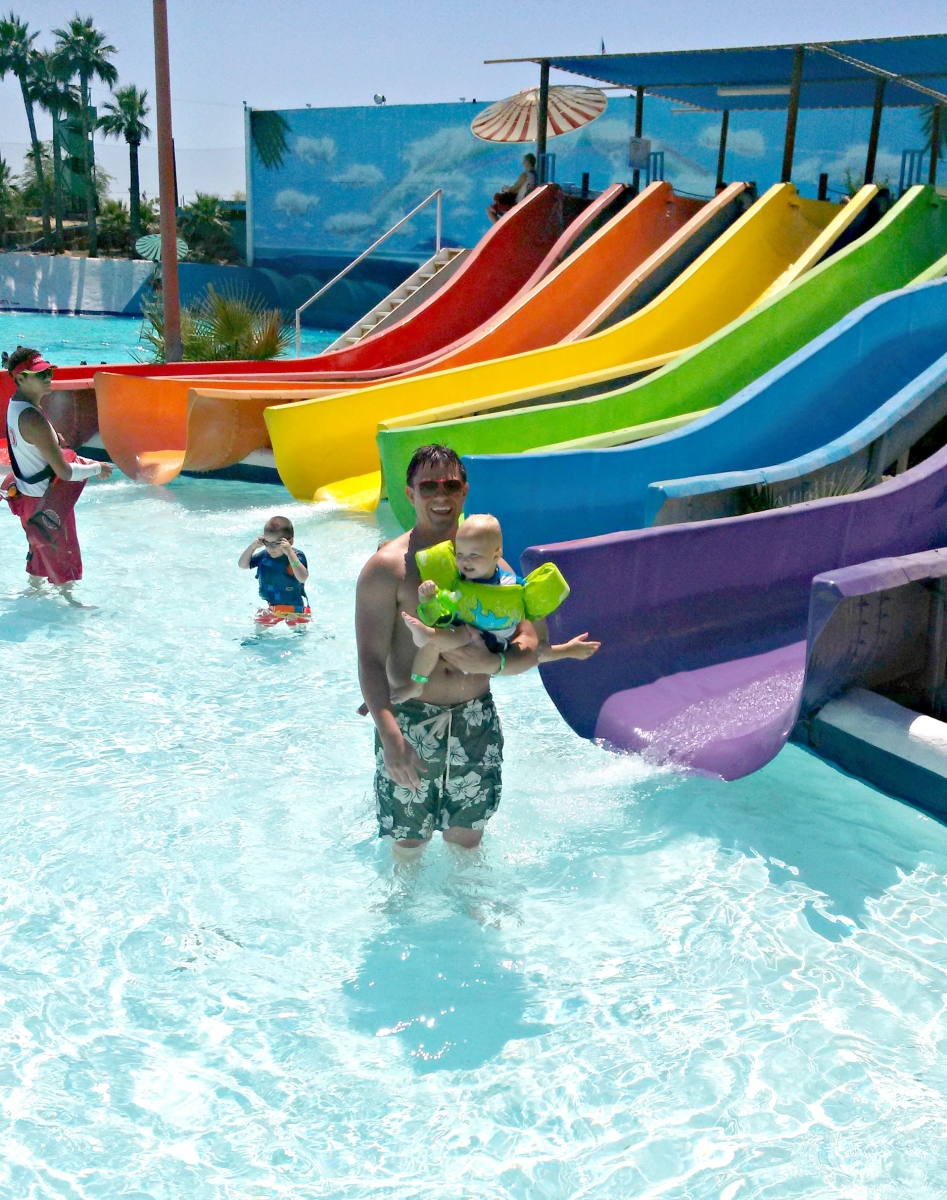 My son LOVED Big Surf's rainbow slides! He was able to ride these slides all by himself. As soon as he would reach the bottom of the slide, he would ask, "again?"
These tipping tree frogs were a highlight of my son's Big Surf experience. He loved standing under these frogs while waiting for water to pour on his head.
To say the least, we had a blast experiencing Big Surf with a toddler. This summer, experience fun for the whole family (yes, even toddlers) by heading over to Big Surf.