I've never had what people would call an "easy pregnancy." During the first 20 or so weeks, I suffer from a lovely condition called hyperemesis gravidarum (HG). HG makes it pretty much impossible to eat, or even drink normally.
I spend those weeks praying that the small sips of water I just drank will stay down. Because of my condition, my doctor makes a special emphasis on getting the proper nutrients in my body, especially when the symptoms lessen (I am one of the lucky women that don't have HG during the entire pregnancy, some women have it the entire time, and sometimes after their baby arrives).
I was provided samples as well as compensated for this post. All opinions are my own.
Eating healthy during pregnancy can often be hard. Honestly, our bodies are constantly craving weird things (things that are often not the best choices). I remember with my first pregnancy, I loved double bacon cheeseburgers and fast food egg rolls (dipped in ketchup), and I often had to have them in the middle of the night. Making positive choices, and involving the whole family will make it easier for everyone. But don't worry, having something fun every once in a while is okay too.
Follow Doctor's Instructions
It's important to listen to what the doctor says about eliminating certain foods from your diet. Although you may crave that sushi, Brie cheese or rare steak, it's on the list to avoid for a reason. Keeping bacteria away from baby is more important than a craving. The same goes for a ton of caffeine, and obviously alcohol. Adding food that is a great source of protein, iron and folic acid (such as beans, green veggies and even cereal) are a wonderful edition to your diet.
Hydrate
Hydration should be a priority when you aren't expecting, but during pregnancy, it's extremely important. Our bodies need water, although it may increase your trips to the bathroom, keep drinking…your body needs it!
Treat Yourself
It's really important to not diet during pregnancy. Keeping to a plan is wonderful, but making sure you are actually getting the calories you need is something to remember. I'm a larger girl, so I have always struggled with this. Don't restrict yourself from that special treat you are craving, it's okay to indulge…just don't go crazy. My experience with holding back, just leaves to binging later and feeling terrible. If you are craving ice cream, get some for you and the family, it's okay!
Take Your Vitamins
Prenatal vitamins are a must during pregnancy. They really make sure you are getting the vitamins you need to make sure baby is healthy and strong. Often, prenatal vitamins can be hard to get down (especially with morning sickness symptoms). Taking a prenatal before bed can help keep in down, or switch to a gummy version. The gummy prenatal vitamins have a better taste, and don't seem to bother the tummy as much. HG mommy's prefer gummies, they stay down and are similar to the gummy candies that many of them enjoy during their pregnancy.
A wonderful gummy prenatal vitamin, and one that gives you a yummy taste and all the important vitamins you need is SmartyPants PreNatal Gummy Vitamins. SmartyPants PreNatal Gummy Vitamins are the best choice for expectant moms because, instead of having to take a combination of 4 different vitamin supplements (folate, multi-vitamin, DHA, and Vitamin D3 & B12) you get everything in one! SmartyPants PreNatal vitamins contain L-methylfolate, the most bioavailable and easily absorbed form of folic acid, eco-friendly Omega 3 DHA + EPA fish oil, and vitamin A, D, C, E, B3, B6, B12 and iodine. All these great ingredients are combined in a great tasting and contain no high fructose corn syrup artificial flavors, colors, or preservatives.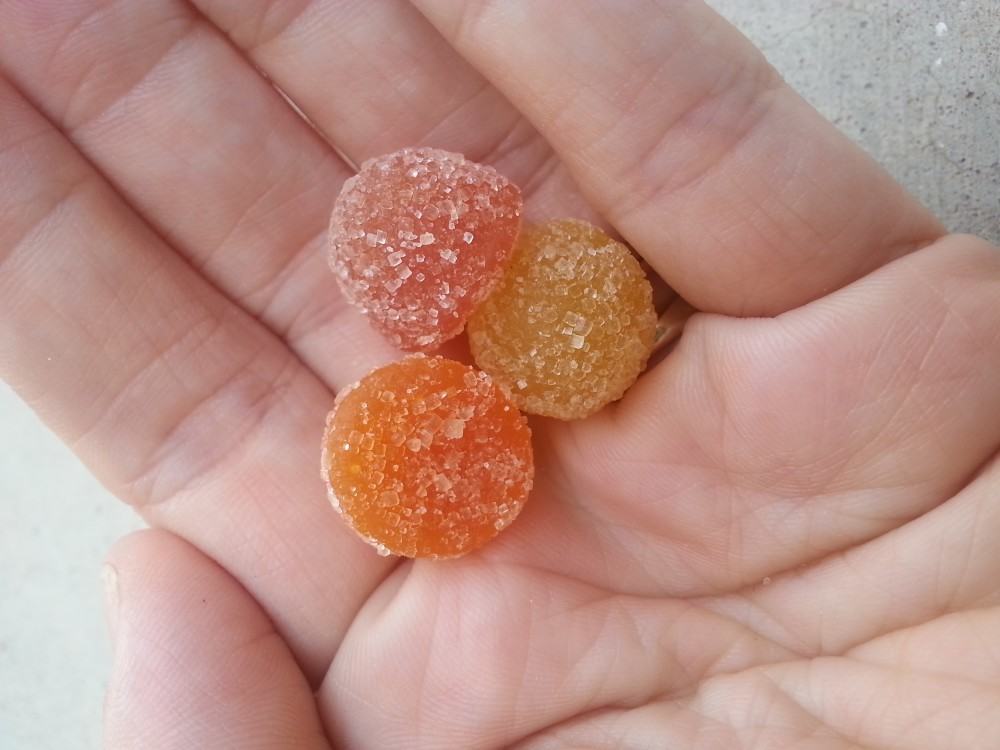 Now, SmartyPants just isn't taking care of you during your pregnancy, the are taking care of others. For every bottle sold, they make a 1 for 1 vitamin grant to Vitamin Angels. This grant is enough to provide a child in need with enough vitamin supplements for an entire year.
I was so excited to try SmartyPants PreNatal Gummy Vitamins, because my doctor had recently cleared me to start taking supplements again since my nausea had now abated. I have had so much trouble eating healthy during pregnancy, so I was hoping to get on the right path right away.
I wanted something that had a great taste, without the "vitaminy" aftertaste that so many vitamin supplements had. I found what I needed, and wanted with SmartyPants. SmartyPants PreNatal Gummy Vitamins remind me a bit of a gum drop, but with a little more tart taste.
It's actually a pretty great, since you get 6 SmartyPants a day, you it's almost like a special treat, just for you at the end of the day. I don't get that yucky vitamin aftertaste, instead I get a yummy supplement that I know is helping me keep baby healthy.