I'm sure that many mothers can relate – laundry feels like the chore that never ends. With a baby crawling around the floor, eating baby food, and exploring everything in sight, it feels like my daily laundry pile grows exponentially. Don't get me wrong, I absolutely adore watching my baby discover this beautiful world through touch and taste, but it does require a little bit of extra laundry. Because I want to better soak in this stage of my baby's life, I've decided that I need to make more time by simplifying my laundering process. Thankfully, laundry has never been easier with these laundry hacks for busy moms.
This post is sponsored by Dreft. All opinions are my own.
Laundry Hacks for Busy Moms
Do one load a day: Sometimes the laundry pile seems too overwhelming to even know where to start. The trick? Don't let your laundry pile up. Do at least one small load of laundry a day.
Wash with Dreft: Stage 2 Active Baby: If you have an on-the-move baby in your home, Dreft: Stage 2 Active Baby is a must! Specifically formulated with your developing baby in mind, Dreft: Stage 2 helps remove 99% of baby food stains, grass, and dirt stains. What a great way to really let your baby explore without having to worry about the clean-up.
Pre-sort laundry: Use three separate laundry hampers for your clothes. When clothes become dirty, place them in their appropriate bins (lights, whites, and darks). Using this system cuts down on sorting time.
Pin your socks together: Nothing is worse than finishing a load of laundry and having an assortment of mismatched socks in the bottom of the dryer. Completely avoid this problem by pinning your socks together before placing them in the washer. This really helps when it comes to itty bitty little baby sock; side note – there is nothing more precious than those tiny little socks. Pinning your socks together really saves time when finding sock matches.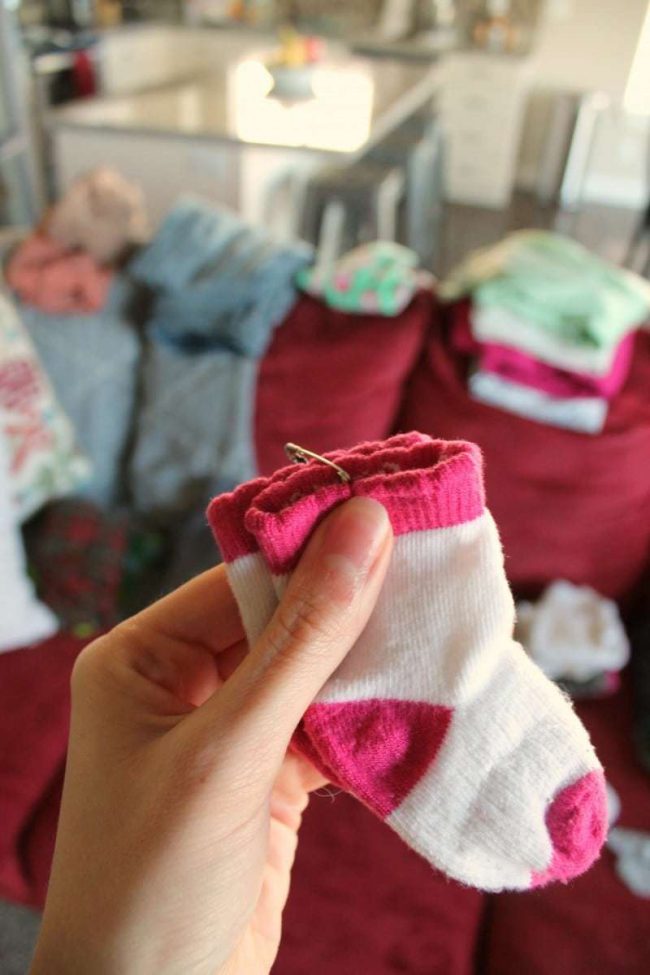 Write on your washer: I hate it when I forget to air dry certain items and put them in my dryer. I've ruined one too many cardigans this way. The trick? Using a dry erase marker, write a reminder on the top of your washer with the items that need to be taken out of the load before moving to the dryer.
Keep things smelling fresh: Want your clothes to have long lasting freshness? Dreft Blissfuls In-Wash Scent Boosters give your laundry that baby fresh scent you love. I know earlier I mentioned the massive amount of laundry that my little baby produces; but man, this is my favorite stage. Watching her crawl around the floor, babble, pull herself up, and explore new foods, I just want this stage to last forever. Using Dreft Blissfuls, brings back that amazing baby scent (and all the accompanying memories) with every wash. Dreft Blissfuls really are the perfect way to keep your laundry smelling fresher longer.
Click here to learn more about Dreft.
Using these simple laundry hacks for busy moms, you can better focus on the important moments of motherhood.
What is your favorite Laundry Hack?