I received Baby Signing Time and Potty Training in compensation for this post. All views expressed are my own.
One of the most frustrating things about being a parent to a toddler is not being able to understand his every want and need. My little one year old son knows a few words, but often throws tantrums because he wants something and I have no idea what he is trying to tell me. Thankfully, Baby Signing Time provides a way in which parents and toddlers alike can better communicate with each other.
A few years back, I babysat a little girl who watched Signing Time; I was amazed that she and her mother were able to communicate through simple sign language before she even spoke. Many parents have discovered the many benefits of teaching their hearing babies American Sign Language.
Baby Signing Time teaches basic sign language through catchy tunes, bright colors, and fun pictures. Teaching with a multi-sensory approach, words are spoken, signed, written, and repeated through music. Helping young children communicate before they speak, Baby Signing Time's award winning DVDs have also proven successful for children with special needs and children learning a second language. With more than 26 DVDs to choose from, your child will be able to communicate their wants and needs with the help of Signing Time.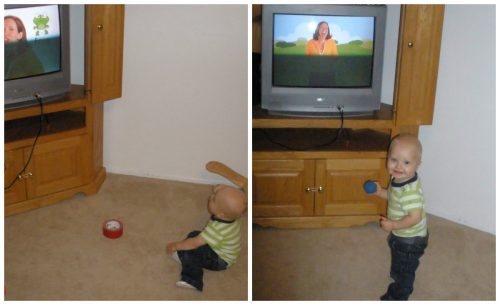 My son loves watching Baby Signing Time Volume 1: My First Signs. I love how the DVD teaches basic and useful signs such as: water, food, more, milk, animal names, etc. My son and I often watch Signing Time together and practice the things we have learned as they apply throughout our days. For example, I am able to sign to my son and ask him if he wants more crackers or would like to drink some milk. I find myself often humming the catchy tunes throughout the day. Rachel (Leah's mom) is extremely energetic and keeps my son's attention span. He will pull himself up to the television and giggle and laugh through the entire production; he has so much fun without even knowing that he is learning more every day. Because Signing Time helps my son and I communicate better, we are able to avoid occasional temper tantrums. I look forward to using Signing Time with all future children!
If your little one is potty training age, you may enjoy checking out Potty Time. Taking a positive and fun approach to potty training, this DVD will help your child celebrate successful potty time experiences.
For more information concerning Baby Signing Time ($19.99) and Potty Time ($19.99), visit www.signingtime.com.