Trying to figure out what amazing gift will light up the eyes of those wonderful girls in your life this Holiday Season? Check out some of our favorite gifts for girls of all ages and you'll see lots of great big smiles when they unwrap your gifts this season.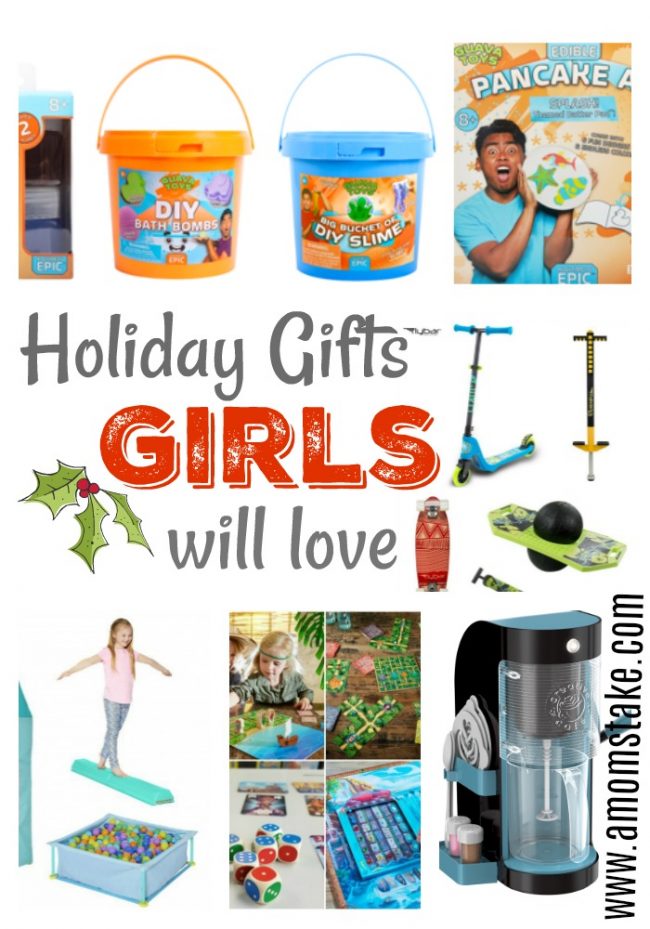 Holiday Gifts Girls Will Love!
We received a variety of samples and/or compensation in exchange for inclusion in this post. Affiliate links are used in this post. All opinions are our own.
1. Active Outdoor Toys – Flybar has you covered with all the active fun products your kids will be thrilled with on Christmas morning. With fun choices including skateboards, trick boards, pogo sticks, and even stilts there's something for everyone! Use FlybarHol15 to take 15% off your purchase of Flybar products on Amazon! Here's some of our favorite picks:
2. Fun Family Board Games – HABA offers a variety of fun family games that focus on critical thinking such as making decisions, using forethought, thinking ahead, using memory, and more. They can also help develop social skills. You can browse HABA's entire selection of games including cooperative games, strategy games, and even the series of My Very First Games to introduce your young children into the hobby! Here's a few of HABA's games that would make excellent Christmas gifts:
3. Gifts That Encourage Imaginative Play – Antsy Pants has fun and engaging toys that will help them develop rich imaginations! Their Build & Play sets let you re-purpose a single building rod and connectors set with lots of different designs and scenes to create new adventures. Additionally, you can find fun Antsy Pants toys to extend their imaginative play.
4. Gifts that inspire a love of STEM. If you have a child that loves to tinker with things or is very into science, physics or engineering, GeoMag is the gift for them. With a new GeoMag Mechanics Gravity set, your child can spend hours creating movement and chain reactions through gravity and magnetism. Each building set uses the weight of the spheres, movement, and magnets to create its own battery-less movement fun. Choose from one of four different sets.
5. DIY Projects with Guava Toys: If your little one lives for fun DIY projects, look no further than Guava Toys. From DIY Slime to DIY Bath bombs, Guava Toys has fun craft kits everyone will love! Not only can you gift the craft kit, but also the goodies you create! Who doesn't love slime or bath bombs?!?!
6. Gifts for the Mini-Me: With Creative Café Barista Bar, kids will enjoy becoming a barista at home and creating their own kid-friendly "lattes" (made with frothed milk and works without heat). Fancy drinks adorned with powdered chocolate or cinnamon designs (made with included stencils) are perfect for any mini-me, and she'll love using this gift again and again. There are three different drink flavors included to get her creative side mixing! Girls will love being "just like mom" in creating her own amazing drinks with Creative Cafe Barista Bar.
7. Gifts full of giggles and fun with Maya Toys – Have you ever played with Orbeez? Once you start with the squishy fun, it becomes mesmerizing. Maya Toys offers Orbeez to suit every girl in your life, even a soothing foot spa! The fun designs that the Cutie Stix Jewelry Maker offers will brighten anyone's holiday season, and you are sure to hear tons of laughs and giggles as they play some of the newest games out there!
8. Gifts for the Collector with Disney Doorables Mini Figures: Disney Doorables are just that – ADORABLE little Disney figures that come with a connectable playsets. With a variety figures available, there are Doorables perfect for every Disney fan. Collect all of your favorite characters for fun, imaginative play.
Holiday Gifts for Tweens and Teen Girls
1. Feature Packed Budget-Friendly Smartphone – Alcatel 7 smartphone is making a stand as the hottest tech gift for tween and teen girls they'll be beginning for this holiday season. It's the perfect device for entertainment, photos, and helping you stay connected with your child.
2. Subscription Boxes with STEM and tech education – Creation Crate has a variety of options to reach out to all the tech loving girls in your life. There are a variety of subscription options (1, 3, 6 & 12-month options). Your girls will love learning all that they can do and create with these fantastic projects. Creation Crate is offering a 25% discount on all products at www.CreationCrate.com from November 22 – November 26. The Promo Code is BFCM25.
3. Crafting kits with LaurDIY – has some of the cutest craft kits that will WOW any kid this Holiday Season. Just like the craft tutorials on LaurDIY, these whimsical room décor kits will leave your girls' rooms fun and fabulous. Stylish crafts that easy enough for children to really do-it-yourself, are the perfect gift . After trying one kit, you'll be hooked so make sure to pick up a variety.
4. Create a real flying Drone- With Circuit Scribe, doodles on paper are no longer just doodles. They are now conductive ink doodles that connect circuits and create electrical connections. With a Drone Builder Kit from Circuit Scribe, they can have a real flying drone created by them.
5. Get her something for her room- It's always fun getting something new and funky for a teen's room. Teens and tweens like to be original and fun and their rooms should be an extension of their personality. A Kit-Cat Klock is just that, fun, funky and original.
6. Messy fun with Fizzy Gloop and Slime – Horizon Toys. Your pre-teen and teen will be mesmerized with the squishy fun and creativity of Horizon Groups slimy, fizzy, gooey gifts this year. Fizzy unicorn gloop, Squishy-o's, and all sorts of slime will keep her entertained for hours this holiday season. If your tween/teen isn't into the slimy scene, check out some of the other creative fun offered by Horizon Group.
Share with us which of these gift ideas your daughters would love in the comments!