Pull-apart erasers are all the rage right now, and your child's friends will love this darling Eraser Valentines card! You can easily recreate this cute classroom valentine with our Friends Like You valentine's day card printable and a few easy steps to assemble your cards.
Affiliate links are used in this post.
Eraser Valentines – "Friends Like You"
Supplies:
Once you've gathered all the supplies, start by saving and printing our Summer Treats valentines cards. A single sheet of paper makes 8 printable valentines cards.
Then, you'll want to cut out each of the cards. It's easiest if you have a paper cutter to simply cut out the excess white along the sides and then straight down the middle. Then, just cut between each of the cards. This can also be done with scissors in a pinch, but your cards will look nicer and it will be much faster with a paper cutter.
When your cards are ready, you'll be adding one 3D eraser to each of the cards. These erasers are so much fun as they can be pulled about and rearranged. Kids love to collect these and they'll be a big hit in the classroom!
We just use a small piece of washi tape to hold the summer treats erasers to the Valentines cards. I love using washi tape as it does a surprisingly great job at holding things onto the cards but won't rip or tear the paper it's sticking too. That means, when the kids pull their erasers off your printable valentines cards, the card won't be ruined!
Finally, just have your child sign each of the cards and they'll be ready to pass out on Valentine's Day!
Printable Eraser Valentines Cards
Grab the free printable copy of our Eraser Valentines cards to easily make your own homemade valentines this year! Each sheet of paper can print 8 valentines cards so in most cases you'll need just 3-4 sheets of white cardstock and a set or two of the summer treats erasers. Each set comes with 24 erasers!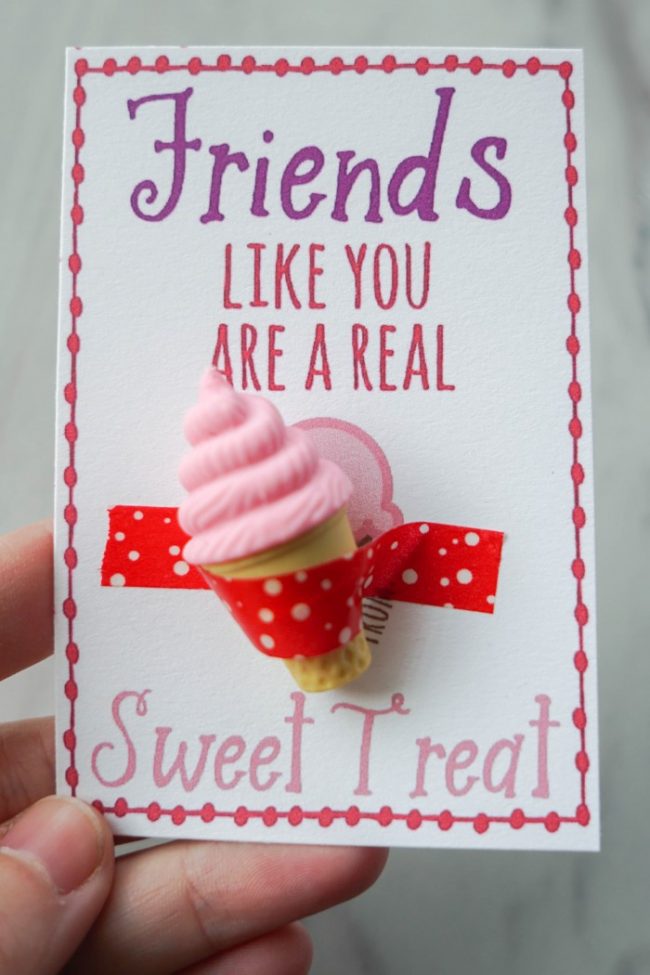 Just click the image or link above and our printable PDF will open in a new tab. You can then print or save a copy for your own personal, non commercial use. To share with a friend, just send them to this post!
Shop This Eraser Valentines Post:

Love this post? Pin it to bookmark for later!
Looking for more free Valentines day cards? See this post next! Our Printable Maze Valentine Card.