ATG Stores started back in 1999 with its first website, LightingUniverse.com. They have since grown to over 500+ websites that include over 3 MILLION products from name brand manufacturers! They offer a wide range of selection with also offering prompt and professional service. They offer daily deals, sales, and free shipping with any order over $29.99. Plus, they offer no hassle returns and a low price guarantee!
I was able to review a HaPe Professional Workshop from ATG Stores. This Workshop comes with 53 pieces including a hammer, screwdriver, vice, rule, and a bunch of screws and wood planks for constructing! This stand-alone workshop comes with a tabletop for projects as well as a large under workshop storage area to keep all your tools, nails and screws!
My boys have loved playing with this workshop! The tools are easy for them to hold and use and the height is perfect for my 1, 3, and 5 year old boys to play at! I love that the Workshop has a storage shelf below that neatly contains all the nuts and bolts so they are always "out" for them to be able to play with, but they have a set place so they still get put away! Plus, the top of the shelf has a nice organizing stand for placing the tools on display and a hidden tray for putting away tools or the planks. This table really lets my boys get creative and go to town building something fun!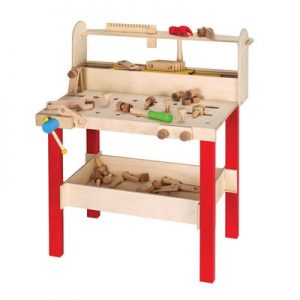 You can find the HaPe Professional Workshop Preschool Activity through ATGStores.com available currently for $89.96 and free shipping!
Win It!
One A Mom's Take readers will win
a $100 ATG Stores Gift Certificate!
Ends 11/25/11 at 11:59 PM ET. Open to US/Canada residents. No PO Boxes. Anyone who is currently hosting an ATG Stores product review or giveaway is not eligible to enter. Winners are only eligible to win ATG Stores blogger giveaways 3 times.
*** GIVEAWAY CLOSED***

Disclosure: I received a HaPe Professional Workshop for free in order to try the product and form an opinion for this review. I was not compensated in any other manner. The opinions expressed above are my own and any claims should be verified on the sponsor's site.