If you are planning a 4th of July picnic this year, you don't have to try very hard to make it a success. Just a few easy steps and you will be on your way to total picnic perfection with a limited amount of time, effort, and money spent.
The space
Before you get started on anything else, do you know where you will be having the picnic? The space is what will help you determine the things you need for the picnic. If there is a large shade tree, for example, you will not need to get an umbrella. If there is a large open field, you may want to consider bringing something for shade or to keep you cool as you have the picnic. Determine the perfect spot for the picnic you imagine, and always have a backup plan.
The set up
Next, determine who will be attending. Will it just be your family, or will you invite people? Whatever the case, make sure all blankets used match or coordinate in some way. Try using one white, one red, and one blue blanket, or use a few with matching patterns and colors. If you have people attending, try to place a central food station in the middle or where it can be gotten to easily without disturbing other picnickers. Another way to set up a picnic that has multiple blankets is to have one very large blanket in the middle as the centerpiece, and then have smaller blankets on the outside surrounding the larger one, leaving enough space in between to walk easily.
The "extras"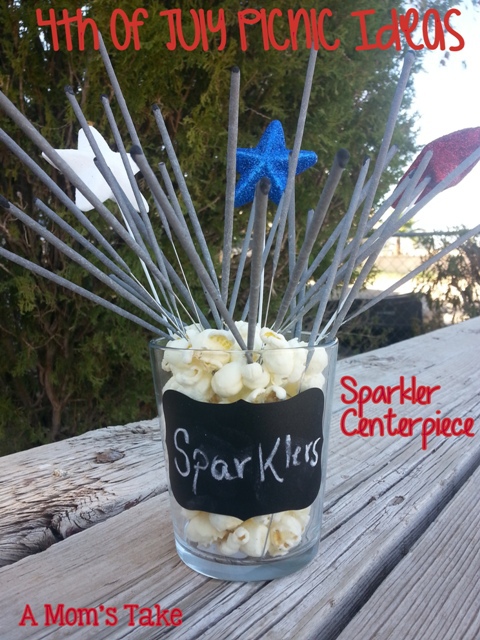 Don't just stop at blankets, though! You also need to have "extras" to make it cozy and nice. Add in some throw pillows, a centerpiece of flowers, and other such items to make your picnic stand out. Use a glass or a vase to display sparklers to use when the sun sets (I used popcorn to hold the sparklers). If you are having guests, make sure their spaces are just as nice as your space. Anything patriotic and matches your style is in! Bring the indoors outside to make the picnic space feel like a dining experience and not just eating outside on a blanket. The best idea for a 4
th
of July picnic, though, is to have one where fireworks can be seen while dining. And don't forget the music!
The Food
Finger foods were always the go-to for picnics, but not anymore! You can really do it up at picnics and serve three-course meals, or just a regular family-style dinner. If people are attending, make it a potluck. Try out lighter foods, pasta, vegetables, and fruits for lunchtime or evening picnics, but for night time picnics you can do fried chicken, mashed potatoes and gravy, biscuits, and all those good "American" style foods that make you think of home. How about a patriotic fruit salad? Use apples, raspberries and blueberries to create this delish salad!
Patriotic Fruit Salad
Super quick, and sugar free fruit salad. Perfect for the 4th or Any day!
Ingredients:
2 red apples
1 large package of blueberries
1 large package of raspberries
2 tbls Olive Oil
4 packets Splenda (or Truvia or any sugar substitute)
3 tbls Lime Juice
Directions:
Combine olive oil, lime juice and splenda packets in a large bowl.
Mix until Splenda is disolved
Rinse and drain fruit.
Cut apples to small pieces, leaving on the skin
Combine fruit in bowl with olive oil mixture.
Gently toss until combined.
What are you doing for the 4th?