This is a sponsored post written by me on behalf of Food Lion. All opinions are 100% mine.
Do you ever feel like grocery shopping is right up there with the other never ending chores like the looming laundry pile and the always full sink? Food Lion makes it easier for me to get in, and get out, of the grocery store with everything I need so I don't need any return shopping trips during the week.
While I was on the Food Lion app, I found their amazing selection of recipes. You can also find their recipes on the Fresh Ideas Blog. I love browsing the recipes right on the app because you can find a recipe you'd love to try, and easily add just the items to your grocery list that you will need.
See the little green plus symbols below – I just tapped the ingredients I still needed: red pinto beans, a red bell pepper, and corn. They were all added to my grocery list just like that.
Their Southwest Quesadillas looked amazing! We love eating quesadillas as it's such an easy meal that the whole family likes, but I wanted something with more flavor than just a pile of cheese. This fit the bill – these quesadillas were amazing!!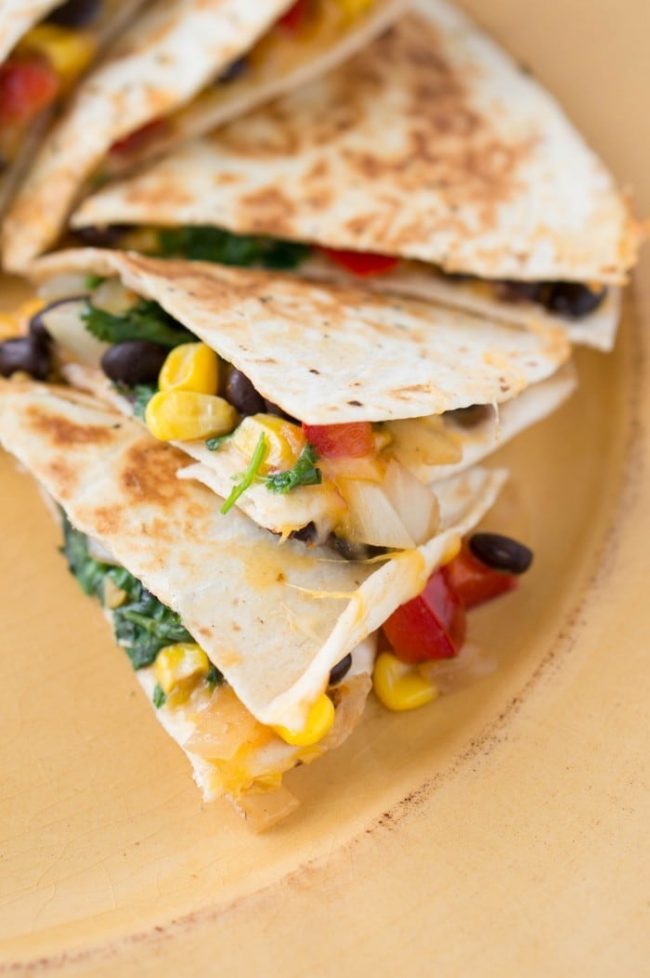 We made a couple of modifications to the recipe, my boys all out voted the pinto beans so we swapped in black beans and used frozen corn for its ease and how well frozen corn cooks up. We all loved the result, these are going to be made again and again in our home!
Loaded Southwest Quesadillas
Recipe slightly adapted from Food Lion's Southwest Quesadilla with Cilantro-Lime Sour Cream recipe, found in the free Food Lion app!
Ingredients:
8″ flour tortillas
2 tbls olive oil
1/2 red bell pepper, diced
1/2 sweet onion, diced
3/4 cup frozen corn
2 tsp crushed red pepper flakes
1 tsp ground cumin
Salt & pepper, to taste
1 can black beans, rinsed
1/2 cup cilantro, chopped
1 cup Colby jack cheese, grated
Directions:
1. Heat 1 tablespoon of olive oil in a cast iron skillet on a medium-high heat. Saute red bell peppers and onions until soft, about 5 minutes.
2. Add corn, crushed red pepper, cumin, salt and pepper to taste. Stir and saute another 3 minutes.
3. Transfer to a bowl and add cilantro and black beans, stirring to combine.
4. Wipe your cast iron skillet clean with a paper towel, then lightly grease the pan with 1 tablespoon of olive oil.
5. Lay one full tortilla flat on the skillet. Sprinkle a little cheese, then scoop filling on top. Sprinkle again with cheese to help all your layers stick together and top with another tortilla. Cook until the cheese is melted, flipping halfway through cooking to brown both sides of the tortilla.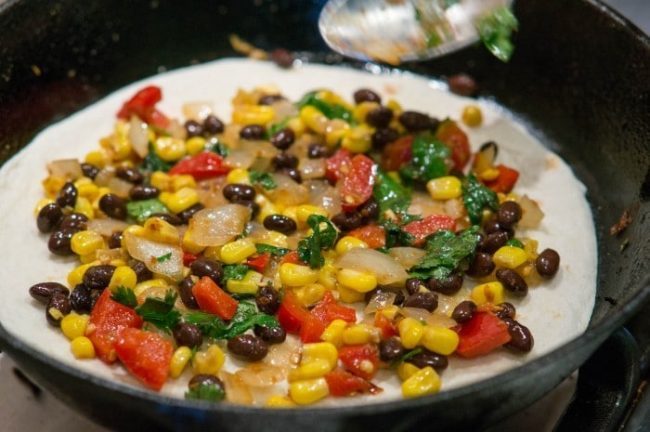 6. Cut like a pizza, with 6 to 8 slices and serve with sour cream.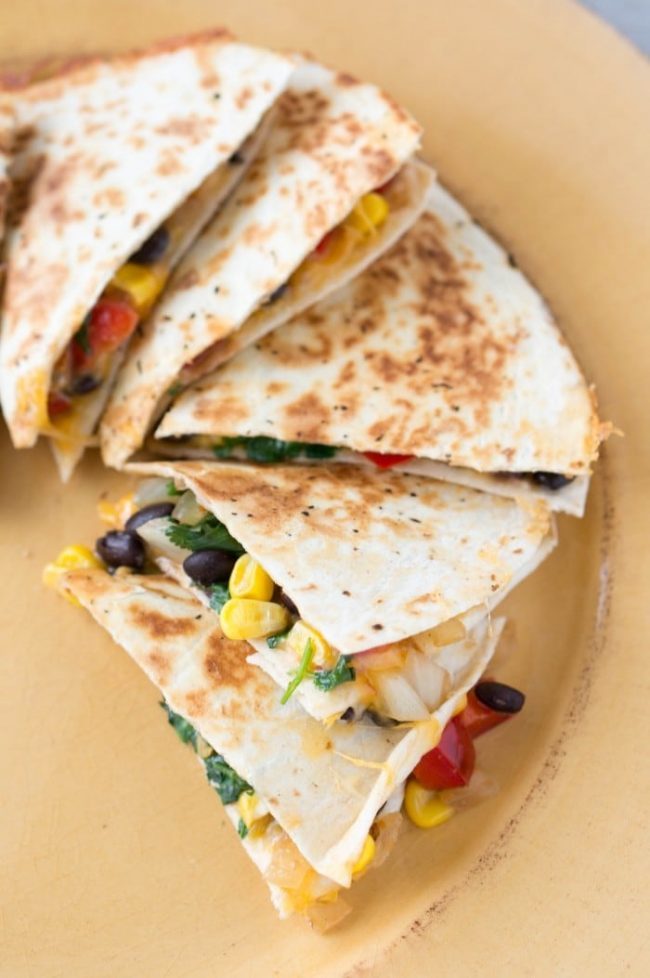 Each loaded quesadilla serves 1-2 people.
Check out Food Lion's Cilantro-Lime Sour Cream recipe while you're in the app, also, it's under the same recipe. It's an amazing combination!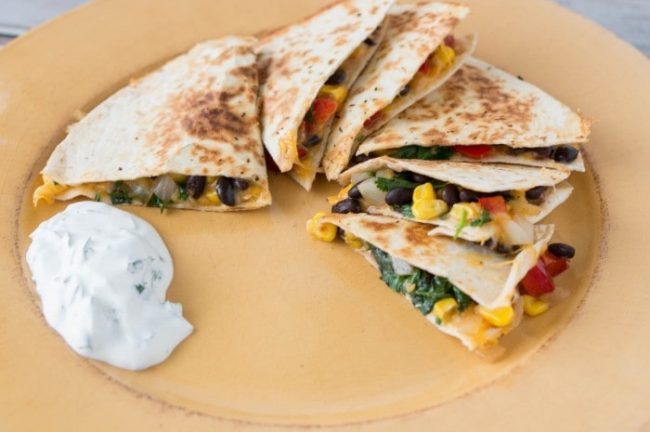 You will not be disappointed in these scrumptious southwest quesadillas. Everyone in my home scarfed down their portion, and asked for seconds!
Loved this recipe? Click here to pin and save it for later!