Mornings can be a rushed time, so these Greek Yogurt Biscuits are the perfect way to start the day! Simple, easy and so delicious!
CLICK HERE TO SAVE THIS RECIPE ON PINTEREST!
Not only does this recipe taste amazing, it's something that your kids will ask for as well!
Better make up a couple extras as everyone will want to have more than one!
Affiliate links are used in this post.
GREEK YOGURT BISCUITS
Most mornings are spent rushing around getting my boys ready and out the door and in two different directions for school. A big part of every morning is making sure my boys have their folders for school, a lunchbox and water bottle, and of course as healthy and filling breakfast. Quick breakfast recipes always make mornings so much easier as we try to get a jump start on our day.
HOW TO MAKE GREEK YOGURT BISCUITS
This recipe takes minimal prep but needs to be made ahead of time to freeze overnight.
I scooped a spoonful of vanilla Yoplait Greek onto one Blueberry Nature Valley Breakfast Biscuit and then sandwiched the yogurt with a second Breakfast Biscuit on top. Then, I placed these breakfast sandwiches into the freezer until the next morning to enjoy.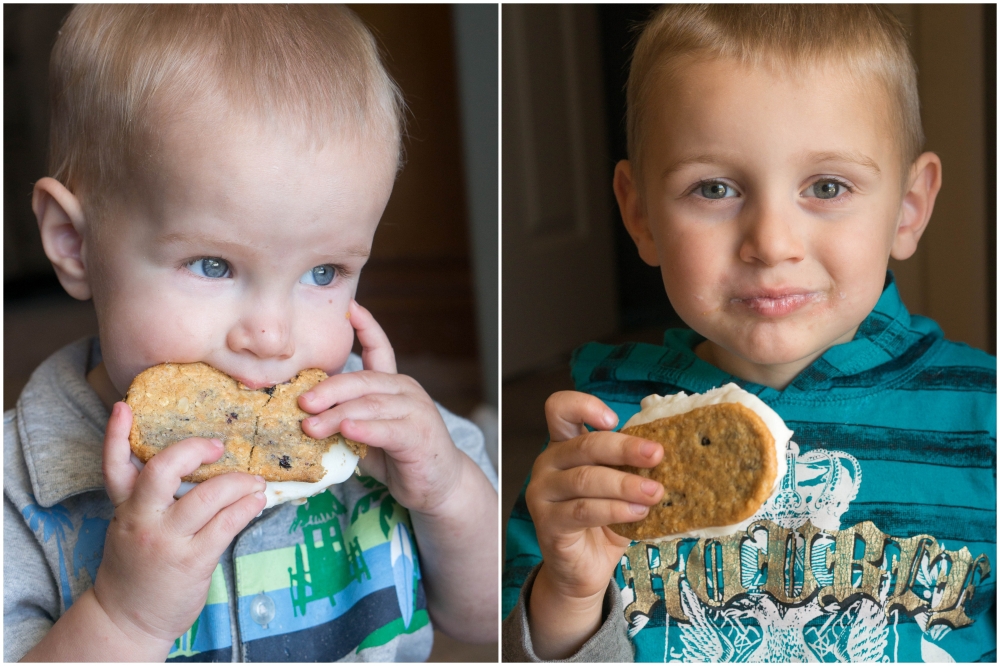 My two youngest boys were so excited with their "Ice cream sandwich" was ready to eat! Little did they know, this yummy breakfast treat was a completely healthy choice that I would happily let them eat every morning.
The Breakfast Biscuits taste a bit like a mix between granola and a graham cracker so they have lots of flavors and a perfect taste with the Greek yogurt!
The next morning, we crumbled up our Honey Breakfast Biscuits right into a cup of Blueberry Yoplait Greek. For a fun topping, we drizzled just a bit of honey on top. My boys love honey, so it's the perfect way to encourage them to try something new! They also thought it was so much fun to break up the cracker into bits!
One final perfect way to enjoy this simple breakfast combo is to use your Breakfast Biscuits like a spoon! Just scoop up your Yoplait Greek yogurt with the biscuit and enjoy a yummy spoonful!
We were all surprised by how much we truly loved these two yummy products together. They have been making breakfast simple and quick for us, even with four boys to feed each morning.
FAQS ABOUT BREAKFAST YOGURT BISCUITS:
Q: Can I make these using flavored yogurts as well?
A: Of course! Trying different flavor combinations are half the fun!
Q: Do these yogurt biscuits have to be frozen overnight?
A: Technically, no. BUT, if you want them to be less messy, it's a good idea to stick them in the freezer!
Q: Is there anything else that can be used besides breakfast biscuits?
A: Change it up a little with graham crackers, or even homemade pancakes!
Don't be afraid to experiment and share your experiences in the comments to help others that may have the same question.
IF YOU LOVE THIS GREEK YOGURT BISCUITS RECIPE, SPEND A FEW MINUTES TO SEE THESE OTHER BREAKFAST RECIPES THAT WILL BE AN AMAZING PART OF YOUR RECIPE COLLECTION!
CONNECT WITH A MOM'S TAKE ON YOUR FAVORITE SOCIAL CHANNEL FOR MORE RECIPES!
You can find us on:
Instagram | Facebook | Pinterest | YouTube | Twitter
What would you add to these greek yogurt biscuits?