Babyproofing can be tricky at first – understanding what you'll need to protect your child, home, and your belongings.
I've been through babyproofing with my five boys, now, and I can't wait to share my tricks of babyproofing against a toddler.
I have a 21 month old right now. He gets into absolutely everything if it's not secured away up out of his reach or locked. Toddlers are incredibly smart and won't give up trying until they've figured out our best babyproofing tricks, but these simple fixes have made a world of difference in keeping my boys safe.
September is Child Safety Month, so it's an important time to assess your home and what items you may need to keep your young children safe.
Even if your baby isn't quite toddling around into everything yet, you can shop for the gear to help you get ready for the change as it happens quick once they figure out walking!
We're sharing everything you need to know for childproofing your home and give you the peace of mind you'll need when raising your busy toddlers.
Affiliate links are included below.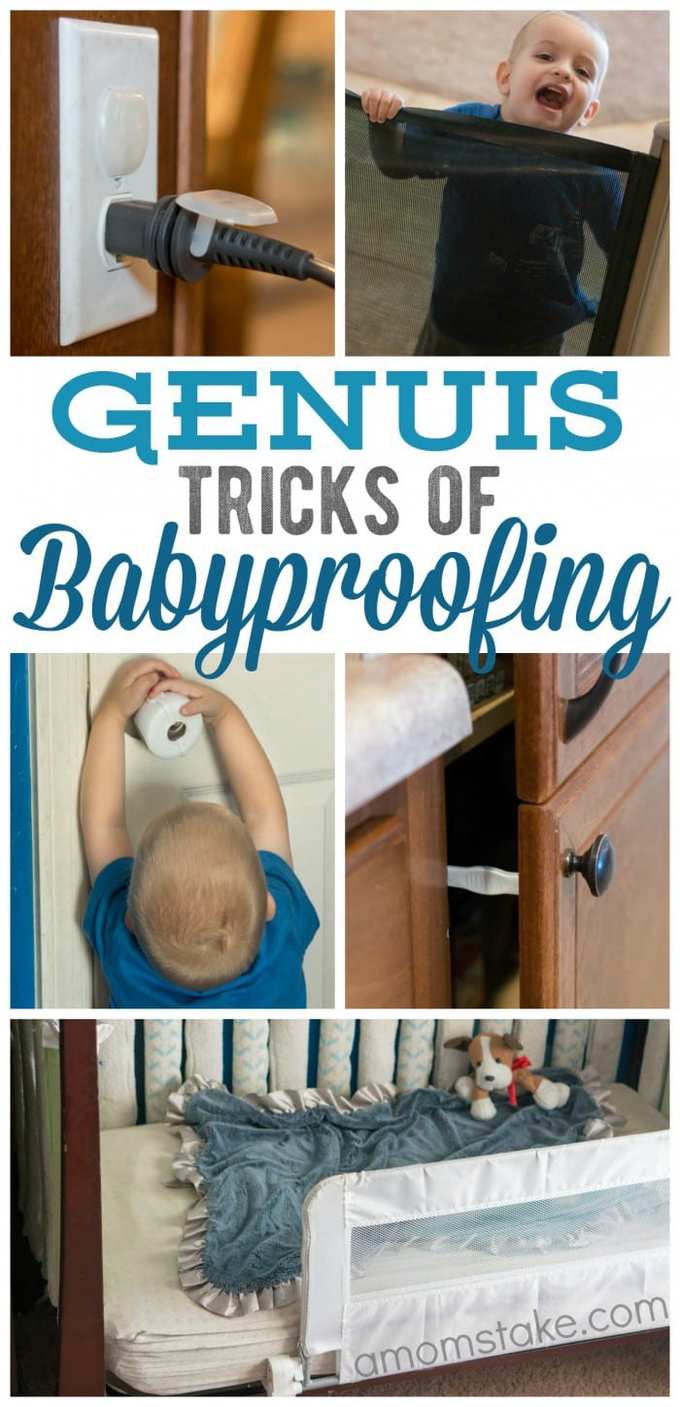 10 Genius Tricks for Babyproofing Against a Toddler
1. Gate the Door Jam
When the weather is wonderful outside, I love to prop open my front and back doors to let in that gentle breeze and fresh air. It changes the whole feeling inside the home.
It's easy to open my back sliding door as we have an attached screen door, but my front door we don't have a metal security gate or anything else to protect my little one from escaping.
No fear, though, it's a super easy fix! The best way is to just use a tension mount baby gate in the door jam and you can now enjoy the breeze and not fear your child escaping.
I'll also do this for rooms inside the home I want to be able to keep open – like our office – but that I can't allow my toddler into because of the stuff he would be able to get into.
2. Block the Inside Door Handle
My toddler switched over to a toddler bed at 15 months, and did wonderfully with naps and bedtime in his "big boy" bed. But once he was able to turn the door handles at 20 months, everything changed. That is, until one simple switch changed everything!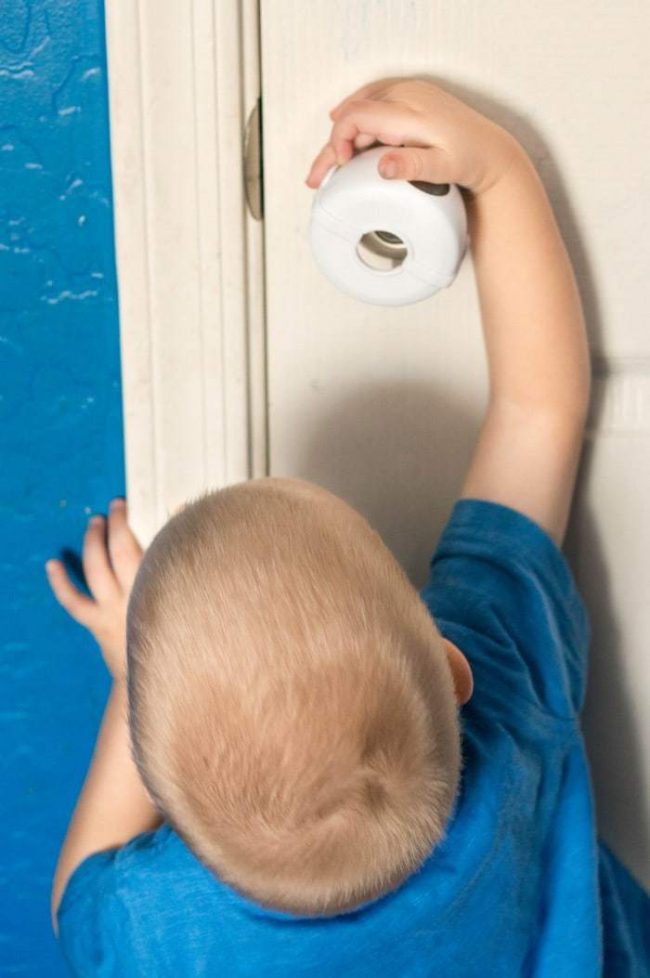 We just installed a door knob cover on the inside door handle and we were back to no more fussing about bedtime and naps! It's such an easy fix, but it literally took me until my 5th child to figure out this babyproofing trick!
I love that we can all very easily enter the room, but he can't make his way out when it's time for naps.
You'll want a whole bunch of door knob covers – we put them on closets, bathroom doors, and any other rooms in the home we don't want our toddler to get into.
3. Store Your Safety Plugs
One of the first things you think of when babyproofing is protecting the outlets from little fingers and little hands, and whatever they're trying to jam in there. But sometimes electrical outlet plugs are easily lost when you go to plug something and don't have a good place to stash them.
Even if you put that plug immediately away somewhere you're sure to find it, it's not very likely it will get returned to protect the outlet when that item is unplugged.
Did you realize you can store the outlet plug right on the plug itself?
Mommy's Helper outlet plugs are a perfect fit for attaching to the plug to store it until you've finished the task!
It's a good idea to keep them RIGHT where they go so they can easily be put back in when you're done, even if they don't fit on your particular plug due to the potential dangers of outlets!
4. Choose a Dropside Crib Bed Rail
Forget the expensive toddler bed conversion kits that are sold with your crib, you don't need something so fancy, and pricey, to turn your crib into a toddler bed.
Just attached a convertible crib bed rail and your growing toddler will be able to get in and out of their bed without help, saving your back from all that lifting!
Bonus: This style of crib bed rail can also swivel down and out of the way so it's super easy to change sheets!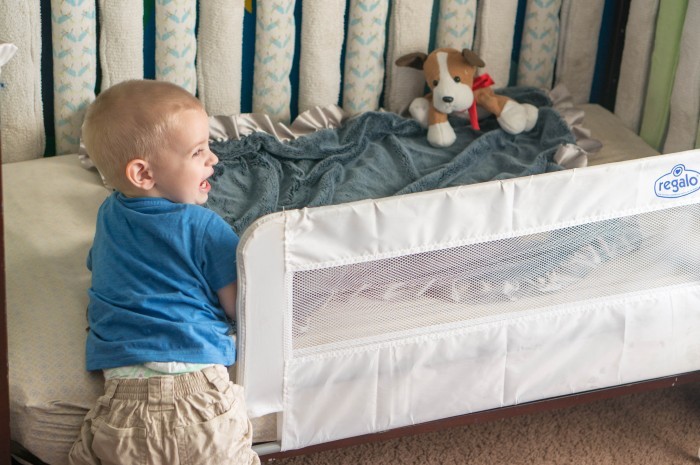 5. Look for a Wall Attached Gate
One of my very favorite items in my home for babyproofing in our wall-attached baby gate. We installed it blocking off the hallway, which makes my son have a limited area where he can room as it blocks off all the bedrooms and bathrooms on that side of the house.
Having it already attached where it's needed means I don't have to lug it in and out of storage every day.
He's left with lots of room to play in our open concept living room, kitchen, and dining room. It makes it so much easier to keep tabs on my little guy with half of our home blocked off from exploring.
6. Protect Your Drains (and your stuff!)
If you have a toddler, you'll know that for some reason they're attracted to the toilet bowl.
I'm not sure what fascinates them so much with the toilet – but it inevitably means you'll have lots of toys, books, and maybe even your cell phone to fish out if you're not careful.
The toilet can also be a big scare as your little one could lean and topple in, and not be able to get out.
It's the simplest fix to install a toilet lid lock and really means so much for keeping your little one and all of your stuff and drains safe!
7. Double (Triple) Lock Your Front Door
Toddlers quickly figure out how to open up the front door, and even how to unlock the locks. Keeping them safe is as easy as installing a door chain lock up high way out of their reach. Only my oldest, at 9, can reach our chain lock.
That means this super cheap fix has ensured my kids stay indoors unless I'm heading outside with them through those crucial small children years when they're eager to explore everywhere they can!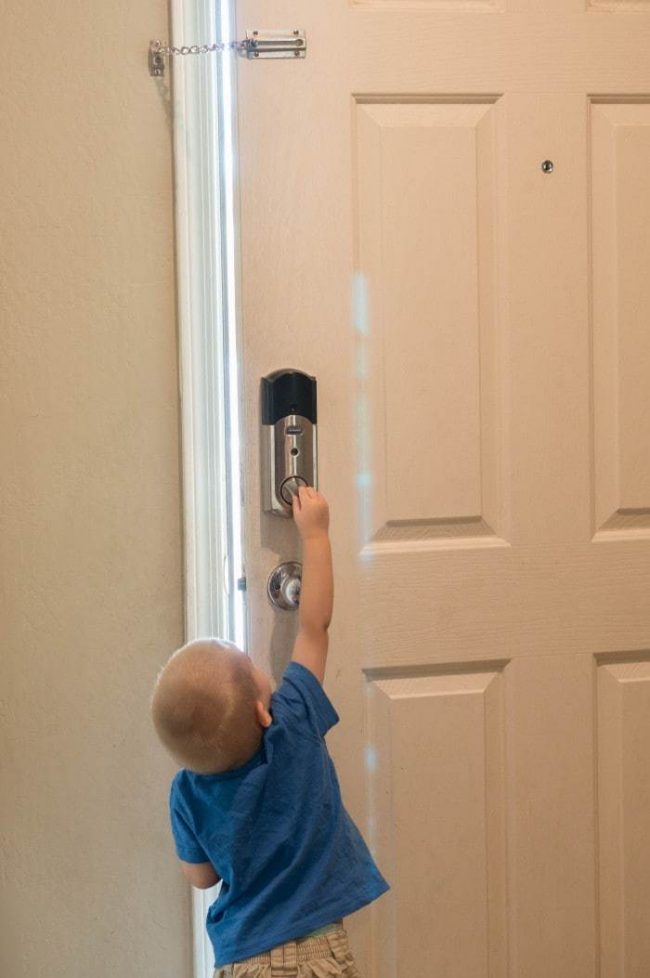 8. Install Easy-to-Open (for adults!) Cabinet Locks
Installing simple push down cabinet locks goes a long way for your sanity! Without them, all of your food storage containers and pots and pans will be all over the kitchen several times a day.
A locked cabinet is truly a lifesaver! You can even use one on an upper cabinet or a drawer to keep sharp objects out of reach or dangerous items like cleaning supplies away from their access!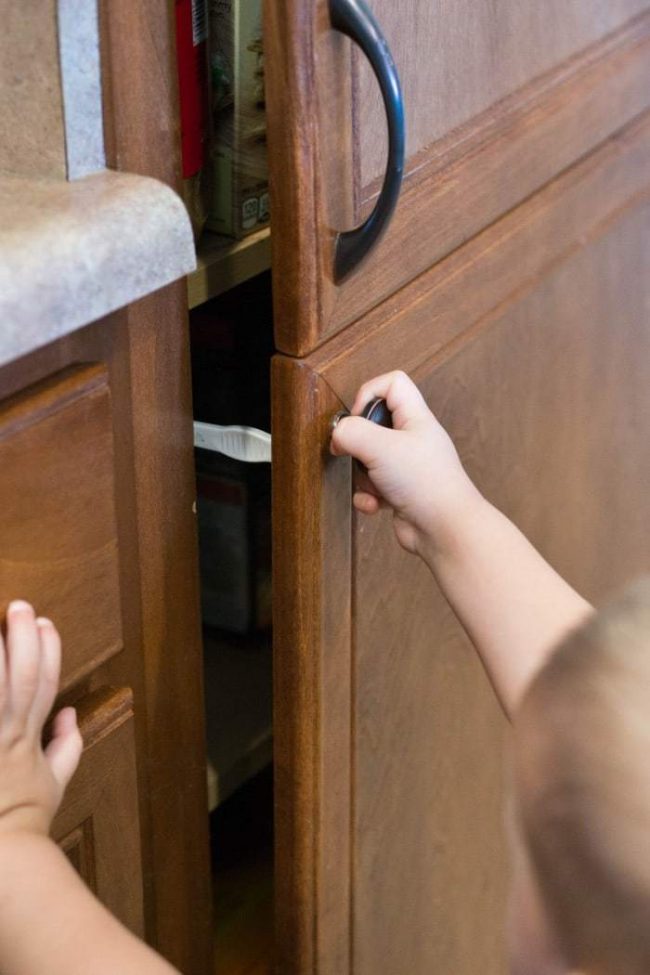 We have a tall cabinet that goes from the floor up to the top of our cabinets the full length. You can even lock those with the push button cabinet locks, just turn them on their side and they work the same way.
I prefer the button installed locks as they are much faster to get in and out of your cabinet and you won't lose them like you might with a sliding cabinet locks (though that style is great for grandma's house)!
9. Give Them a Step Stool
I don't know about your toddler, but I've raised all boys and every one of them has been a climber. Without fail, they'll climb onto anything and everything – an empty laundry basket, a coffee table, a shoe box – whatever they could find would become a stepping stool.
To help keep my little one safer, I combat the climbing that's going to happen regardless and redirect them to a rubber grip step stool.
It gives me the peace of mind knowing it's not going to slip out beneath their feet and they won't slip off the top either.
By letting them have something they can use to be just that little bit taller, it helps create a boundary that shows your child where it's okay to climb and what they cannot climb on.
10. Repurpose Adjustable Curtain Rod for Bookshelves
I was so tired of my toddler constantly dumping every book off of the bookshelf, and getting hurt while doing it, I knew there had to be an easy solution.
The idea came to me one day that all I need to do was install a tension mount curtain rod to my bookshelf!
They make them pretty small designed to hang a curtain in your front tall and skinny windows so they're perfect for even a small or divided bookshelf like what we have. My son can still take a book off the shelf when he wants to look at one, but it's not as easy (or fun) to dump off all the books!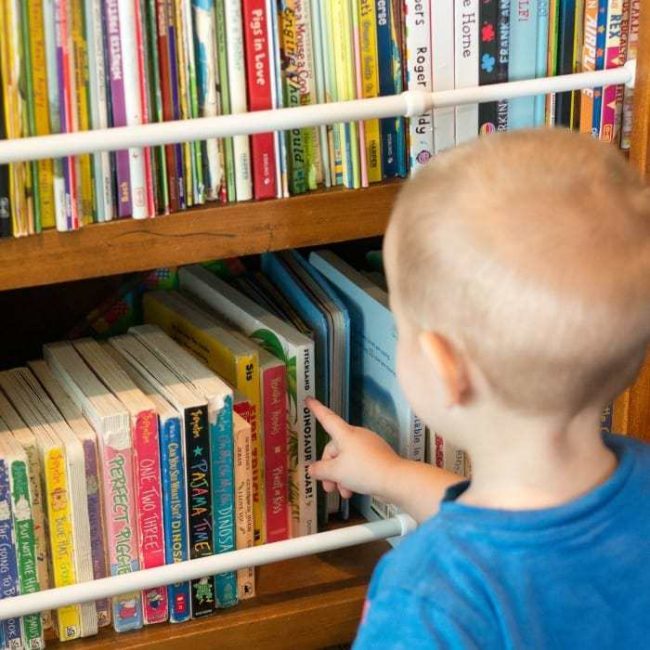 You'll of course also want to protect your young child from all the major hazards that can land you in the emergency room!
A few last Babyproofing tips are to:
Adjust your water heater so you don't have extremely hot water
Add guards to protect against sharp edges on coffee tables
String up those blind cords
Make sure you have working smoke alarms!
Utilize a safety strap to secure heavy furniture and objects as well.
Watch for small objects that can be a choking hazard, button batteries are a serious risk as well!
Watch out for hot food which can be a problem.
With these few things taken care of, you'll have a home safe from the major risk of injury so your curious child can roam and explore the entire house!
You can find all of our favorite babyproofing and childproofing safety supplies in our Amazon List including Mommy's Helper outlet covers, bath spout covers, driveway guard, and baby gates and bedrails from Summer Infant, Regalo, and KidCo.
No matter what area of your home needs some extra focus during Child Safety Month, you'll be able to find all the essentials for your baby or toddler's safety.
What are your tricks for babyproofing against your toddler?