My grandmother has a birthday that falls right between the two biggest holidays of the year – Thanksgiving and Christmas. I always feel bad as her birthday tends to come and go without a lot of excitement as we rush and run from one thing to another with all that goes on during the busy holiday season. I absolutely love and adore my grandma, she has always been there for me and is a great example to me in so many ways.
Nowadays, it feels like the majority of birthday wishes just come through on Facebook, or maybe an occasional email or phone call. Hardly anyone still sends a birthday card. But for my grandma, I know that she really appreciates a birthday card. At her stage in life there isn't a lot of things that she really wants or needs, but to just know that we are thinking of her and our expressions of love for her.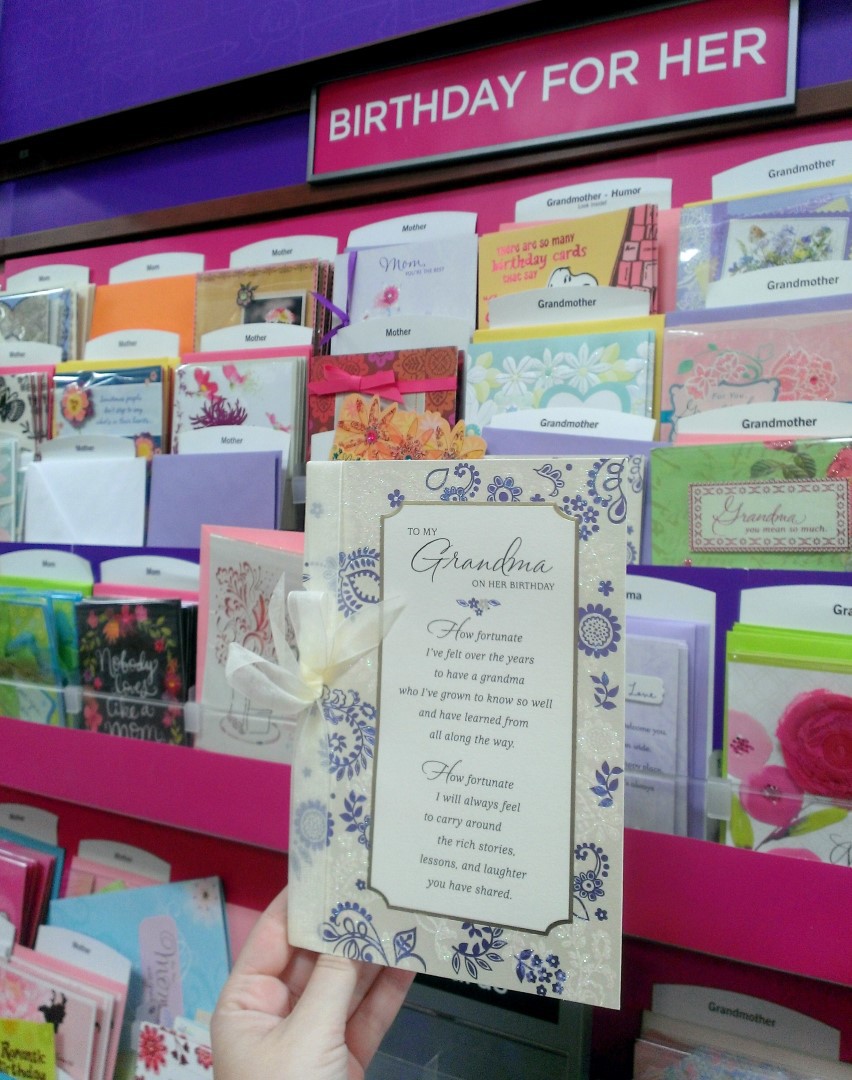 This week, as we headed into our local Walmart to pick up some groceries, we stopped by their card display to pick out the perfect birthday card! Walmart has a huge selection of Hallmark cards easily sorted by who you're shopping for as well as the occasion. It was easy to walk down the row right to the "birthday for her" section and then find the area of cards for grandmas to start searching for the perfect card to send her our birthday wishes.
We picked out these two cards, one from me to my grandma and one from my boys to their great-grandma! The kids very quickly picked out which cards they wanted, they loved seeing Snoopy and the Peanuts characters on this card! When I opened the card, I knew it was perfect!!
Inside this card had four little miniature cards each with their own adorable saying such as, "To a Perfect Grandma: With a grandma like you, who needs a blanket?" I let each of my boys pick out one of the miniature cards to sign from them to grandma! Linus' blanket card was perfect to come from the baby of the bunch! They loved getting to pick one of the tiny cards and sign their names.
I picked out this beautiful card which was not just pretty but very meaningful, too. The words already shared exactly what I would want to tell my grandma, but there was space to add my own note, too, so she knew that the message really came from my heart. I was really pleased with all the cards to choose from at Walmart. It was so convenient to swing by and spend just a few minutes to pick out a card while I was already there in the store doing my weekly grocery shopping. They had so many different beautiful cards to pick from so they really is something for everyone no matter your style!
We sealed up our cards and gathered a few things together that I knew she would love! When I used to coupon shop, I always shared some of the goods with my grandma. She would get giddy with excitement over her toothpaste (the "expensive" kind she would tell me) and toothbrush the most! I don't coupon shop anymore, but I knew a sweet basket with the essentials is what she would most love for her birthday!
If you have loved ones that have a birthday on or near the holidays, take a minute to show them that you are thinking of them and that they are special outside of your holiday parties. Stop by the Hallmark card display at Walmart and pick out a meaningful card that will show them you care!