I'm a sucker for a good smoothie! I love fresh fruits and creamy smoothies with a sweet flavor. One of my favorite smoothie's is a Jamba Juice Aloha Pineapple Smoothie. I've seen copycat recipes, but they use ingredients I rarely have on hand. This is a super easy smoothie alternative that while isn't identical in taste, is really good and comparable! Our copycat Aloha Pineapple Smoothie recipe is our favorite smoothie!
This post is sponsored by Turbana. All opinions are my own.
Aloha Pineapple Smoothie Recipe
Ingredients:
1/2 cup fresh pineapple
1/2 cup fresh strawberries
1/2 a banana
1/2 cup vanilla greek yogurt
1 cup crushed ice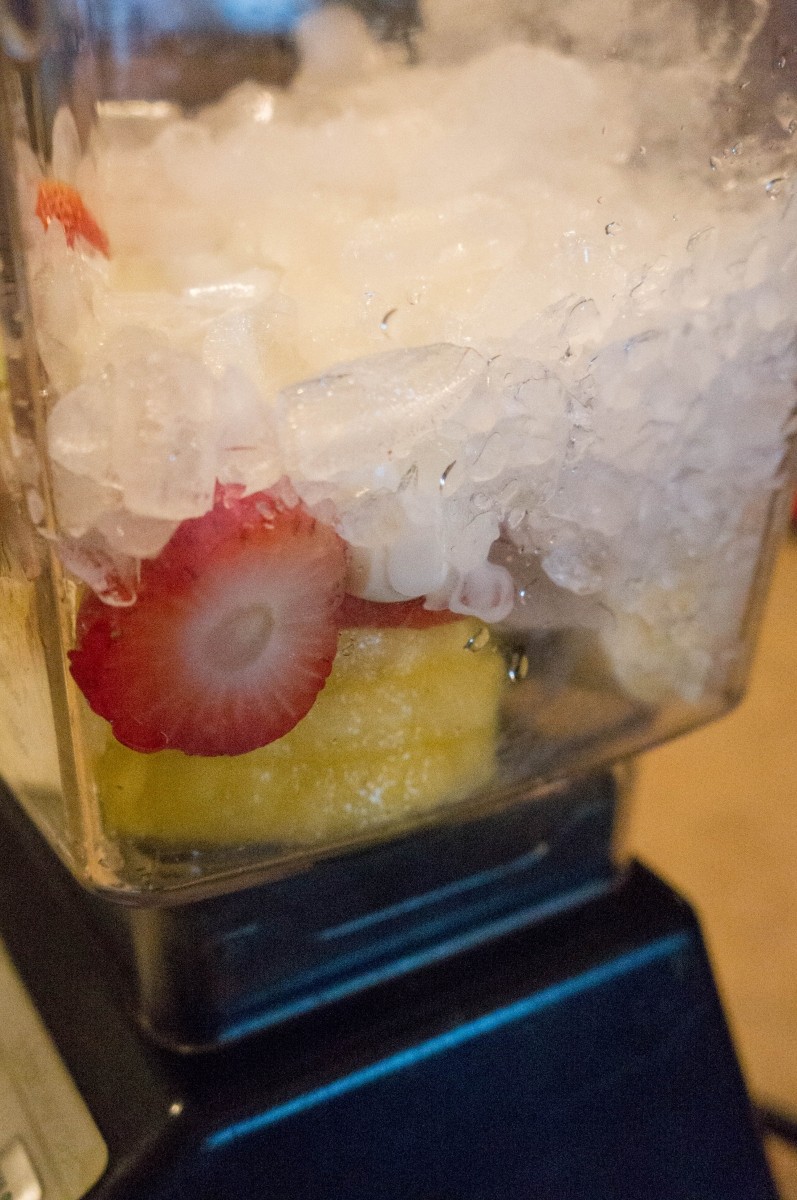 Toss all ingredients – fruit, yogurt and ice, into the blender. Blend until well blended and smooth. You can substitute in frozen strawberries if they are out of season, as they can be price out of season, cut back a little bit on the ice if using frozen berries.
I absolutely LOVE my Blendtec blender, and the wildside jar is a MUST for smoothies. It blends up everything like a dream. Just literally toss everything in, press blend, and wait about 30 seconds and you're done! It's pricey, but oh-so worth it!! I can't tell you how many cheap blender died on me and had to be replaced.
For the Greek yogurt, I prefer yoplait's Greek yogurt as it's really creamy and good. If you have a favorite, by all means use that variety, but some Greek yogurts can be kind of bland. You can use regular yogurt, but a good variety or Greek yogurt will be better than traditional yogurt for this recipe.
The most important aspect is choosing ripe, fresh fruit!
For bananas, you want the skin to have a few polka dots. I used to avoid spotty bananas, until I learned that's when they have the best flavor. Once I tried them with a few spots and noticed what a difference in the taste I was converted! Don't be afraid of a few spots! This ingredients picture was when I first bought all my supplies. I let both the pineapple and bananas sit a few days to ripen before we made our smoothies. Wait until your pineapple smells really fragrant to tell when it's ripe!
Turbana grows and distributes many varieties of tropical fruit throughout North America. While the produce is labeled with different branding across the states, it is all sourced through Turbana. They have a wonderful website with nutrition facts and a guide to the benefits of the fruits including bananas and pineapples.
Visit Turbana's website for more tasty recipes to try next!