Have you checked out my currently live giveaway with details on the great new SoundAsthma app called AsthmaSense? If you haven't already, head over to check out the giveaway and enter to win a copy of this great app that helps manage asthma symptoms!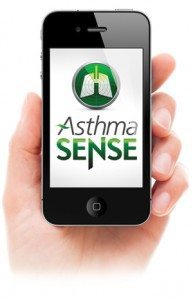 Next week I will be co-hosting a twitter party with SoundAsthma in support of their great new app! We will be discussing the new app AsthmaSense and asthma with cool prizes given away throughout the 1-hour long twitter party! Several copies of the AsthmaSense app will be given away as well as a NEW iPad preloaded with the AsthmaSense app as the grand prize to one winner at the end of the party!
To participate in the Twitter Party, just follow along with the conversation and tweet with us using the hashtag #asthmasense. Be sure you are following @SoundAsthma, @Amomstake, and @BrettbMartin so you don't miss out on the party tweets! The party starts at 9pm EST on Thursday July 26th!
Click here to go to a TweetGrid set up for the party!!
RSVP HERE!!
Disclosure: I will be compensated for my participation as a co-host of this twitter party.