I remember watching my little 9-month-old baby boy pick up a car toy and automatically start pushing it around on his hands and knees. How do they just know how to do that!? I was convinced it was a boy thing, then I had a daughter. I learned very quickly that all kids adore playing with cars, and as my kids grew they became obsessed with Hot Wheels.
I received samples and compensation for this post, all opinions are my own.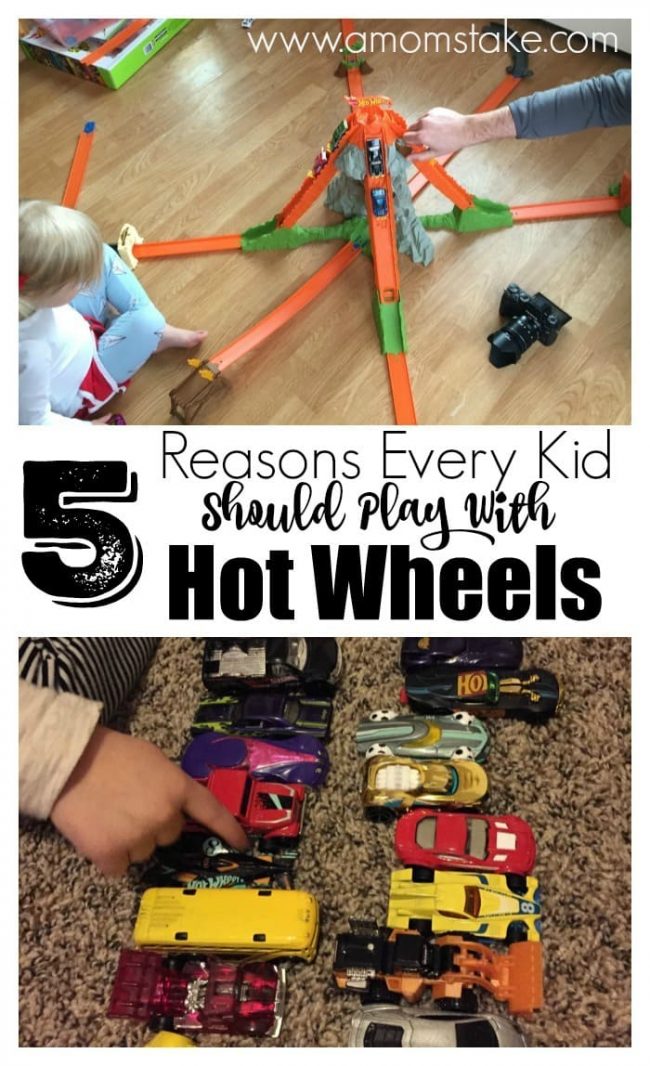 I can't say that I blame them, fast cars, loops, ramps, and jumps, what's not to love? As a mom I became obsessed with these tracks as well, but not for the same reasons as my kids, even though I am a fan of their flashy paint jobs. As I watched my kids build and play with their track sets, I started to notice that this kind of play goes way beyond racing cars. Here are five traits I have watched my children learn while they play and, as a mom, reasons I think every kid should play with Hot Wheels.
Problem Solving– When you can't quite get that car to jump to the ramp you want it to, you have to reassess the situation. It is the same thing that happens when you can't solve a math problem or tie your shoes, but when kids are playing they are more willing to figure it out on their own. I have watched my son build and rebuild a track until it does exactly what he wants it to. From these situations he has learned to think ahead and make changes as needed.
Teamwork– "Pass me that track!" "We should put that over here!" "Hey, what if we tried this trick?!" These are all exclamations I have heard my kids say to each other while playing Hot Wheels. Everything is more fun with a friend and working together towards a common goal is a skill kids should learn early on!
Creativity– For the longest time the only Hot Wheels track we had were just the straight orange pieces with blue connectors. We didn't have any turns, ramps, or launchers. My little two-year-old would pile books on the floor with his daddy and wedge tracks into dresser drawers to create ramps and obstacles. Now that our collection has significantly grown, so has his imagination. The room he shares with his sister frequently looks like this:
Their tracks will stay up for days at a time.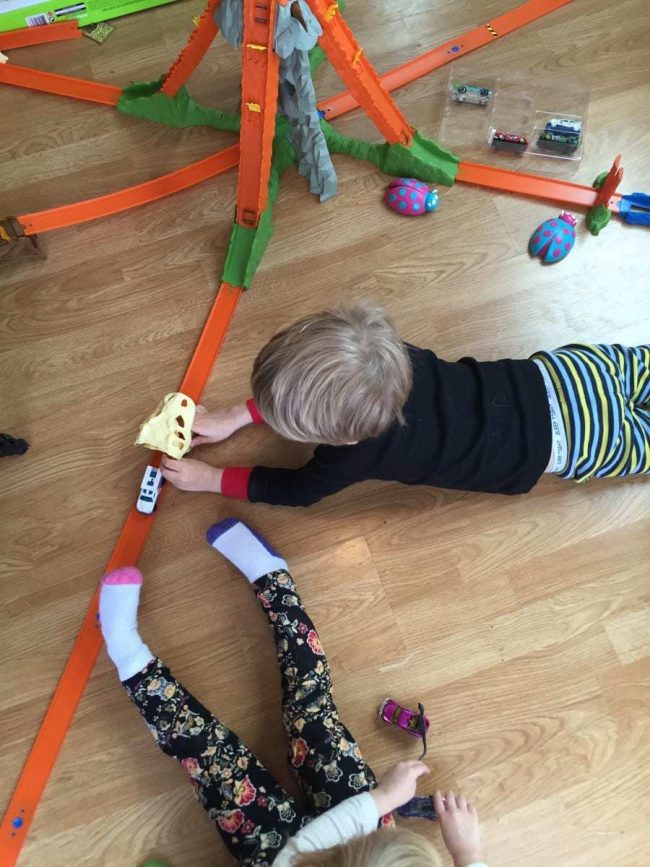 Imagination– After using all their creativity to build elaborate tracks, they always come up with elaborate scenes and scenarios for their cars as well. Along with their Hot Wheels, I always find the bin of small animal figurines and blocks nearby. Can you see the little dinosaurs in the backs of the trucks in the pictures above? So fun to listen to them play.
Education– Did you know that Hot Wheels has a whole free curriculum that is matched to national standards for math and science called Speedometry? It helps kids use cars, tracks, and everyday items to learn concepts like mass, slopes, and kinetic energy. Talk about motivating a kid to learn. It is geared towards 4th graders, but I am pretty sure that I can make some of it understandable for my kindergartner. Really Cool Stuff. Check out more educational ideas on their Pinterest page.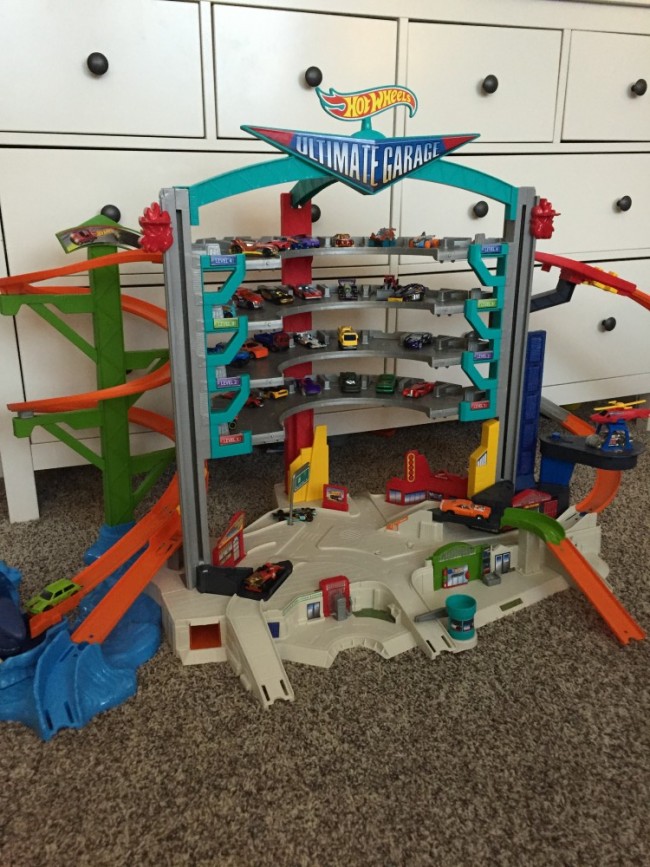 Hot Wheels has some impressive new sets out. Have you seen this Hot Wheels Ultimate Garage™? 5 stories tall with spaces for 36 cars, working elevators, spiral ramp with shark escape stunt, gas station, helipad… it just keeps getting better! This set is the start of hours of imaginative play.
My son spotted Hot Wheels® Track Builder Volcano Blast at the store a few months ago and has been talking about it ever since. Check out this video of his Hot Wheels surprise and how much fun we had unboxing and playing with it:
Hot Wheels is giving away an AMAZING prize package to one of you that includes: 1 Hot Wheels Ultimate Garage, 1 Hot Wheels Track Builder Volcano Blast, Assortment of 10 Hot Wheels Basic Cars, Hot Wheels Stickers, and 2 Kids' Hot Wheels T-Shirts. Enter to win below!
Are you Hot Wheels lovers at your house? What is your favorite thing that kids learn from playing with Hot Wheels?