My kids are getting to that awkward age where they are stuck between being a kid and teenager. That lovely age where they are just starting to smell funny and get all kinds of hormonal. I guess that means it's time to start teaching them a little something about hygiene.
This post was developed in partnership with Tom's of Maine. All opinions are my own.
Every family is going to be different and every tween's need are also going to be different. What age do I let my girl wear make-up? When I do, what do I start with? When do I teach my kids to shave their legs, face etc? When do I introduce deodorant?
6 Hygiene Tips for the Growing Teen.
Introducing the use of makeup. When my daughter turned 12, we began allowing her to wear make-up. We started her with just some colored lip gloss and mascara. As she got older, we introduced other things like eyeshadow in neutral colors and some eyeliner. I attempted to teach her how to accentuate her features and to not overdue it.
Leg shaving for beginners. Teaching by showing is a good thing here. I don't tend to use shaving cream, but I thought it was a good idea for a beginner. I grabbed her a bottle and sat on the edge of the tub with her. She had been asking when she could start shaving her legs, so I thought maybe it was time to teach her. Each family will be different, but I started teaching her at about thirteen.
The importance of showering regularly. I don't know about your teen boys, but I have to remind my boys to shower. My daughter doesn't need reminding. Thank goodness. I think it will be a fight to get my boys to shower until they discover that they like girls. Then the fight will probably be over. Until then, though, I will be telling them to shower. If you don't want to be reminding them, you could try something like a sign or a chart to help them remember themselves.
Face shaving for boys. Obviously, you want to wait until your son starts growing facial hair to even worry about it. Facial hair starts growing usually around high school age, so if your kids are little, you still have some time. This will be another time where watching someone shave will probably be beneficial.
The need for deodorant. When tweens start developing, they start stinking. This usually starts happening around 12 or 13 years old. Explaining to them that it's normal and they need to shower regularly and use deodorant will be a must. Be sure to hand them a few sticks and tell them that they should use it every day. Unless they like being stinky.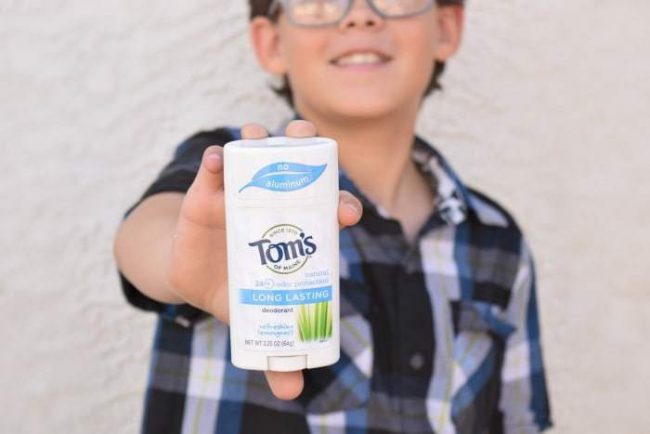 For me, as a parent, I wanted something for my kids that would be gentle on their skin but still get the job done, because nobody likes stinky teens. Therefore, I grabbed them some of Tom's of Main's natural deodorant.
Tom's of Main is a natural deodorant. That means that it doesn't contain any harsh chemicals like aluminum. Tom's of Maine also has no artificial fragrances, preservatives or petrochemicals. So, my kids can get the great natural combatant to smell, without all of the harsh chemicals of a regular stick of deodorant. Plus, they smell great too.
As a mother, I worry about my kids all the time. It comes with the job title. That's why I want to be more conscious of what goes into their bodies and into their skin. Tom's of Maine eases my worry with their line of high-quality natural personal care products. I can be sure that from the toothpaste they use to the soap, Tom's of Maine will have them covered in natural ingredients without all of the harsh chemicals.
What's your reason for switching?