The official countdown to Christmas is on! The busiest two months of the year are here and it's time to start preparing yourself and your home for the upcoming season.
As part of our holiday series, we're starting off by getting our homes ready for the holiday and sharing some of our favorite stocking stuffers.
Start early with your holiday planning, and you won't be left scrambling last minute! Here are some favorites and essentials to start your holiday season off right.
Holiday Essentials & Stocking Stuffers
We received a variety of samples and/or compensation in exchange for inclusion in this post. Affiliate links are used in this post. All opinions are our own.
Home for the Holidays
Add Holiday Lighting – Indoors and Out with Philips Hue! Philips Hue is the perfect choice for making your home merry and bright through the holidays with their indoor and outdoor lighting products that can be controlled right from your phone, whether home or away for the season! See our favorite products to add color in and around your home.
Hue White and Color Ambiance Outdoor Lightstrip – This 197″ flexible lighting strip is perfect for adding white lighting or color all around your outdoors. Shape a garden bed or add lighting along a pathway to enhance visibility or create mood! It can even be screwed along a surface with the included clips like seamless holiday lights along your roof line with the ease of changing colors and controlling timing all from the app!
Hue White PAR38 Outdoor Bulb – Make the most of your floodlights with the ability to choose the white color temperature that fits the time of day and need as well as turn on and off your lighting with specific tricks such as when you arrive home or at a scheduled time of day.
Hue White and Color Ambiance Starter Kit E26 – Get started with your indoor color experience with the Philips Hue 4-bulb starter kit that includes the sync bridge. With this set you can really make a scene as you transform your indoor spaces and standard light bulbs around your home with an exciting splash of color and interest to meet the seasons or event!
Get Organized and Ready to Wrap with Thirty-One Gifts – Streamlining your holiday organization is a cinch with Thirty-One Gifts! They have storage and utility totes in fun patterns perfect for the holidays that can store gifts, wrapping supplies, holiday books and more. Or turn to the Timeless Memory Pouches for a fast and easy way to wrap! There's options for everyone and easy personalization to make the products your own. Host a Thirty-One party in November, and you can earn double the hostess credit for your own shopping spree!
Timeless Memory Pouches – Save time wrapping with these reusable gift pouches that are festive and fun. They are available in both a small size (7.75″ H by 6.75″ L) or a Large size (15.75″H by 13.5″L) to fit a variety of gifts. Each set comes with two drawstring closure bags and at just $5 for small or $10 for large 2-pack they're a steal!
Storage Totes – Store everything from wrapping accessories including gift tags, paper, and tape in an Essential Storage Tote or store your holiday books in the family room. Use a Large Utility Tote to stash presents under the tree.
Decorate with the Perfect Festive Pieces – Precious Moments offers beautiful pieces that can help you decorate your home, serving pieces for holiday festivities, and the perfect ornaments to trim the tree! You can also find the perfect sentimental and thoughtful gifts for everyone on your shopping list at Precious Moments!
Snow Much Fun Ceramic Serving Dishes – Get festive this holiday season with the cutest line of festive dishware by Precious Moments! The "Snow Much Fun" set includes these adorable Nesting Bowls set, a Snowman Cookie Jar, dessert plates and more!
"Come Let Us Adore Him" Nativity Lighted/Musical Snow Globe – This adorable snowglobe shares the nativity store with a darling angel snowglobe on top! For a limited time, you can get a FREE Precious Moments Angel Ornament when you purchase a Nativity Musical Snow Globe, use the code ANGELFREE at checkout! Offer ends 11/30/18.
Fun for the Holiday Season
Enjoy Festive and Fun Snowie Holiday Treats – What fun are the holidays without special treats to share with the family? Little Snowie 2 Ice Shaver is a fun addition to all your holiday gatherings as it's fast and easy to use. You'll have fluffy snow in just 3-seconds with this professional grade shaved ice machine.
Little Snowie 2 – Fill your Little Snowie 2 with ice cubes straight from your freezer, or from a bag of frozen ice from the store, and you'll have a fresh bowl of shaved ice in just seconds. Then, press your cup of shaved ice in to the domed dispenser to create the perfect snow cones! The set includes sample-sized flavoring bottles to get you started with all the holiday fun!
Fun home and outdoor products to try this Holiday season- Hamswan offers a variety of home and outdoor products that make your life easier and more enjoyable. Available at great prices, you're going to want to shop Hamswan for every member of the family this holiday season!
Waterproof electric rechargeable toothbrush: Featuring advanced sonic cleaning technologies, this Hamswan rechargeable toothbrush helps reach deep between your teeth; it also removes 10 x the plaque of a regular toothbrush. Lightweight and easy to transport wherever your adventures take you, the Hamswan rechargeable toothbrush's battery can last up to 90 days.
Lighted Makeup Mirror: This Hamswan LED Makeup Mirror offers perfect natural day light perfect for applying makeup. With its touch sensor design, you can adjust the brightness level. With 3 different magnification mirrors, this mirror is perfect for everything from tweezing to makeup application.
Kids Headphones: Hamswan even offers products perfect for little lady in your life. These Hamswan headphones are light weight, adjustable, and volume limiting – making them safe for your kids.
Gear Up for the Holidays with LEGO Themed Sets! Collect LEGO's seasonal sets that will get your family excited for upcoming vacations and activities! Or, start them off with an advent countdown calendars with a new surprise each day leading up to Christmas! Either way, LEGO will have the whole family excited for the season!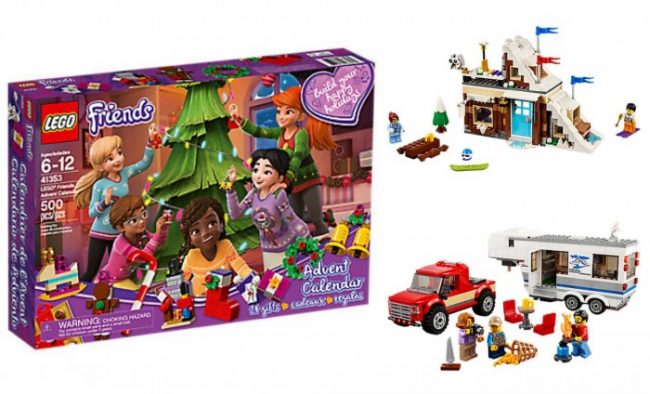 LEGO Creator Modular Winter Vacation – If you're planning a vacation to the slopes or already live in a winter landscape, your family will love the adorable Modular Winter Vacation set. Build it as a ski lodge and then transform it into a Bobsled Track or a Yeti Surprise!
LEGO City Pickup & Caravan – Maybe your holiday travels will take you off the beaten path or dreaming of warmer days. This adorable building set will have you assembling a pickup and trailer with removable cab room! The set includes everything needed to create your own stories including 3 minifigures and accessories!
LEGO Advent Calendar – Pick out a favorite themed set, like the LEGO Friends Advent Calendar set that includes 24 mini gifts including different holiday decorations such as a Christmas tree, gingerbread man, and more!
Have an Indoor Snowball Fight – Play Visions has made snowball fights more fun than ever with their soft, indoor Snowtime Anytime snowballs! Now, you no longer have to wait for freezing cold weather – you can have all the fun indoors through the holiday season. Play as a traditional snowball fight or come up with your own fun games and variations like hot potato, keep away, or dodge the snowball!

Snowtime Anytime – 6 Pack – Bring the fun of snowball fights indoors with this perfect starter set! With 6 snowballs you'll have fun launching the snowballs back and forth at each other.
Snowtime Anytime – 30 Pack – Launch a full out snowball fight for the whole family with this fun pack that includes 30 soft indoor snowballs! These 3″ snowballs are fluffy and soft so they won't freeze your hands, or hurt when you get hit with one in your indoor battle!
Fun Stocking Stuffer Ideas
A Challenging EXIT Game, That's Pocket Sized – Add a stocking stuffer that will provide an experience they won't soon forget! The craze of escape rooms comes to life in your own home with the EXIT: The Game series by Thames & Kosmos. We've tried several different escape room themed games, and the EXIT series is our favorite! Filled with fun riddles and puzzles and designed to think outside just a stack of cards it's really an innovative and thrilling experience for 1 or two or for a small group!
EXIT: The Game includes 10 different titles in the series with a range of settings to add fresh excitement with every new title. We've enjoyed a few of the EXIT games already, and each one feels unique and exciting with different types of puzzles to challenge us! Here's a few of the series titles:
The Sunken Treasure
The Forbidden Castle
The Abandoned Cabin
The Mysterious Museum
The Pharaoh's Tomb
The Secret Lab
Miniature Versions of Classic Toys by Super Impulse Will Surprise! Do you reminisce about all the nostalgic toys of your childhood? Did you know that Super Impulse has brought back some of those beloved favorites in a fresh, fun, and incredibly cool way? Their line of World's Smallest and World's Coolest toys are the perfect way to share with your children, a family member or co-worker the favorite toys of today and yesterday in a fresh way!
Tiny Arcade – Relive your favorite classic arcade games including Galaga, Frogger, Pac-Man, Dig Dug and many more. These tiny arcade games are perfect as a workplace gift. They provide the complete gameplay in a tiny format with authentic controls and sounds.
World's Coolest – Experience a new way to play with your favorite brands in the World's Coolest line of toys. You can find beloved toys including Beyblade, MadBalls, Polarid, even a Turntable!
World's Smallest – Some of the most beloved toys like Perplexus, Rubik's Cube, even a Magic 8 Ball and Etch a Sketch are now available in a tiny format. These pocket-sized toys are fun on the go and make the perfect stocking stuffers.
Stress Relief, Fun Surprises, and Challenges Make Fun Stocking Stuffers – Some of this year's hottest toys that all the kids are into this year come from Bulls i Toy. These toys are the perfect size for stocking stuffers. With their large selections of toys, you can find something for everyone. They're sure to bring joy to your kids or even a co-workers desk. Bulls i Toy can be found at a Target retailer near you.
Squish 'ums – A fun take on what we used to call stress balls. These slow rise foam Squish 'ums are a new kids favorite and have started replacing the spinners of last year. They come in all sorts of fun shapes and colors. Check out their scented and brightly colored Skulls line, Yummy cupcakes, popsicles or even funny, brightly colored and happy Poo pets.
BrainStem – These hands-on toys are fun for building and keeping little hands busy. Bulls i Toy's Cub3d Block2Bot is a set of blocks connected together that you can easily manipulate into different shapes, including a robot. Skele-Tubes are a fun tube full of buildable skeleton pieces. Kids can easily create their own dino bones model.
LOL Surprise! – These have been hot toys on the market for a while now. Little girls love LOL dolls and now they can grab one of 6 different surprise tins. Each tin comes with little surprises including magnets, puffy stickers and more.
Sweet Collectables to fill their Stockings – Small toys and candy have always been the fill of stockings. Radz has made the ultimate stocking stuffer by mixing the candy and toy together in these awesomely cute collectible candy dispensers. Mix and match types of dispensers or characters. Find Radz exclusively at Target retail stores.
Foam Dispenser – These squishy dispensers are fun and puffy. Each one comes with its own bag of candy that you fill into the bottom of the dispenser. Collect all of the DC characters, unicorns or other collectible characters.
Twist Dispensers – Easily access the yummy candy by twisting these candy dispensers. The top easily twists off to fill or eat. You can even mix and match by interchanging the heads with other characters.
Key Chain Dispensers – With these dispensers, you pull back their hat or hair and their tongue sticks out to dispense candy. Each character's hat or hair is interchangeable to make for mix and match fun. Each comes with a mini character poster and collectors booklet.
Have fun in the bath with bath fizzies for kids – If you're looking for the perfect stocking stuffer that will make your kids love bath time even more, look no further than Fizzy Magic's bath fizzies. Made just for kids, Fizzy Magic's bath bombs are the first ever educational bath fizzy complete with a fun surprise in the middle.
Different Collections: No matter what kind of animal lover you have there are a variety of Fizzy Magic collections featuring safari, sea life, and farm animals.
Educational Insights: Each bath bomb starts with a hint to help your child guess the surprise inside. After the bath fizzy dissolves, you receive a fun surprise with a fun fact about the animal. The best part is that Fizzy Magic bath bombs continue the fun outside of the bath with a custom story from the Fizzy Magic Book Collection. Talk about a fun and educational stocking stuffer every kid is sure to love.
The perfect stocking stuffer he will love with Whiskers Laces – I don't know about you, but finding stocking stuffers for my husband is by far my hardest Christmas task. This year, I can't wait for him to open his new shoe laces from Whiskers Laces. Whiskers Laces feature a variety of shoe laces perfect for every occasion. With a variety of colors and patterns, Whiskers Laces will transform the look of any shoe.
Whiskers Laces has the ability to dress shoes up, make a statement, add a little color, and make your shoes stylish.
Whiskers Laces has a variety of pattern and color combos. Here's a list of my favorites:
Priced at only $14.99, you'll want to get a couple pairs for his stocking!
What are your favorite essentials for the holidays?