I received samples and compensation from Playtex to talk about Diaper Genie Expressions. #spon
Kids come with a lot of stuff. It is so easy to let all the baby paraphernalia take over your house. I want to show you some easy ways to decorate with kids stuff in mind. Some days your floor will be covered with toys and books, but when you are prepared, everything will have a place to go. That way you can hang on to all your personality and style in your home and still have everything you need for your little one. Your home can be both baby friendly AND stylish!
Dresser TV Stand– When we first got married we had an open shelf tv stand. We quickly realized that with a baby in the house it was just not working. We ended up grabbing a dresser at Ikea as a make shift TV stand and I will NEVER go back!
It is the perfect way to stash baby toys and supplies in your living room without having to look at them or trip over them all day! We use the bottom two drawers for toys and the middle ones for diapers and wipes, baby shoes, etc.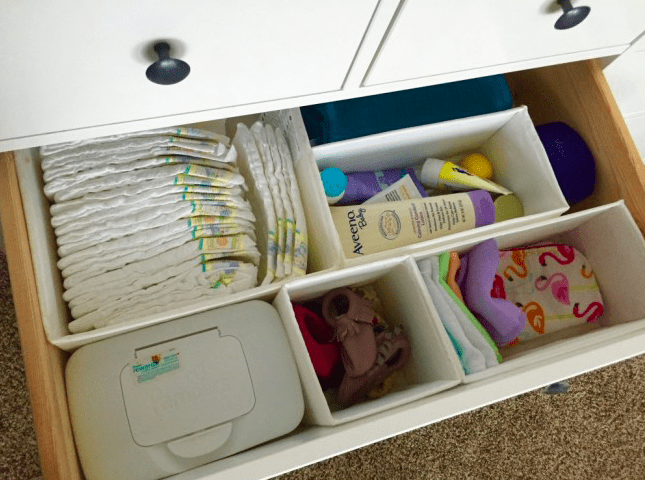 Baskets– I love to throw baskets on the bottom shelves of my bookcases for kid stuff. You can find a million different options out there, but they do a great job at hiding all the STUFF. Toys, shoes, even socks. I learned a trick from a good friend to keep your kids socks on the shelf with their shoes. They hardly ever need socks and not shoes, so why do we keep all their socks in their rooms?
Books As Decor– I adore books, and so do my kids. We have them all over our house. We are currently in a rental home that is a tight fit for us. I started storing some of my kids books in my living room. Then, I loved it so much that I moved all of the hardback children's books into the main living space. I organize them in rainbow order and they add such a fun pop of color and character to the room.
Diaper Genie– Diapers. Literally the stinkiest part of having babies. Diapers are inevitable, and getting rid of them can get tricky. You don't want to run them outside after every diaper change, but you also don't want your house to smell. Diaper Genie Expressions to the rescue.
Diaper Genies have come such a long way from their original design. I remember thinking I didn't need one with my first baby, now I have one upstairs and one downstairs! They are so easy to use, so easy to refill, and now so easy to match to your decor.
With the new Diaper Genie Expressions you can choose between five different designer fabric sleeves to customize your pail or keep it white for a sleek look. This new model is stylish and functional with all the features you have come to depend on from Diaper Genie. It is easy to open with the push button lid that allows you to throw away a diaper with just one hand. It can hold up to 50 newborn diapers, so you won't be emptying it every day.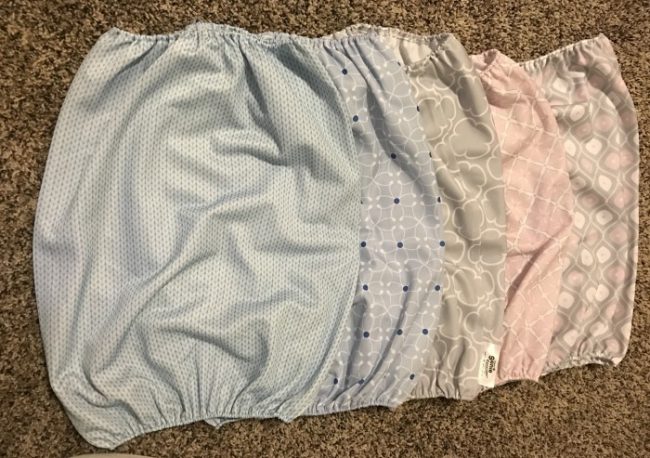 Between the double secure odor lock system with a Push-N-Lock clamp and the branded refills that feature seven layers that lock in germs and odor, your nursery and home will stay smelling just as sweet as your babe. The upstairs of our home tends to get a little stuffy because we live in an older home and this disposal system keeps all the odors locked away, which I appreciate so much! It truly is a must have in every home with a baby!
How do you keep all your baby supplies in order?