I received a 092 Large Oval Springfree Trampoline for review. All opinions are my own.
Nothing is more fun for kids than to get outside and jump their hearts out on a trampoline! But traditional trampolines leave a lot to be desired in both safety and function. Where traditional trampolines fail, Springfree Trampoline has done everything right! So, what's so unique about Springfree Trampolines? Here's what makes them different than a traditional trampoline:
Unique Features of Springfree Trampolines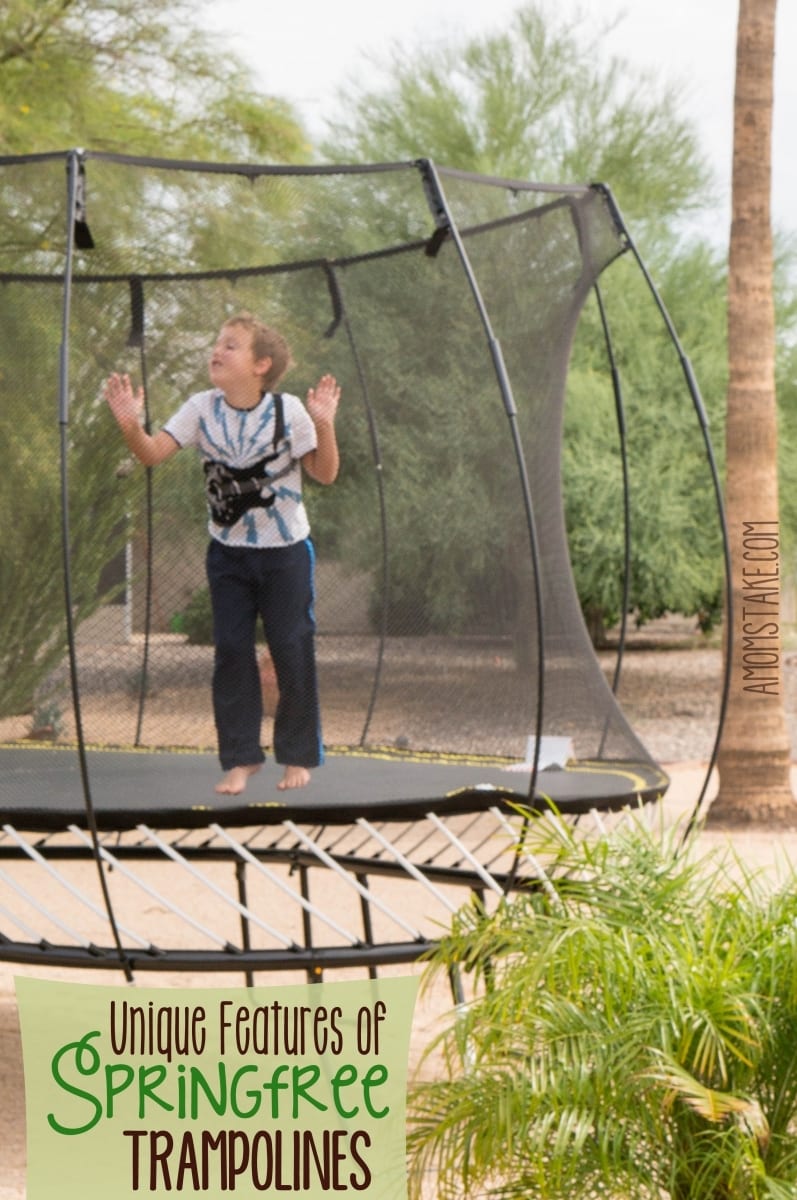 No Springs! Springfree gets it's name specifically because of this feature that makes them really, truly unique. You won't find any metal springs at the edge of this trampoline that can catch legs, fingers, and other body parts when jumping. Those traditional springs can be dangerous, even with a pad covering them. Instead, Springfree uses high-performance compostie rods that give you the bounce without the jarring effect of traditional springs. Best yet, the rods are all below the trampoline's jumping surface, and not sitting at the edge within the netting.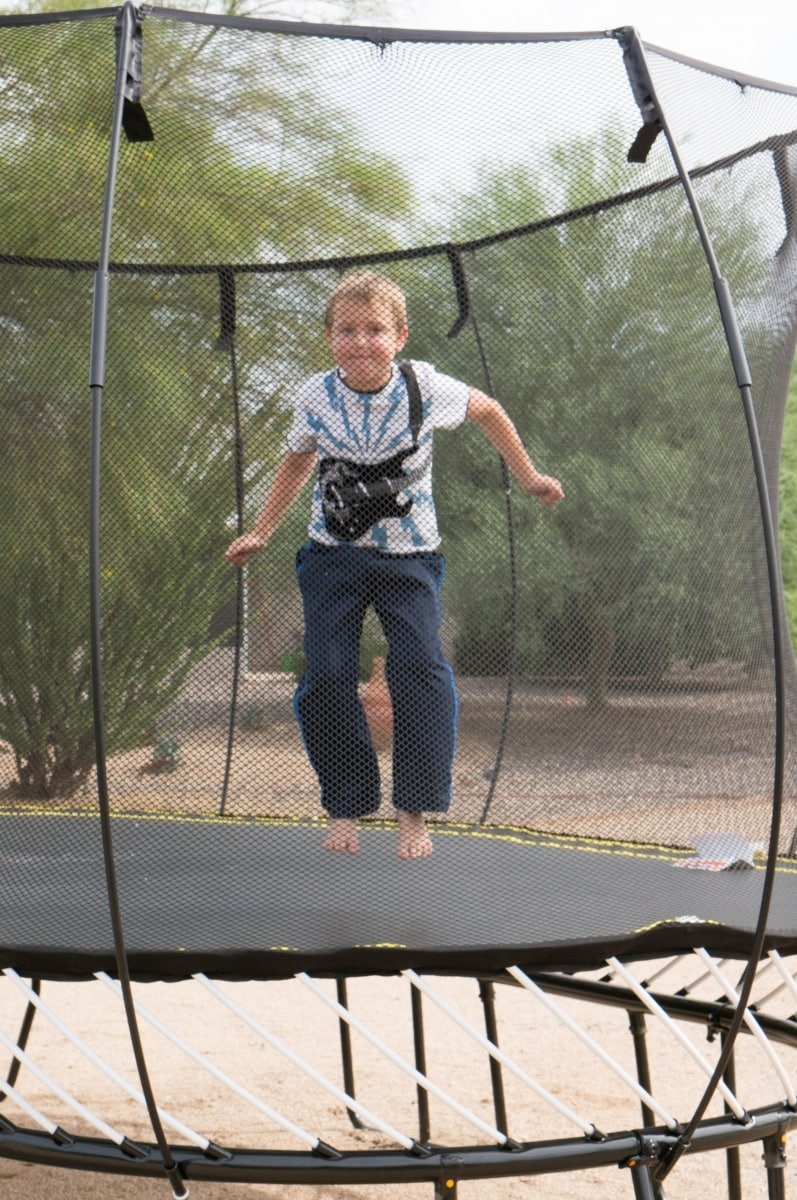 A Hidden Frame – The metal outer frame is well below the trampoline's jumping surface and can't be reached or hit while you jump. There is literally nothing for you to accidentally hit into – no frame, springs, rods, or even hard side poles!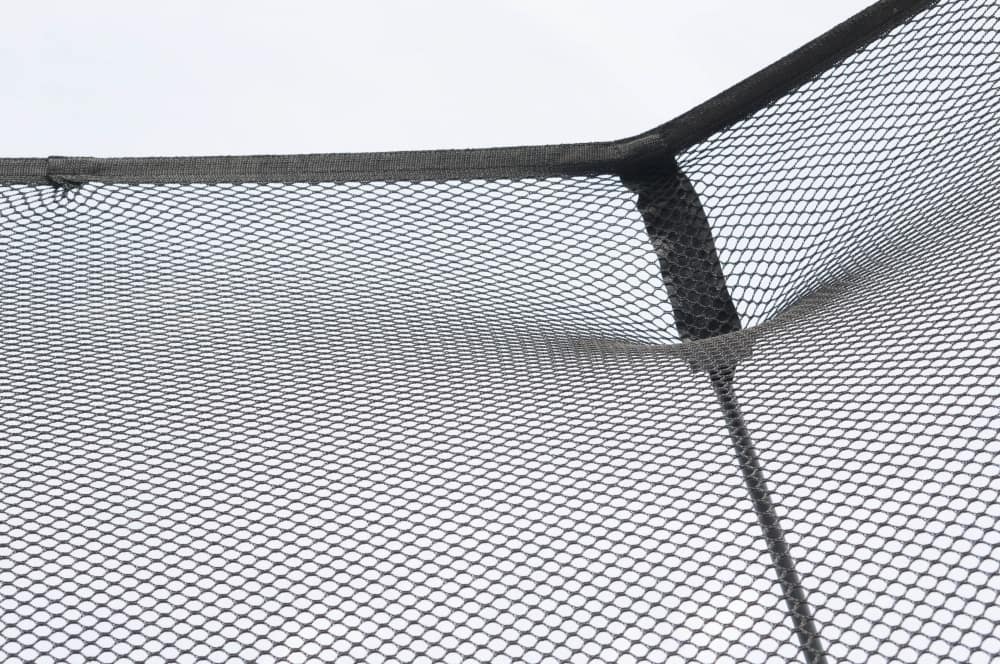 Zippered Opening – Traditional trampolines have a really wimpy and easy to break zipper. The Springfree's zipper is really heavy duty and quality with a dual sided zipper pulls. The other thing I really like is the opening only opens up enough for an adult to be sitting or to crawl through the opening, meaning that even if your kids leave the zipper unzipped, like we know they'll likely do from time-to-time, the opening is pretty small and gives minimal room to fall from the opening. Of course, the netting should be zipped close for a safe jumping environment.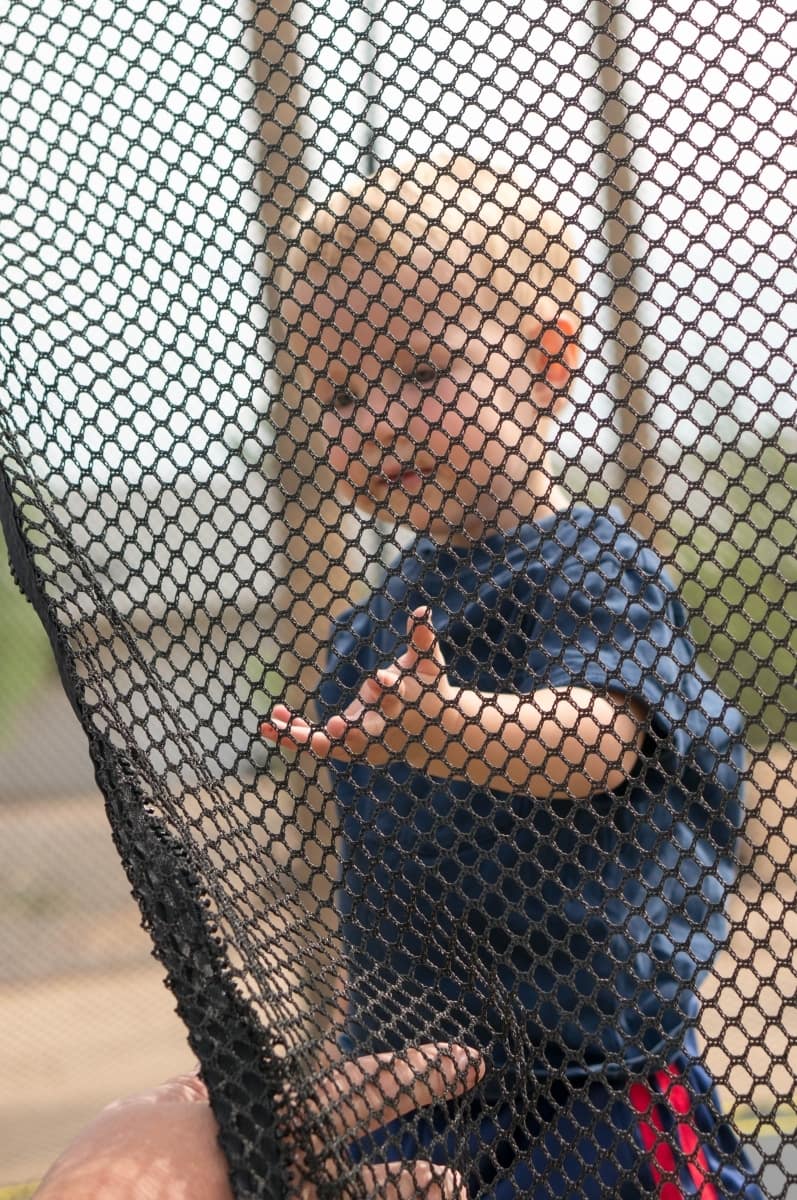 SoftEdge™ – The edge of the trampoline is firmer than the center, but still soft and gives for jumping. This safety area replaces a typical mat and is it is 30x more shock absorbent than typical pads. It will feel like a trampoline at the edge still, but with all the safety and support you need for a safe jumping experience.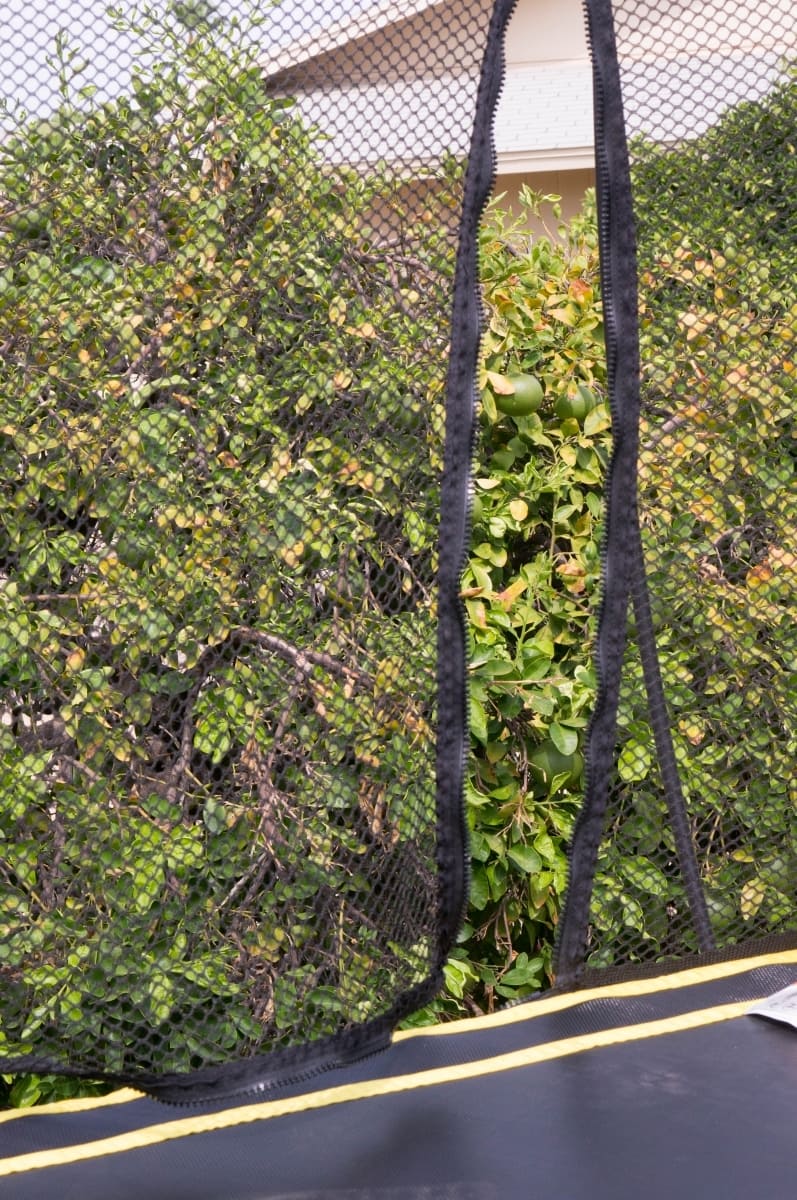 Easier on Joints – The use of rods rather than springs makes the jumping surface give a softer and smoother bounce that doesn't leave you with such a jarring bounce back that is typically hard on joints. Another thing I noticed, my youngest son at just 20 months doesn't go toppling over just trying to jump. He can bounce without actually jumping and enjoy the trampoline, too!
FlexiNet™ – The outer enclosure net that keeps you safe is super flexible and can support a fall against the net. This prevents and provides a cushion when your jump turns a bit crazier than expected. The FlexiNet directs falling jumpers right back to the center of the mat and back to playtime safely. This net might be here for safety and protection, but it's really, really fun to jump against, too!
Weatherproof and UV Protected – Springfree trampolines are weatherproofed an UV treated to help keep your trampoline in optimal condition for years to come. Traditional netting doesn't have any UV protection and can rip and fail when you are depending on it, not even realizing that it may be a fragile.
No Foam!! A year ago, we got a small kids trampoline that had foam pads over the springs as well as foam padding covers that looked like pool noodles covering the metal frame. Within just a single year, all of that foam covering has completely deteriorate and broken off in pieces. Springfree doesn't use foam – they don't need to! This eliminates the quick deterioration that happens with traditional trampolines.
This video does an amazing job showing you just how truly unique and different Springfree trampolines truly are!
My boys were beyond excited to try out the Springfree Trampoline. In their own words, this trampoline is, "COOL!! It makes you jump higher!" I even climbed on for a gentle jump, despite being pregnant, and was really surprised how soft the rebound really was. While I won't be out there jumping like crazy for the next few months, I was extremely impressed that I didn't feel the impact like on a traditional trampoline. The Springfree Trampoline helps me feel confident in the safety of my kids while letting my household of rowdy boys get outside, get exercising, and have fun all at the same time!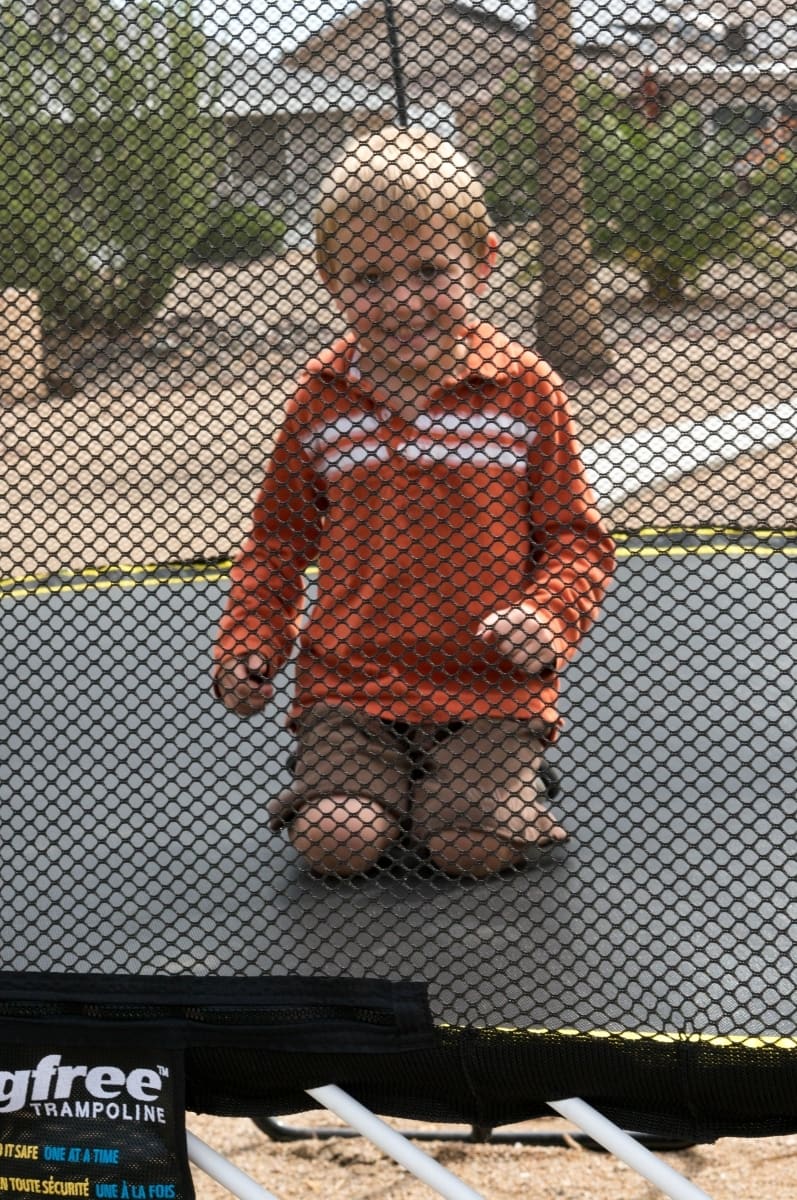 Springfree Trampoline has a range of 6 different sizes to suit your needs and space available. The trampoline shown above is their 092 – Large Oval Trampoline. Find out more about Springfree Trampoline at springfreetrampoline.com.
Which unique feature stands out to you most?