I first read about cash flow in the Rich Dad, Poor Dad book. He talked in his book about managing your positive and negative incomes.
While I don't have the capital to have lots of rental properties as he talked about in the book, I applied his principle to what I call a personal cash flow statement. I created a free printable worksheet that has helped me for years now to manage my budget and income.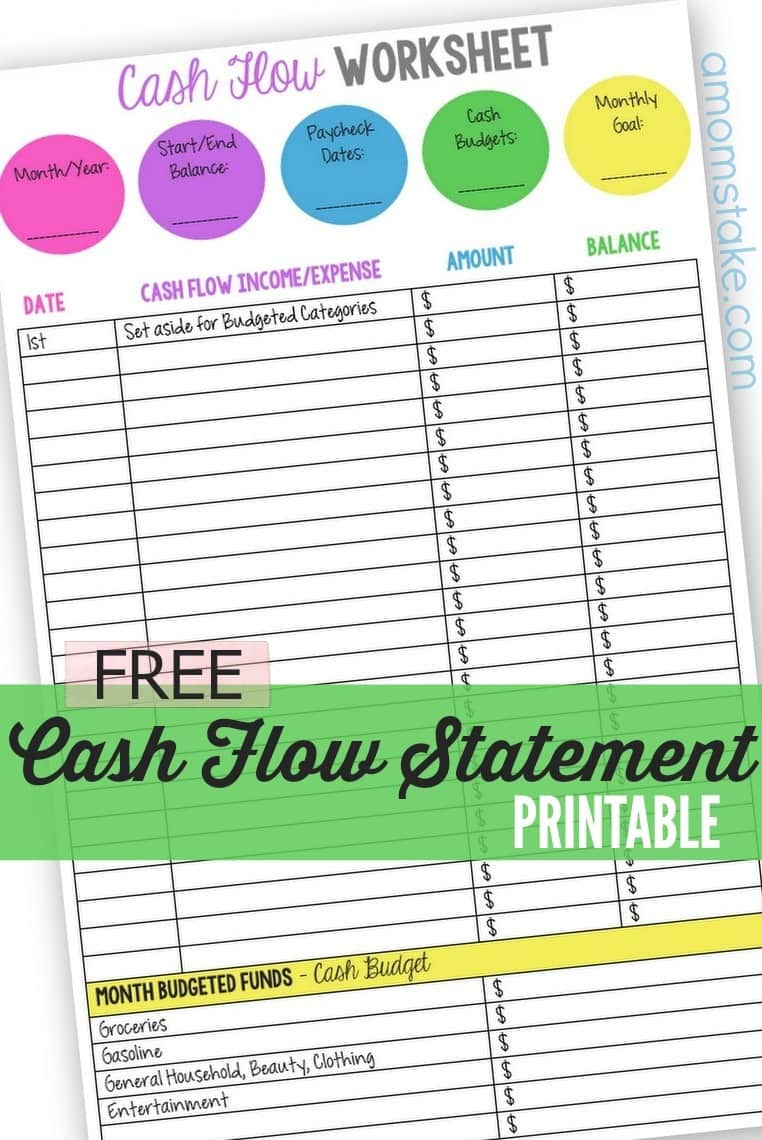 How to Use This Cash Flow Statement
To use this worksheet, you first determine a minimum balance you want your bank account to have. For example, you may say I never want my bank account to be lower than $200. Of course, your number will vary.
Next, with your minimum balance in mind, you need to determine what your goal start and end balance of your bank account should be. This number should be the same. Maybe your goal start and end balance would be $500.
Start penciling in all of your bills – organizing them by the date payment is due. Include the amount of each bill and what your balance will be as it is subtracted from your starting bank balance and after each subsequent bill.
Add your income as received during each part of the month.
This will let you track the ups and downs in your back account throughout the month and help you easily see at a glance on your personal cash flow statement where you bank account should be at any day of the month.

Start by setting aside a budgeted amount for each of the expenses that are made throughout the month such as groceries and gas that can be planned for like a one-time bill payment. Pull aside money for each of these categories at the beginning of the month or you can budget aside for these expenses twice a month if easier.
Get Your Personal Cash Flow Worksheet
You can grab your free copy of the personal cash flow statement by clicking either of the links above or the image above.
It will open up a PDF file in another tab where you can view, save, or print the PDF. If you save the file, you'll be able to access it to print later and as needed.
These products on Amazon can help you set up a personal organizer system easily. These product links are for a mini-sized binder, but you could easily substitute them out for a full-sized binder system.
Last time, we got our bills organized with a free Monthly Bill Payment Checklist printable. In two weeks, I'll be sharing the next free printable in this series! Watch for the free printable Debt Payoff Planner coming next!