Summer is the perfect time to build memories as a family, relax and enjoy each other, and spend lots of time outdoors with friends and family. We love summer, and we're excited to share with you today some of our favorite picks for summer for the whole family. There's something here for everyone from babies on up.
We received samples and/or compensation in exchange for inclusion in this post. All opinions are our own.
Summer Essentials for Babies & Toddlers
Summer is a great time to encourage learning with your kids. Perfect for fine motor skills development, learning has never been so fun thanks to Learning Resources. Awesome for practicing color recognition, shapes, counting, numerical order, and fine motor skills, this Count and Build TotBot allow your child to build their own robot using problem solving and fine motor skills. Best suited for children ages 2+ the detachable bolts and wrench are easy to use making learning and building a total blast. Your child will have so much fun with Learning Resources Count and Build TotBot, they won't even realize how much they're learning!'
My kids and I live outside in the summertime! That's why I'm all about summer shoes that are easy to slip on and stay on my little one's feet. Thanks to Bird Rock Baby's adorable moccasins, my little one's feet will stay protected (and look stinkin' adorable) wherever our summer adventures take us. Handmade in a variety of fashionable patterns (for both little boys and girls) these moccasins are made of quality leather (so you know they'll last). A flexible elastic band helps these keep these moccasins perfectly in place, allowing your child to run, play, and explore their surroundings. Some of my absolute favorite patterns and colors include their Champagne (pictured above), Sunflower, and Classic Mermaid Moccasins. Be sure to visit Bird Rock Baby for other fashionable summer picks!
Gear them up for a summer of play with the toddler swimwear line by Lassig. They offer an assortment of ways to protect your little ones from the harsh rays while still giving them room to play and enjoy the water. Like their board shorts that have an integrated swim diaper and help push moisture away from the skin for skin that can be as dry as possible while at play. Add a Lassig Short Sleeve Rashguard for UV protection (and less sunscreen application needed!) and a Sun Protection Bucket Hat to keep those harmful rays off their scalp, back of their neck, and face. When they're ready to get out, just slip on the Beach Poncho, a double-layer towel, and they'll have sun protection and warmth – hands-free!
As much as I try to plan ahead for our summertime fun, at least once a summer, one of my kids gets sick while on vacation. To be prepared this summer, I'll be packing along my Exergen SmartGlow Thermometer. Super easy to use, simply slide the Exergen SmartGlow Thermometer over the middle of your child's forehead and receive temperature results in 2 seconds. I can't tell you what a lifesaver this is with small kids. My kids can only sit still for 2 seconds, so this is perfect. Plus, the SmartGlow Thermometer is a lot less scary for them in comparison to sticking a thermometer in their armpit. I also love that the numbers glow making it easily readable day and night. Such a cool and sleek gadget perfect for at home or on the road. Be sure to add this Exergen SmartGlow Thermometer to your packing list this summer.
Make Summer Learning Fun
Don't let summer slide get in the way! You can keep the kids learning and engaged in a way that won't feel like homework! Join in the exciting Brain Chase learning challenge kids are going to love! The chase is designed for ages 6-16 and is a 7-week program focused on electives they can choose with topics including: math, reading, art, engineering, coding, typing, foreign language study, arts, and more! Each week of the Brain Chase program includes assignments that will unlock clues that will lead them to discover a real life hidden treasure. The first participant to find the location and correctly guess where it is hidden will win a $10,000 scholarship and will win a trip to the hidden location to unearth that treasure as the prize! Brain Chase has partnered with leading education sites including Rosetta Stone, Khan Academy, Code Combat, and Typing Club for an in-depth challenge all within the program. Sign-up for Brain Chase today, warm-up week began Monday, June 19th with the chase launching on June 25th!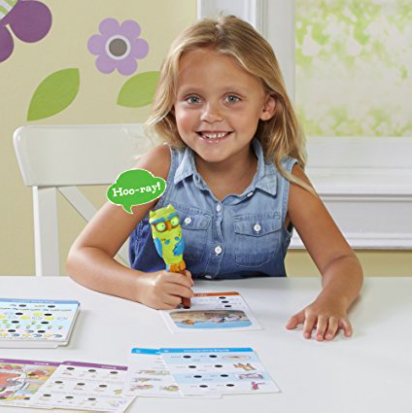 Getting my son ready for the next school year means lots of practice during the summer time. He used to be quite reluctant in regards to learning his letters, but ever since we introduced Hot Dots Jr. Succeeding in School Highlights Pen into the mix, his love for learning has taken off. Perfect for preparing your child for kindergarten and first grade, this learning set allows your child to practice skills related to reading, math, and science. Equipped with over 160 lessons on 80 colorful cards, learning has never been so fun or exciting. My favorite part of this set includes Ollie, the talk and teaching owl pen. My son listens to Ollie's feedback far better than my own, making learning time that much more enjoyable! Hot Dots Jr. Succeeding in School Highlight Pen is the perfect size for travel, making learning exciting wherever your summer adventures take you.
What a novel idea. We buy all of these toys for our kids to play with and they're looking for things to do? If your kids get bored this summer, remind them that they have all sorts of fun toys to play with. You can even get them a new and exciting toy to play with from The Learning Journey. The Learning Journey has a large selection of fun, educational games, puzzles and toys. Toys like Telly The Teaching Time Clock, Marble Mania Extreme 4.0 or Techno Gears Bionic Bug. Each Learning Journey toy or game is designed for interactive learning through play. So when your kids say they are bored this summer, find them something fun to do from The Learning Journey.
Help prevent the summer slide, and keep the kids engaged and having fun at SmartickMethod.com. Smartick is an online learning method with a team of educators behind it. It's designed for children ages 4 to 14. It's designed for kids to do daily for only 15 minutes a day for 5 days a week. This keeps kids from getting burnt out but makes sure they are still learning and having fun. You can access SmartickMethod from your PC or tablet anytime you want. Children work on problem-solving, algebra, critical thinking and mental calculation through various logic exercises. Smartick prepares your child to advance faster and past what is taught in the classroom. So much so, that 94% of Smartick kids improve their grades. Parents will even get notified instantly of their child's progress and performance for the day. You will even know if they skipped out. So prevent the summer slide and help kids stay mentally active and ready for the new school year with the SmartickMethod.
Essentials for a Healthy Summer
Drinking water is so important for keeping our children healthy and well. But it can be hard to encourage them to drink throughout the day. The Gululu Interactive Water Bottle has created a way that makes drinking water fun! The Gululu Interactive Water Bottle has a virtual pet built into the water bottle to help your child develop the habit of staying hydrated. When the kids drink water, they're helping to care for the virtual pet as he learns new skills and grows – the challenge makes kids eager to drink more water! Parents can keep tabs on water intake through the Gululu app. Plus, for every Gululu the Interactive Bottle purchased, Gululu will provide clean water for the life of one child in a developing country through Genersoity.org.
Give your summer a healthy boost by adding a Speaqua waterproof speaker to your gear. Their Barnacle speaker are sand proof, waterproof, durable, floats, all with a long lasting battery. It easily connects with your phone using a bluetooth connection to play your favorite songs or an audiobook while you workout. Take it along with you as you exercise and play at the pool, beach, go hiking, or even on your summer bike rides. Grab a bike mount to easily attach your Speaqua speaker to your bike, stroller, hiking stick, or whatever summer brings your way.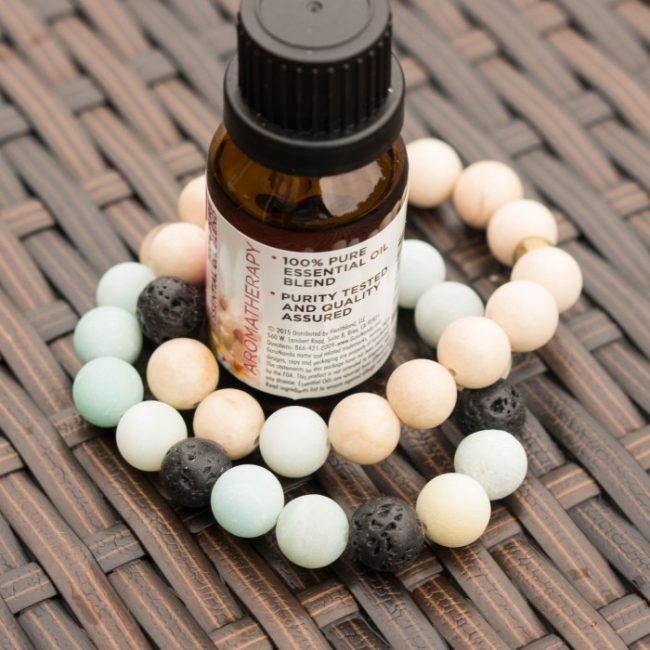 Put yourself first, this summer, instead of letting mom fall to the bottom of the priority list. You can easily care for yourself with something as simple as a bracelet to center your emotions, or improve focus, or help you rest and relax. Reija Eden Jewelry has created essential oil bracelets that let you use those oils you love in an everyday way. Just add a drop or two of an essential oil onto the black lava beads and rub it to have a lasting effect through the day. The Amazonite & Fossil Jasper Bracelet set is a perfect accessory that will match your everyday outfits and additional benefits. The amazonite beads are a calming stone that can also help with healing and calming effects and the jasper stones help with nurturing and stress.
Ready for Summer Barbecues
Summer parties will feel like a treat when you dress up your table with something unique and special from Apollo Box. We found these really neat Fish Shaped Serving Dishes that really spruce up our table. They're perfectly sized for sauces and sides for serving. They are available in 4-sizes from small to x-large and are safe for use in the oven, microwave, and dishwasher to make it easy to go from prep to table and clean-up with no extra work on your part. Apollo Box is an incredible site to find unique gifts and products for your home you won't find anywhere else. They'll become the talk of the party and bring a smile to your face. Browse all their selection and take 15% off your favorite items at Apollo Box with the coupon MOM15.
It wouldn't be summer without your barbecue! Get ready for a summer of cookouts with Mr. Bar-B-Q products to help you tackling the cookout. One of their really innovative products is a series of kickstand barbecue tools that let you keep the tools off the dirty grill in between use to keep both the tool and the side tables clean. They are available as a set including Kickstand spatula, fork, tongs, and basting brush. When you've finished your cookout, you can protect your grill from the elements with an Armor All Grill Cover. The covers come in a range of sizes to fit your barbecue just right. We have a full size barbecue and the X-large cover fit great and is easy to get on and off with their unique zipper.
Getting all your food prepped for summer barbecues and picnics can be a challenge, but the tools from Surpahs can help you tackle food prep and clean-up with ease. Like the Surpahs V-Blade Mandoline to easily slice or grate fruit and veggies. We're using it to make fries, slice toppings for our summer burgers, and quickly grate cheese. The hand guard makes it quick and efficient, while keeping you safe. Their X-CUT is an innovative twist on slicing and dicing and great for apples, citrus, potatoes and other fruits and veggies with a wedge shaped dicer. When it's time to clean up, their Over the Sink Roll-up Dish Drying Rack will give you the space you need, without taking up precious counter space. It has easily expanded our counter space giving us one more place to rest posts and dishes while in the middle of prep, then it rolls easily out of the way when not in use.
Party all Summer
You'll be ready for your summer bash with beautiful serving ware from Sertodo Copper. They were named as one of Oprah Winfrey's Favorite Things, a huge honor, and for good reason. Their pieces are beautiful and will hold up to a lifetime of use. Like this Bisotun Water Pitcher featuring a hammered copper look that brings texture and style to your table. Copper has a natural ability known for purifying and keeping water cool, which makes it the perfect metal to use for a water pitcher while gracing the table with beautiful style. Browse all of Sertodo Copper's line including barware, tabletop, cookware, and even home decor items that will make your home have a little extra sparkle.
You can create the perfect party atmosphere for your summer festivities with the help of BlissLights. Their indoor/outdoor lighting fixtures are so easy to setup and use. Just plug in your BlissLights and use the long cord to setup your light display with the stand or yard stake to transform your space. Choose from red, blue, or green to add lighting to your home, outdoor entertaining space, family room, or wherever your party is taking place. The BlissLights Firefly Motion lights create a moving display with thousands of pinpoints of light controlled by a remote that lets you turn on/off the display and change the speed. You can even set the built-in timer to turn off your display after hours to simplify your holiday lights.
Summer time is filled with family reunions and work parties. You can be ready to celebrate the festivities and make something that will last with a customize shirt by CreateAShirt.com. They're perfect for showing off your logo or brand messaging or creating a family shirt themed for your family gathering. We got to try out two cute styles, perfect for summer. We picked out colors, uploaded the my blog logo, and had fun designing the shirts to be great for promotional events. I love how the Women's 100% Cotton T-Shirts Districk Threads DM401 V-Neck top in Teal turned out. The color and fit were great, and best of all the logo looked very professionally printed. CreateAShirt.com has a variety of short sleeves and tank tops that are great for personalized shirts this summer.
Great Ideas for Mom & Dad this Summer
Take some time to have fun this summer with a new board game. Rio Grande Games has a variety of fun games from strategy and party games and everything in between. This summer, try one of these two fun titles. Spin Monkeys will remind you of a carnival bumper cars game. Spin your monkeys across the board to collect as much fruit as possible and score points. Next, try Change Horses for an exciting race game where you're betting on the losing horse and competing to keep your horse in last place. It's a fun twist on a race in which everyone is trying to lose.
Pamper yourself with a subscription box that will bring you everything you need for summertime in one amazing box! You'll score an amazing $200 valued box with full-sized premium products. The FabFitFun subscription box is released just 4 times per year, once per quarter. You'll score an amazing assortment of products, like showcased above, for a steal at just $49.99. The FabFitFun summer box included a glass water bottle, dry shampoo, Himalayan salts, sarong, sunscreen lotion, bronzer, necklace, vital protein, and a smoothing eye concentrate. It was such a great assortment! I'm really excited about the dry shampoo, necklace, and especially the lotion! Everything is very good quality, and a steal with this exclusive promo code SUMMERLOVE to get $10 off your first FabFitFun box!
My kids and I absolutely adore exploring during the summertime. We try to go on an adventure every single day. Whether we go to the park, the pool, a museum, etc, I always want to make sure that my feet are staying comfortable, but also looking fashionable. That's why I am absolutely head-over-heals about these Swedish Sandgrens Victoria (in nude) Clogs. Having narrow feet, I often have a hard time finding shoes that stay perfectly in place without sliding. These clogs form perfectly to my feet and are held in place with stylish ankle straps. Plus, I can't get over the beautiful color of the leather on these nude Clogs – they go with everything! They look amazing paired with a pair of jeans as well as a pencil skirt! The handcrafted wooden heal is high enough to give me a little height without making these shoes uncomfortable. I can still chase after the kiddos – which is the most important thing! In fact, I was on my feet all day yesterday wearing my Sandgrens Victoria Clogs and my feet didn't hurt one bit! Be sure to check out the Sandgrens website for other gorgeous styles and colors – perfect for all of your summer outings!
Prepare Early for Back to School
Get ready for the back to school season by protecting your child from all mom's biggest fear – a school shooting. The Millennium Shield is a super easy solution to give you peace of mind. You add The Millennium Shield to your child's backpack – or in a diaper bag, purse, briefcase – wherever you may need protection. It can stop assault-rifle bullets and become a shield should the worst case scenario become a reality. The Millennium Shield weighs just 2 pounds and has sturdy handles that make it easy to hold to protect your vitals. This could be the most important investment you ever make, to bulletproof your child's backpack.
A good night's sleep is the best gift you can give your whole family. Add a Therapedic 400-Thread Count Combed Cotton Mattress Pad to add comfort to their beds and protect your mattress. Just wrap the Therapedic mattress pad around the mattress just like a sheet and you'll add lots of benefits. Because it has a stretch skirt, it's super easy to use. Most household odors will be eliminated with the built-in stain guard, Clearfresh Odor Eliminator. It has an antimicrobial treated fabric that will help to inhibit the growth of mold and mildew so that mattress pad will stay fresh. Giving my son's bed a boost this summer and getting him ready for back to school with a Therapedic mattress pad will help him sleep well and be more comfortable in his space.
Give your kids an outlet to read, play, learn, and discover all summer. The latest addition to the Fire line is a fully loaded Fire HD 8 Kids Edition. It includes an 8″ HD screen for more screen space to explore. It includes 32 GB of storage space, and the ability to expand with an external SD card to store music, books, games, videos, and more. The Fire HD 8 Kids Edition can last up to 12 hours to give them lots of time to play and unwind. Best of all, the Kids Edition of the Fire HD 8 includes a kid-proof case and a full year of Amazon FreeTime Unlimited with books, games, and more all included for them to make the most of their summer. It's even backed by a 2-year worry-free guarantee so you won't have to fret if any problems arise.
Take a Day Trip
Sometimes families just need an escape for a day, or even just a couple hours to get away from the hustle and bustle of life. Schedules can get so busy and hectic, that sometimes we need to take a break with those we love and just enjoy life. A perfect day trip is to Legoland Discovery Center. There is so much fun to be had for the entire family! There are rides, 4 different movies, a Lego factory interactive tour, an amazing mini-land with the coolest creations around, a PlayPlace where your littles can expend their energy, a delicious café to please the entire family, and build centers throughout! We spent HOURS exploring, and my kids probably could have spent more! If you need a fun family adventure, check out a Legoland Discovery Center near you!
Sea Life Aquarium is a fantastic day trip for your family. They have such a variety of ocean life, and the exhibits are really interactive. My kids loved popping up inside the tanks to see the sea life surrounding them, and they have an interactive passport for your kids to explore and stamp at the 9 different stations, learning all sorts of new information about the different ocean animals. The touch tanks were amazing-they loved touching the sea urchins. After finishing their passports, they were able to earn a prize! At the very end, there was a PlayPlace for them to run around, climb and slide, and plenty of seating for parents to relax! Sea Life Aquarium is definitely a place we'll be frequenting a lot more!
Don't sit at home bored all day listening to the kids fight. Take them out somewhere they will have fun. Somewhere like Main Event. Main Event is the best place for some action packed, family fun. Your family can choose between bowling, billiards, laser tag, video games or more! With the large choice of activities and their great selection of food, you can spend the day having a great time with the kids. You can even throw a party at Main Event. They have several party packages to choose from. The best part is, they clean up the mess. You get all of the fun of the party without any of the responsibilities. It's definitely a win, win. So if your kids are getting cabin fever and driving you nuts, or you have a birthday coming soon, head over to your nearest Main Event and let the family have a great time.
What's at the top of your summer list?