This article is sponsored by RoseArt.
Since I have a house full of boys, I'm always looking for ways to get them excited about art! Often, it's a struggle to get them to sit still and color, draw, or even create. I was excited to try out RoseArt's Extreme Air Brush Studio with them! I thought to myself, if anything will get them excited about art, this is the type of kit to do it!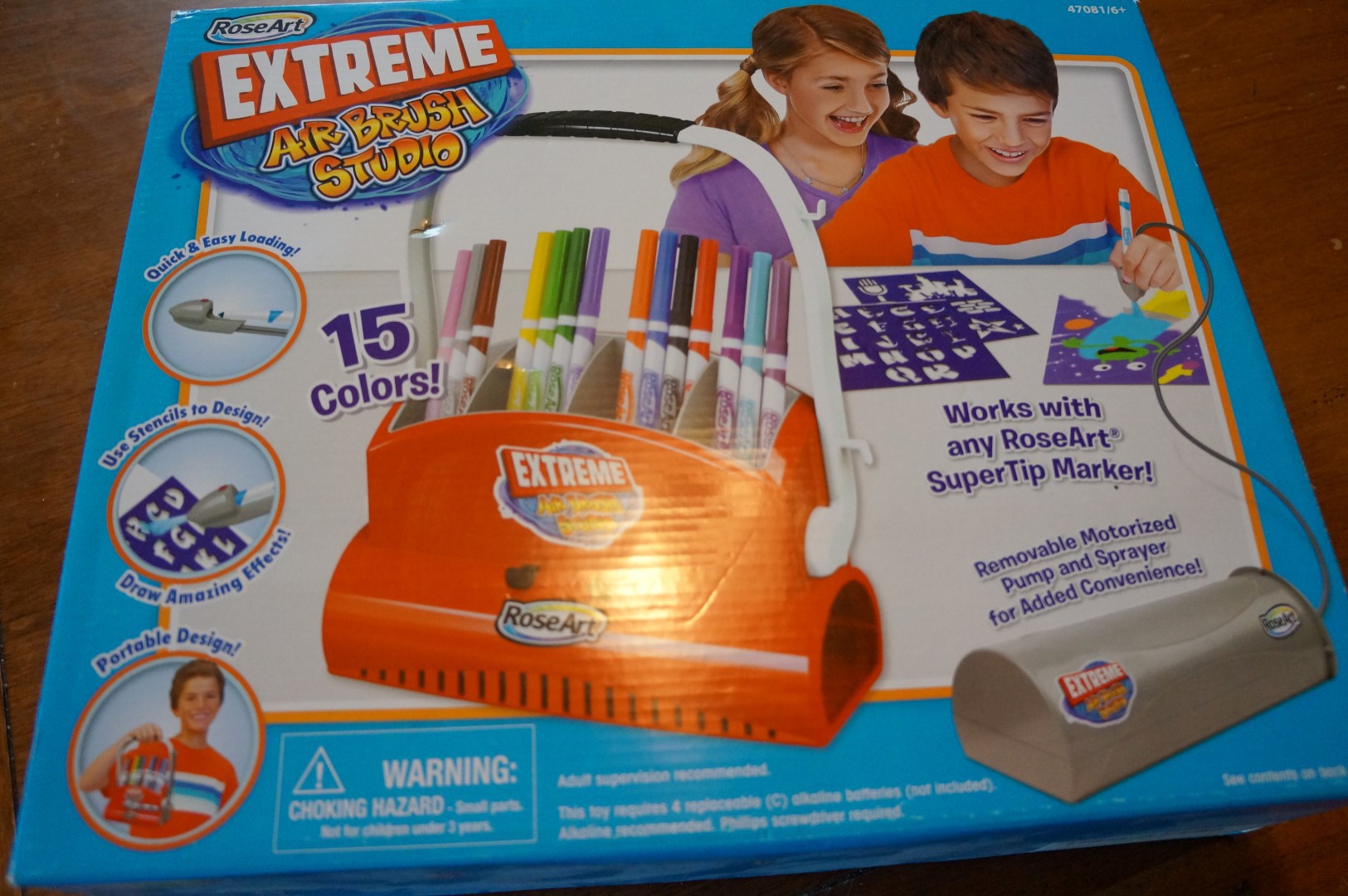 The kit comes with a battery powered pump that takes 4 "C" batteries. The batteries aren't included, so be sure to pick up a pack of batteries while you shop. It also includes a neat carrying case that keeps all the tools together, a variety of stencils, and 15 markers to get you started.
When I pulled out the box, I heard all kinds of ooooh's and aaaaah's as the kids scrambled over to the table to try out the kit. They couldn't believe that the sprayer would use the markers to spray out ink and they wouldn't have to actually color if they didn't want to. My 1st grader went right for the ABC stencil and couldn't wait to fill in all of the letters. He did the whole sheet before he was ready to move to a new stencil. It took us a little bit to figure out how to place the markers just right, but it's been really easy to use ever since.
Here's a close up look, you can see the marker is spraying to fill in the stencils. My boys thought this was totally awesome!! Each of my older boys ages 3, 5, and 7 took a turn playing with the sprayer. Each of them told me just how COOL it was!
Since the Extreme Air Brush Studio includes a bunch of different stencils and markers, while one was playing with the sprayer, my other boys could still play along together using the markers and stencils to make their own designs. This got them all coloring and making their own art without any complaints! Goal accomplished! The kit can be messy, but I just covered our table with a flattened box and it protected our table just fine. It doesn't have a very far reaching spray, so the mess isn't really any more than just a set of markers with a group of kids. Plus, the marker ink in the set is washable.
How to Use the RoseArt Extreme Air Brush Studio
This quick video clip shows you how easy it is to use the Extreme Air Brush Studio!