I love cheesecake! It is hands down my very favorite dessert! I just love the rich and creamy taste and texture so much that I can't get enough of it. In anticipation of Valentine's Day, which is right around the corner, I'm going to show you how to make Strawberry Swirl Cheesecake!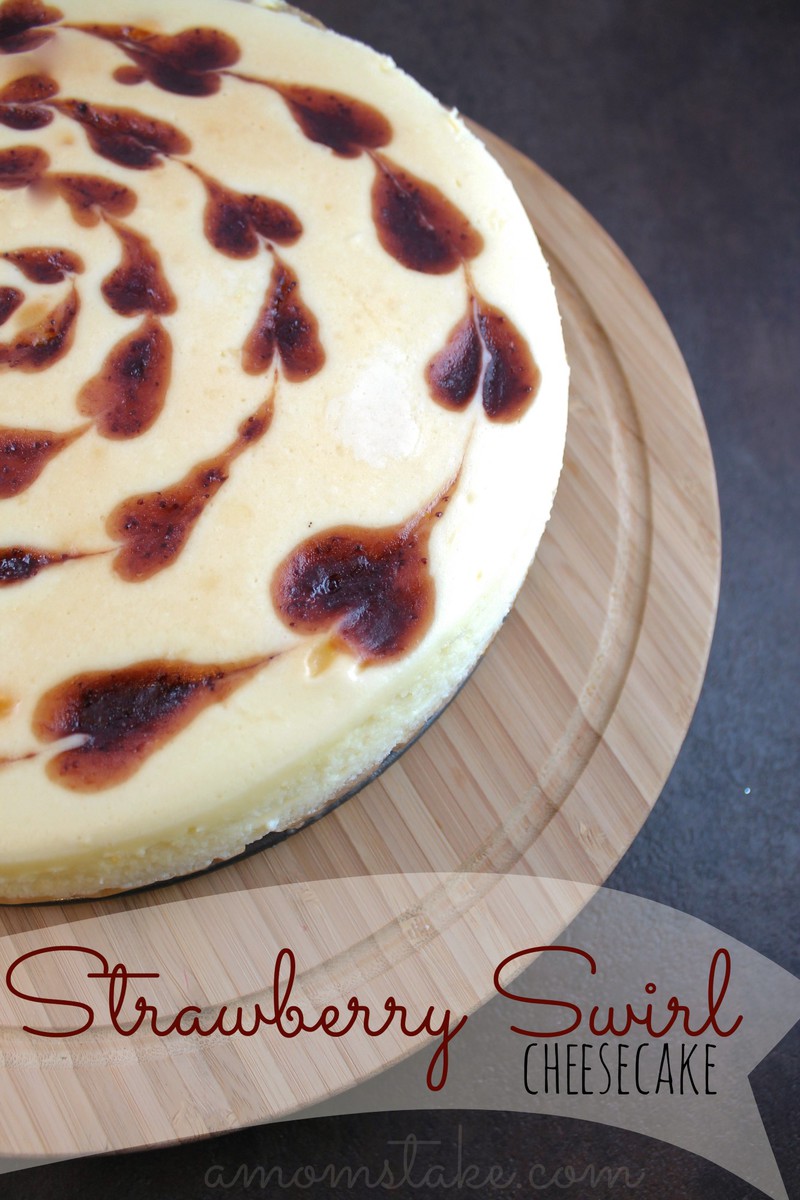 You'll start by making a graham cracker crust. Mix together your butter, sugar, and graham crackers and then press the crumb mix into the bottom of your springform pan. Pop your crust into the oven for 10 minutes and start on the filling while that is baking.
You'll make your cheesecake base by beating together your cream and sugar until they are well combined and then adding in vanilla extract. All that's left is to add your eggs one at a time and keep on beating the mixture until the egg is completely mixed in before adding in your next egg.
The filling is now ready, you can add it into your pan on top of the crust as soon as the crust comes out of the oven.
Puree your strawberries and sugar in a food processor or in your blender. Fill up a syringe with your strawberry puree and leave dots of this mixture all around your cheesecake starting from the outer edge and moving inward in a swirl pattern making smaller dots as you go. You will want your dots to be somewhat close together as your swirl will connect between each of your dots.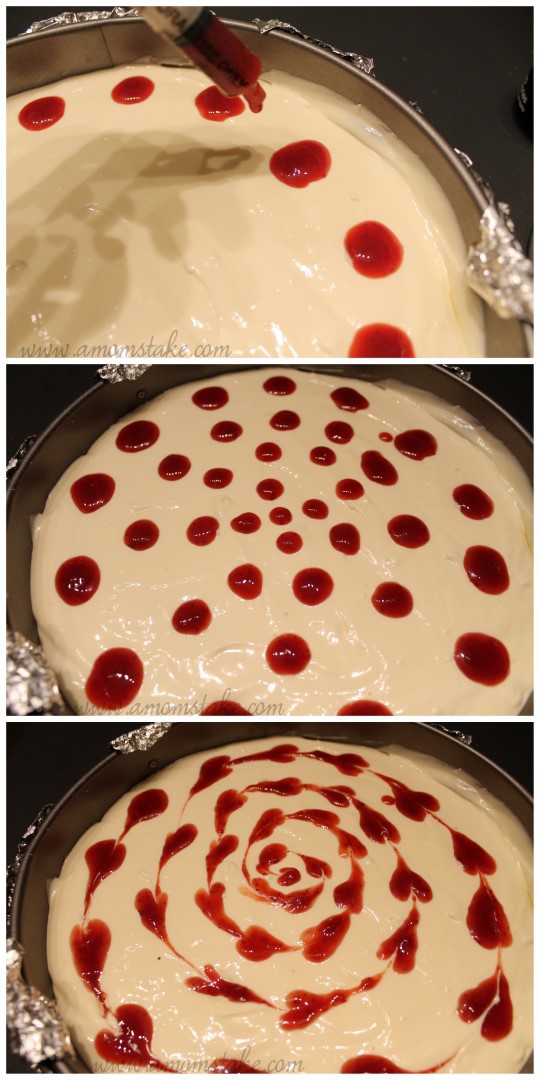 When you have all your dots, you'll take a toothpick and drag along starting at your outermost first dot all the way around to your center dot. This will pull the puree around in a slight circle to create what will look like hearts.
Carefully place your cheesecake into a roasting pan and add hot water until it covers the bottom half of your spring form pan. Bake it for 60-75 minutes watching for the outside edges to be firm and the center still a little soft and wobbly. Then, enjoy!!
Strawberry Swirl Cheesecake Recipe
Click to print or save this recipe! Or, pin it to bookmark this page!

Strawberry Swirl Cheesecake Recipe
Delicious cheesecake with a fresh strawberry puree with a beautiful and easy to recreate design.
Author:
Janel at A Mom's Take
Ingredients:
CRUST:
1 ½ Cups Graham Crackers, Crushed
4 tbsp Sugar
4 tbsp Butter, Melted
FILLING:
(4) 8oz Packages of Cream Cheese
1 ½ Cup Sugar
1 tsp Vanilla Extract
4 Large Eggs
TOPPING:
½ Cup Strawberries, Puréed
3 tbsp Sugar
Other Items Needed:
9 Inch Spring Form Pan
Aluminum Foil
Roasting Pan
Hot Water
Syringe
Hand or Stand Mixer
Blender or Food Processor
Directions:
Preheat Over to 325 degrees.
Wrap the outside of your spring form pan with a double layer of aluminum foil.
Mix together graham crackers, sugar and melted butter and press them into the bottom of your pan. Bake for 10 minutes at 325 degrees.
While the crust is baking, beat cream cheese and sugar together on medium speed until well combined. Continue beating and add in vanilla extract.
Reduce speed to low, and add in eggs, 1 at a time, beating until incorporated between each addition.
Pour cheesecake mixture into your pan.
In a blender or food processor, puree your strawberries and sugar.
Using a syringe, starting at the outside edge, dot your strawberry puree (about ½ inch diameter circles) around the outside edge.
Work your way into the center of the cheesecake, making the circles a little smaller on each row.
Using a toothpick, starting on the outside edge again, start pulling your puree into a circular motion into the next circle.
Place cheesecake into the center of your spring form pan, and carefully pour your hot water into the roasting pan until it covers the bottom half of your spring form pan.
Bake at 325 degrees for 60-75 minutes. Cheesecake is done when the outside edges are firm, and the center is still a little wobbly in the center.
Wouldn't these cheesecake be perfect for Valentine's Day? Or for another special occasion like an anniversary or engagement party?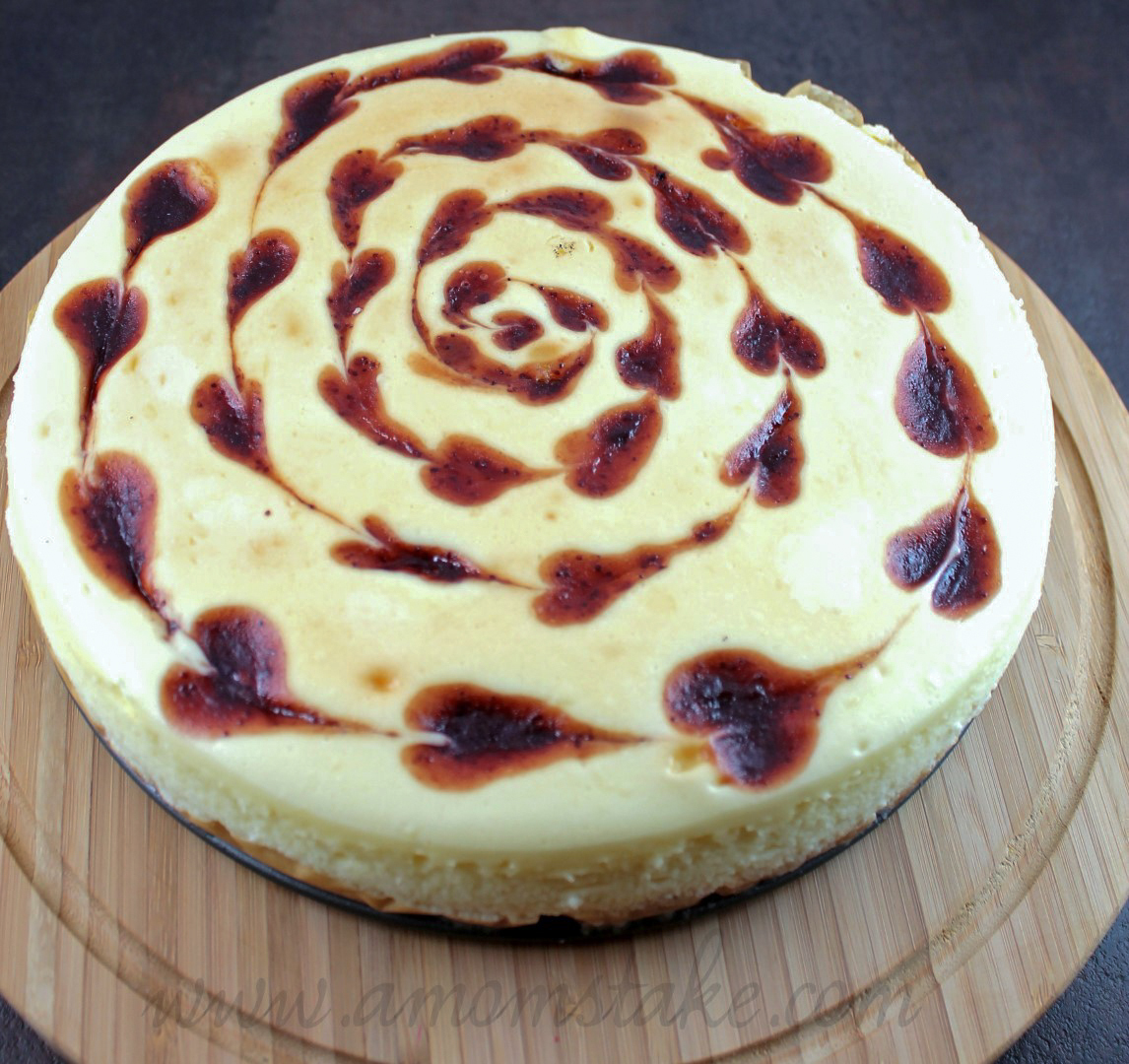 Looking for more Valentine's Day recipes? Try our Cranberry Fudge or Valentine Marshmallow Pops!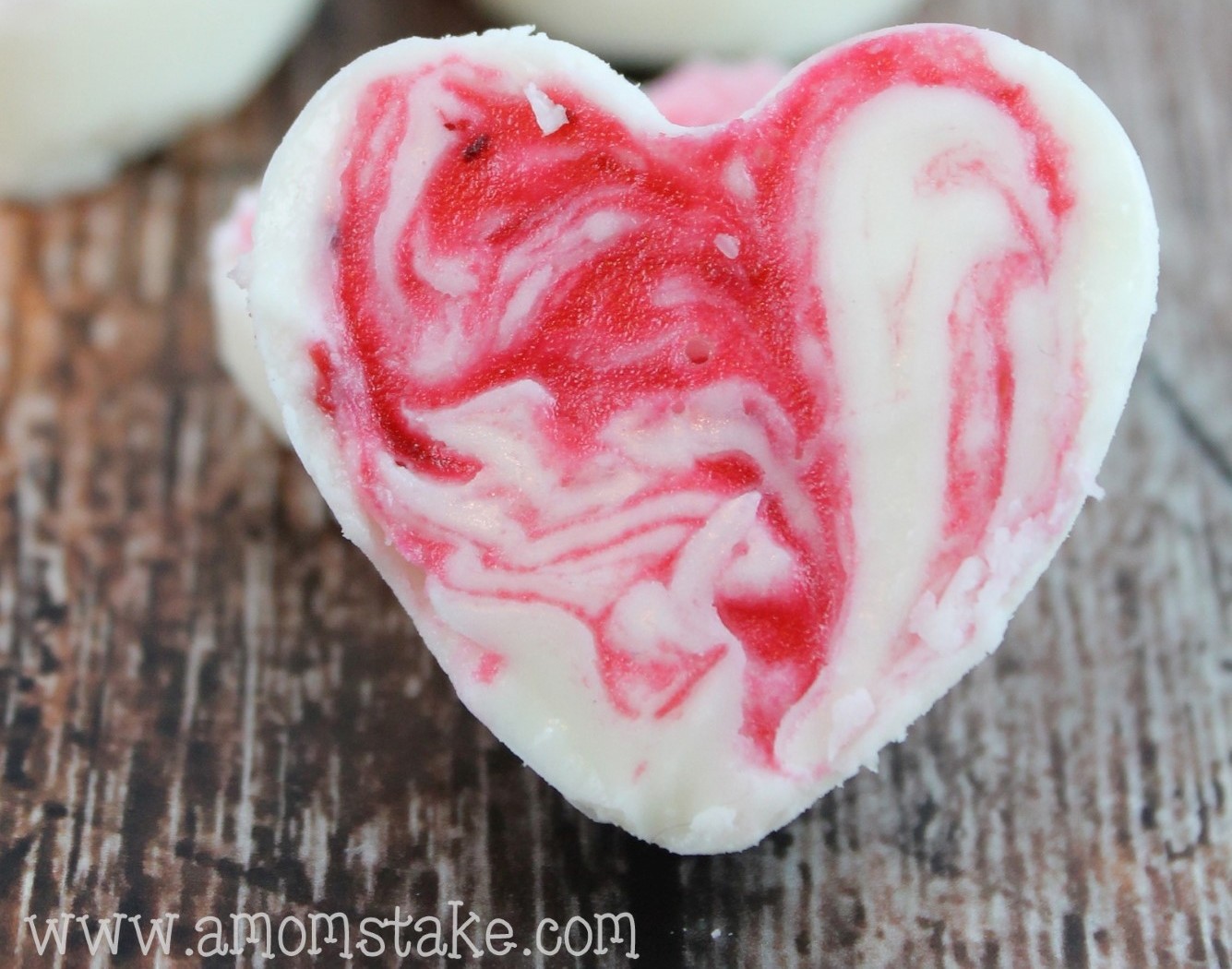 What occasion would you serve this Strawberry Swirl Cheesecake?