I'm sure you have heard of Great Wolf Lodge before, but before your first visit it can be confusing to know exactly what is included, what costs extra, what's allowed at the lodge, and all those other questions we frequently have before a new experience.
This guide can help you navigate and prepare for your first family vacation to Great Wolf Lodge. Here, I'll help you understand what you can expect when you stay at Great Wolf Lodge and answer frequent questions from first-time visitors!
My family received a complimentary stay at Great Wolf Lodge
in order to experience their new Summer Camp-In program.
All opinions are my own.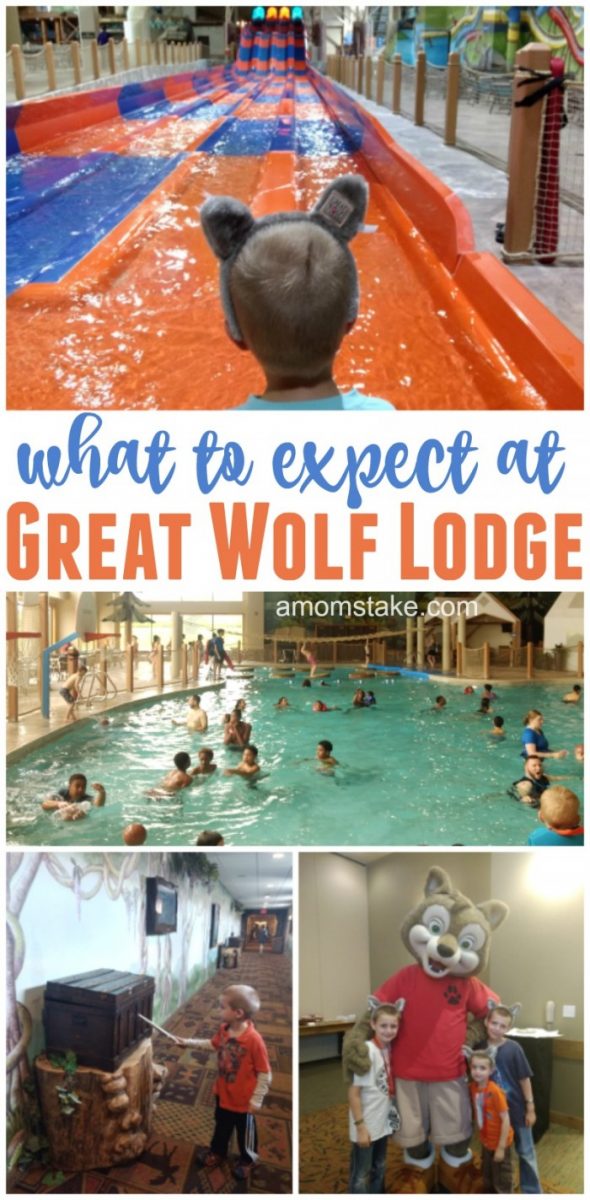 What to Expect When You
Stay at Great Wolf Lodge
Arrival and Check-in at Great Wolf Lodge:
Check-in to the resort rooms begins at 4pm, or as soon as your room becomes available, but you can start enjoying all that Great Wolf Lodge has to offer as early as 1pm on the day of your arrival!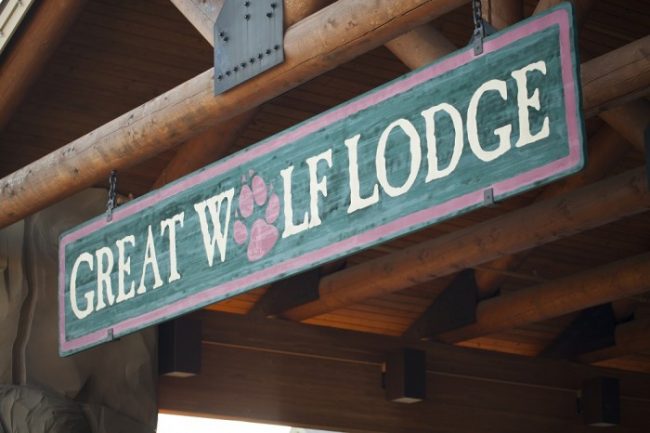 Upon check-in, all the children will be given complimentary wolf ears. They are so darling and perfect for pictures! My kids loved these and many of the kids around the resort are sporting their ears morning, noon, and night!
You won't have to worry about carrying around room keys or cash, you will be given a RFDI wristband at check-in that will allow entrance to the water park.
This smart band will also act as your key to get into your room and you can add a credit card account linked to the band as well to make any purchases a breeze!
Taking Advantage of the Indoor Water Park at Great Wolf Lodge:
The Indoor water park is open beginning at 9am most days. You can check the event calendar for the days and locations you are looking at to determine hours for each of the attractions.
There are showers, lockers, and changing rooms all in the indoor water park area of the resort. If you're planning to take advantage of the water park before your room is ready, I highly recommend leaving your luggage safely secured in your vehicle, and bringing in just what you need to play until about dinner time.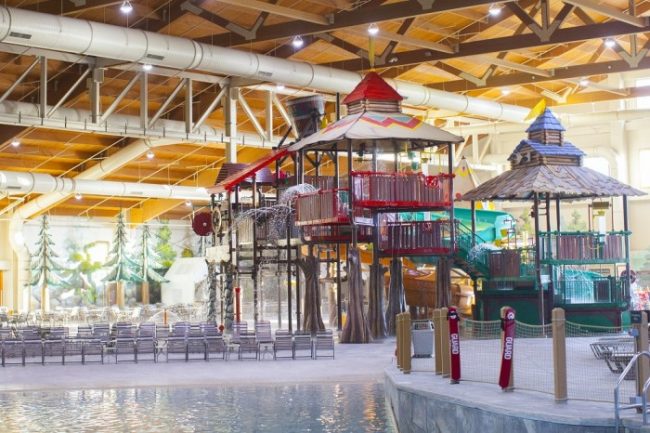 Towels are available and included with your stay, but you will need to scan your wristband to both check-out and return your towels. You can even swap out damp towels for fresh ones as may be needed.
The water fun areas at Great Wolf Lodge include:
Cub Paw Pool perfect for the youngest splashers with zero entry and only 18-inch "deep" end.
Fort Mackenzie Splash Tower with water slides and 1000 gallon dump bucket!
Wave Pool with 5 minutes of waves and 5 minutes of calm pool with a zero-depth entry and only 5′ at the deep end so it's accessible for all ages.
A challenge course with floating lily pads
Water basketball
Outdoor activity pool
Mountain Edge Raceway mat-racing belly slides!
Albert Falls – a 4-story tandem tube ride
River Canyon Run – a family ride for up to 5 that has you bending and racing down a river of fun
Howlin' Tornado – hop on a river raft for up to 4 that will launch you up the side of a 6-story funnel
I recommend playing until you're ready to eat, then switching to some of the other fun activities. This will let you hit the water park for a couple of hours in the afternoon and then change for the evening and explore everything else there is to do around the resort.
There is so much more to experience at Great Wolf Lodge beyond just the water park, and I highly recommend taking it all in.
What Are the Dining Options at Great Wolf Lodge?
When you're ready to eat, you can shuffle up to your resort room or pick up dinner outside of the lodge. There are also quick bite options in the water park area for your convenience if no one is ready to leave the pool!
Great Wolf Lodge does allow outside food and beverages onto their property – excluding the water park area of the resort.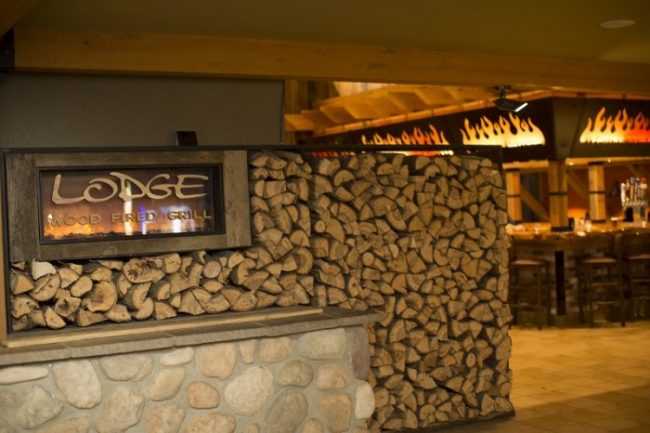 Dining options may vary by location, but at my local Great Wolf Lodge there were several options to meet a variety of needs and preference.
Dunkin' Donuts – Get your morning started with coffee and donuts delivered to your suite or available for order inside the lodge. This option is open most of the day!
The Loose Moose Cottage – This is a buffet option that will please everyone in the family. They are open for breakfast and dinner.
Hungry As a Wolf – Order pizza, salads, and pasta on-the-go beginning at lunch time.
Buckets Incredible Craveables – This dining option is inside the water park! Easy to grab and enjoy water park favorites including burgers, sandwiches, treats and more. Available for lunch and dinner.
Lodge Wood Fired Grill – Enjoy a premium dining experience with wood-fired steaks, seafood, and other culinary picks. Open for lunch and dinner.
Bear Paw Sweets & Eats – Pick-up a delicious dessert including the lodge-crafted fudge! They also offer freshly brewed coffees, espressos, mochas and lattes from lunch through dinner.
Free Activities Around Great Wolf Lodge:
There is always something going on around the lodge! You can wake up with morning kids yoga in the lobby or find one of the Great Wolf Lodge characters hanging out around the resort.
Check out the fun in the middle of the day to find Paws-on Projects, face painting, balloon twisting, or critter cartoon art classes. You may even find fun games and trivia challenges.
Not to be missed in the daily Great Clock Tower shows! They happen each morning at 10am and every evening at 8 and 9pm. You'll also want to stick around for Story Time in your pajamas! It's so fun and everyone gets involved.
Plus, there's a nightly dance party with all the latest favorites perfect for kids. It doesn't matter where you're at in the resort, when you hear that music it gets everyone dancing!
All of these activities are included as part of your stay with no additional fees.
What other attractions are available at Great Wolf Lodge?
Great Wolf Lodge is the ultimate fun destination for kids. My boys are 4, 8, 10, and 12 and I think they were just the perfect age to enjoy the resort. I would highly recommend from about 2-12 to get the most out of the resort.
There are attractions that younger children as well as teens and adults will enjoy, too, but children from 2-12 will really get the most out of the resort.
I highly recommend the Paw Pass or Pup Pass if you are staying just one night and the Wolf Pass if you plan to stay 2 or more nights. MagiQuest was my boys favorite activity and it easily takes 4-6 hours to complete!
With just a 1-night stay, you may not have enough time to enjoy much more than MagiQuest and the water park.
Great Wolf Lodge may feature the following attractions, depending on location:
MagiQuest (plus ShadowQuest and CompassQuest games)
Howlers Peak Ropes Course
Howly Wood XD Theater – Enjoy a 4D thrill ride
AtomicRUSH – LED arcade game for the whole family
Ten Paw Alley – a miniature sized bowling experience
Northern Lights Arcade
Howl in One Mini Golf
4D World – Take aim at moving targets in an immersive 4D experience
Build-A-Bear Workshop – Including Great Wolf Lodge characters and other classic animals
What is included in the Pup Pass, Paw Pass, and Wolf Pass?
Pricing and activities included may vary by location. The following items are included in the Concord, NC Great Wolf Lodge location.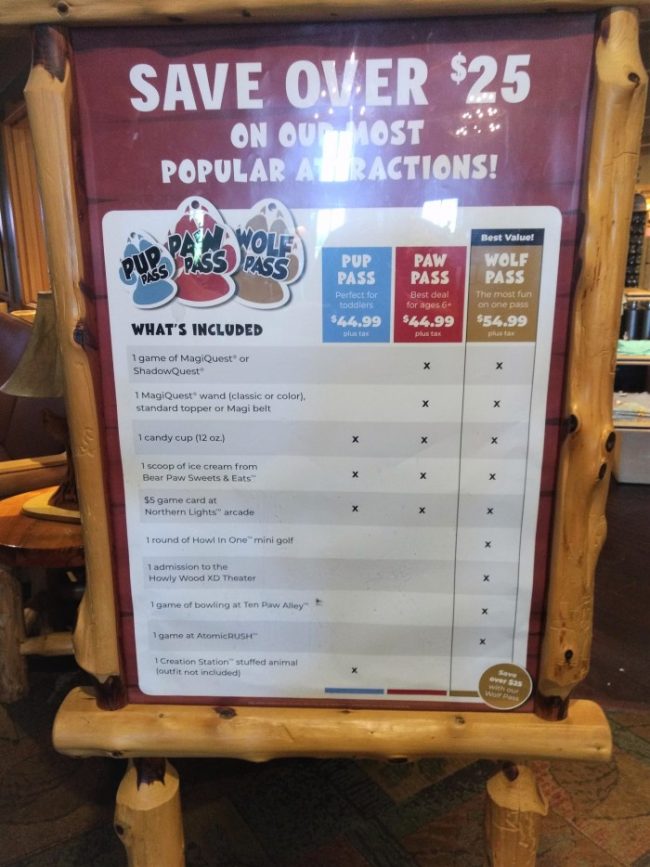 The Pup Pass is designed with toddlers in mind. It includes all of the following attractions for a prepaid price.
1 candy cup (12 oz)
1 scoop of ice cream from Bear Paws Sweets & Eats
$5 game card at Northern Lights arcade
1 Creation Station stuffed animal (outfit not included)
Clubhouse Crew Adventure
The Paw Pass is ideal for ages 6+ and includes each of these activities:
1 game of MagiQuest or ShadowQuest
1 MagiQuest wand (classic or color), standard topper, or Magi belt
1 candy cup (12 oz)
1 scoop of ice cream from Bear Paws Sweets & Eats
$5 game card at Northern Lights arcade
The Wolf Pass includes access to most of the activities around the resort! You'll pay just once and have access to all of these fun activities anytime during your stay:
1 game of MagiQuest or ShadowQuest
1 MagiQuest wand (classic or color), standard topper, or Magi belt
1 candy cup (12 oz)
1 scoop of ice cream from Bear Paws Sweets & Eats
$5 game card at Northern Lights arcade
1 round of Howl in One mini golf
1 admission to the Howly Wood XD Theater
1 game of bowling at Ten Paw Alley
1 game at AtomicRUSH
What is MagiQuest and how does it work?
MagiQuest is an immersive treasure hunt that will have you exploring all around the lodge! In our location, the different points of interest to find were sprinkled around the 2nd, 3rd, and 4th floors in the corridors and lobby area before the guest rooms.
You'll need a MagiQuest wand and will need to purchase the game of your choice to get started. You can additionally add a topper to give a slight advantage on one of the challenges or other surprises, but they are not required to enjoy the fun.
Then, you'll get a quest book and check-in for your first adventure at the quest tree. Just wave the wand at the quest tree and select if you would like to work on a quest or an adventure.
You'll start with quests looking for a series of items, such as 5 colored runes, to complete your quest. When you've found all the objects on your particular quest you'll earn a rune that can help you on different adventure quests, like fighting the red and silver dragons!
The challenges aren't particularly hard, and if you read through the included quest booklet you'll find hints and clues to where each object can be found.
Most of the time, we could make a loop from the 4th floor down to the 3rd and across the 3rd floor to the stairs again and back up in a loop. That did mean a lot of stairs were involved, though you can also take the elevator.
My older boys that are 8, 10, and 12 each made friends while playing the game and were off making the loops on their own with their new buddies.
It was great for them to have a little freedom while I helped my 4 year old complete his tasks. I'd run into each of them every couple of minutes and help them with any questions they might have and they were off again running to activate the hidden item they were seeking!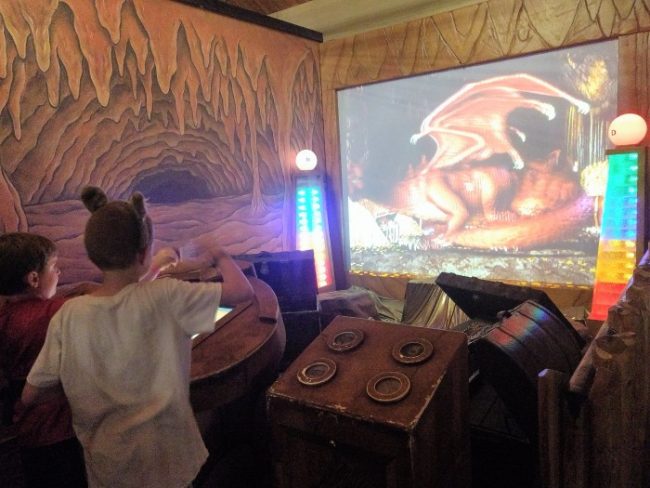 It really was a lot of fun and very engaging. My kids were running around acting like Wizards and so excited as they completed each of the tasks. The game does take a lot of time, we probably spent a good 5 or 6 hours on the challenge. My boys couldn't get enough of this activity, they really loved it!
Additionally, and similarly, you can find ShadowQuest and CompassQuest games that are a more challenging course for those who have already played and completed MagiQuest.
What You Should Know About Check-out Day:
You'll need to check-out of your room by 11am. But that doesn't need to stop the fun! Just like on arrival day, you can stay and play and enjoy all that Great Wolf Lodge has to offer the rest of the day.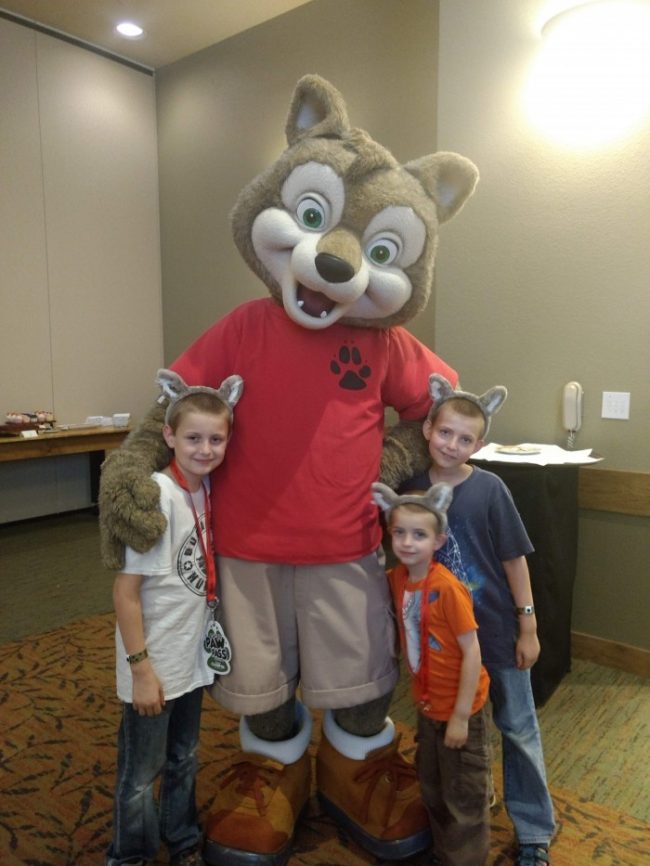 As a reminder, you can shower and change after the water park attractions. We took advantage of the extra time to enjoy the water park on the day we checked out and it worked out great!
The showers and changing rooms were easy to access and weren't overly crowded. After we were changed into our street clothes, we stayed to finish up our MagiQuest and ShadowQuest games.
Great Wolf Lodge New
Summer Camp-In Experience
Great Wolf Lodge is fun any time of the year, but they are now introducing a really fun themed summer experience available to all families that stay between memorial day and labor day!
What does the Summer Camp-In include?
The Summer Camp-In program includes a variety of fun family friendly activities including:
Pool Party – Enjoy DJ music and exciting activities pool side such as limbo, rubber duck races, corn hole toss, and more! The party takes place at the outdoor pool, when available, or indoors as necessary.
Trailblazer Challenge – Earn badges as you participate in different activities, arts and crafts, and games around the resort. As participants collect 10 badges, they'll earn the rank of Trailblazer!
Character Breakfast – Watch for your favorite Great Wolf Lodge friends at the morning breakfast buffet where you can get an autograph or snap a picture with your favorite pal! Join in on the counselor-led songs, dances, and napkin twirling as you kick start your day.
BBQ Dinner Menus – Switching out the normal menus around the resort, during the summer only you'll find all your barbecue favorites.
S'mores – Save room for this favorite summer dessert with S'mores dessert bars with flavored marshmallows – original, caramel, and passion fruit.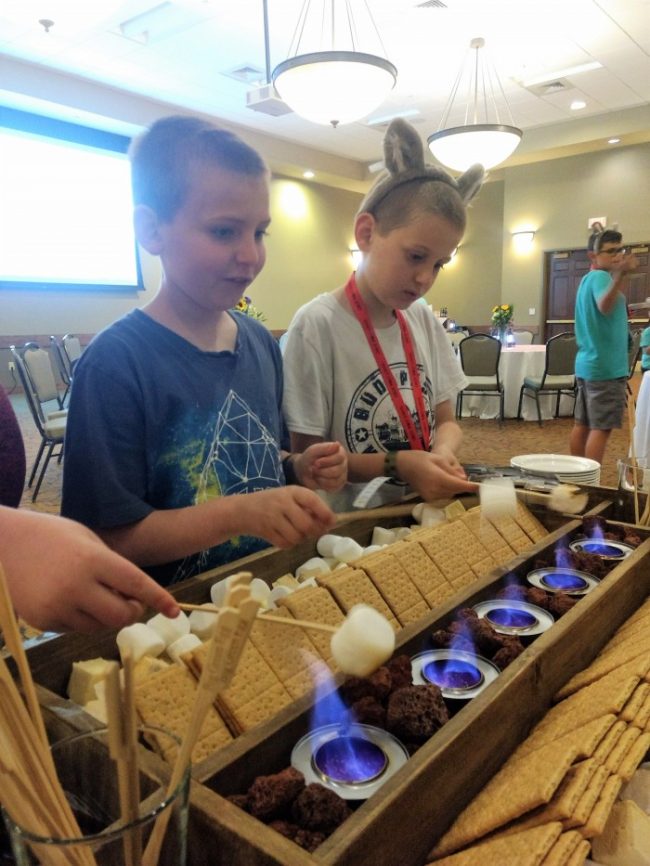 Campfire Ceremony – Wind down at the end of a fun-filled day around the fireplace where nighttime activities begins. You'll find singing, face painting, s'mores, character shows, and of course the Great Wolf Lodge traditional Story Time!
Who can participate in the Summer Camp-In Activities?
The Summer Camp-In activities are available for all guests staying at Great Wolf Lodge. Some activities, such as the character breakfast, will take place during paid attractions or dining offerings.
What activities are part of the Trailblazer Challenge?
Activities may vary slightly by location, but may include the following exciting activities. Some of the badges may only be available from paid attractions.
Regardless, you can earn the Trailblazer award without any additional purchases by participating in some of the free activities and challenges around the resort.
Arts & Crafts:
Face Painting
Balloon Animals
CYO Camp Button Making
My Favorite Camp Memory
Letters from Camp "Postcard"
Camp scene coloring sheets
Wolfgami**
Rubber Ducky Decorating
Friendship Bracelets
Craft Stick Tent Photo Frames
Dream Catchers
Competition:
Camp Bingo
Camping Trivia
Camping Memory Match
Minute To Win It Cornhole
Rubber Ducky 500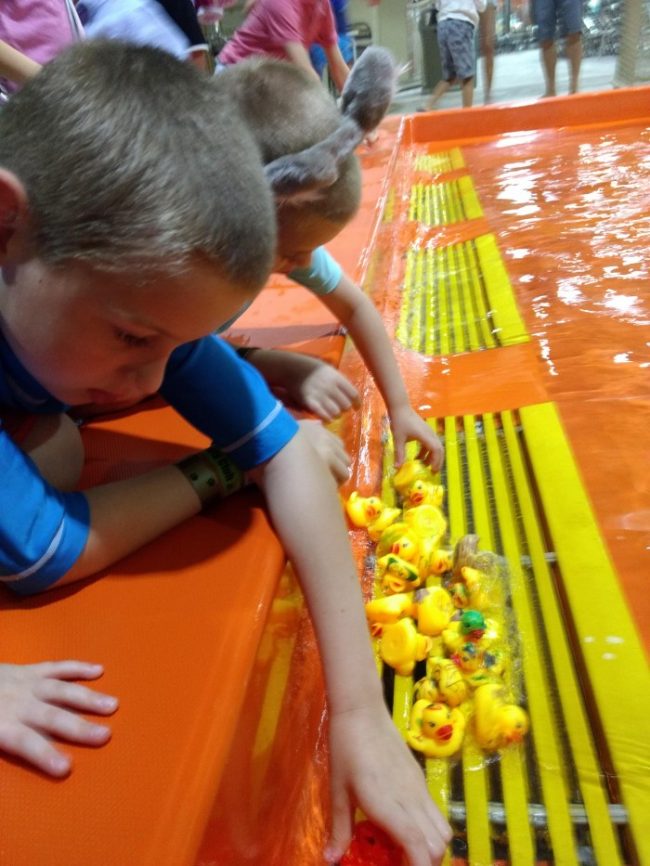 Hula Hoop Competition
Water Bucket Ring Toss
Flamingo Ring Toss
Bean Bag Can Toss
Fish Bowl Challenge
Sponge Water Bomb Toss
Limbo and Conga Line
Hole In One Put Put
Arcade Challenge
Bowling Challenge
What other changes can I expect at my local Great Wolf Lodge during the Summer Camp-In?
You'll also notice fun Summer Camp-In themed decor around the lobby available summer-only! Plus, you can book one of the specialty themed rooms for your stay.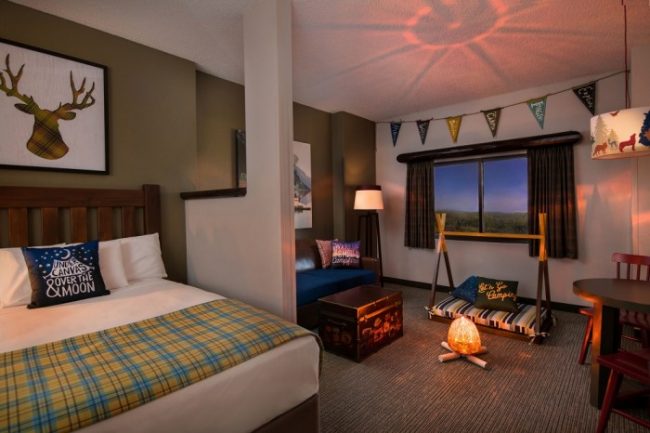 The Summer Camp-In seasonal themed rooms are available on a limited bases and include an incredibly cute tee-pee in the room to relax in and even a darling campfire themed lamp that's kid safe! If you want to feel like you're in the outdoors, even in a cozy indoor space, you'll really enjoy the Summer Camp-In rooms during your stay.
I got to see a sneak peek preview of the upcoming themed rooms and they were so darling! They are perfect for families wanting a "camping" experience with all the comforts of a hotel room and amenities.
Overall Experience at Great Wolf Lodge
We had so much fun as a family at Great Wolf Lodge! It's definitely an experience I think is worthwhile for all families, especially those with children up to tween ages.
Of course, there are things for teens to enjoy, too, but I think younger children are the perfect age to enjoy every part of the resort.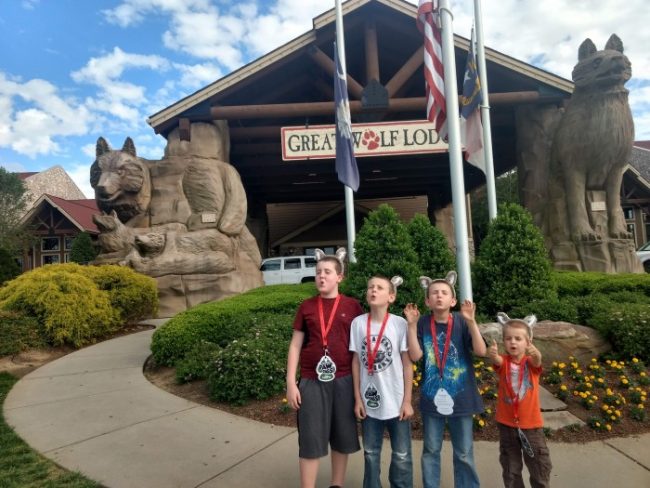 My boys were in heaven with all the fun activities we participated in. They loved the water park especially the River Rapid tube ride and the wave pool. Even my 4 year old turned into a little fish diving under the waves with his googles, nose plug, and puddle jumper on.
I didn't feel like the park was overly crowded, even the most popular water slide lines took only about 15-20 minutes, which I felt was very reasonable and shorter than water parks I've been to in the past.
The only thing I'd love to see Great Wolf Lodge improve in the future is opening up some activities in the morning for the early birds. My boys were thrilled to stay up late and play (we went to sleep around 10:30-11pm both nights) but none of the attractions open until 9am.
It's currently nice for giving parents a built-in excuse for sleeping in, but we would have loved to spend an hour or two in the morning playing MagiQuest while the rest of the hotel woke up!
My husband and I both really, really appreciated that once our hotel room door shuts, there was absolute silence! Our room was just a few doors down from all the MagiQuest happenings and we couldn't hear any of the hustle and bustle in the hallways.
I also really appreciated this fact as I didn't have to worry quite so much about my kids being noisy and disrupting those in the rooms nearby. The rooms were dark, cold (our preference), quiet, and comfortable — a definite win!
We are all hoping to make it back to Great Wolf Lodge again as soon as we can!
Head here to learn more or book your own family vacation to Great Wolf Lodge and check out all the fun Summer Camp-In activities or other fun year round!