I LOVE snacking. In fact, I find myself constantly munching on food between each meal and right before bedtime.
Let's just say that I'd much rather snack all day then eat 3 large meals.
My favorite way to enjoy my snacks is dipping them in a variety of dipping sauces and dips. Whether you're looking to snack after school, at a party, during family game night, or at your desk, you can't go wrong with these 50 foods perfect for dipping.
I received samples and compensation in exchange for this post. All opinions are my own.
50 Foods Perfect for Dipping
Savory Foods (perfect for dipping in Alouette's Le Bon Dip):
1. Pretzels
2. Potato Chips
3. Cheese Sticks
4. Crackers
5. Pepperoni Pieces
6. Mozzarella Sticks
7. Chicken Nuggets
8. Popcorn
9. Cubed Cheese
10. Bacon
11. French Bread
12. Baguettes
13. Shrimp
14. Meat Slices
15. French Fries
16. Sausage
17. Tortillas
18. Pita Bread
Veggies (perfect for dipping in Alouette's Le Bon Dip):
19. Carrots
20. Olives
21. Pickles
22. Cucumbers
23. Peppers
24. Squash
25. Broccoli
26. Zucchini
27. Cauliflower
Fruit (perfect for dipping in yogurt, cream cheese, or whipped topping):
28. Apples
29. Pineapple Sticks
30. Cherries
31. Grapes
32. Strawberries
33. Mangos
34. Raspberries
35. Blueberries
36. Bananas
Sweet Foods (perfect for dipping in melted chocolate, whipped topping, or peanut butter):
37. Wafers
38. Ice cream cone pieces
39. Animal Crackers
40. Brownie Chunks
41. Chocolate Mints
42. Cookie Dough
43. Oreos
44. Rice Crispy Treats
45. Marshmellows
46. Graham Crackers
47. Cheesecake Bits
48. Cream Puffs
49. Pancake Bites
50. Waffle Bites
Looking to add a little flavor to your dipping experience? You'll instantly fall in love with Alouette's newest creation: Le Bon Dip.
Available in a variety flavors, there's a dip perfect for every snack: Basil, Zucchini & Parmesan, Fire Roasted Vegetables, Zesty Garden Salsa, and Roasted Red Pepper and Chickpea.
These low calorie dips instantly transform every snack with their velvety cheese texture, chunky veggies, and creamy Greek yogurt.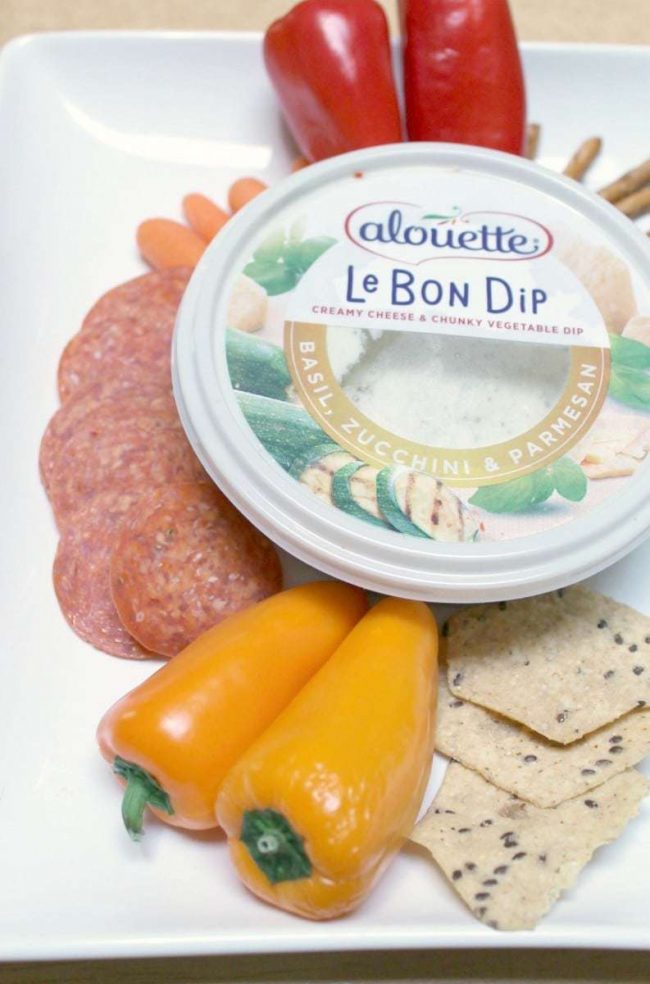 If you prefer to spread your dip, you've got to check out Alouette's Le Petite Fromage. Equally as delicious, this spread is also available in a variety of flavors: Garden Salsa, Garlic & Herb, Parmesan & Basil, and Cucumber & Dill. With so many yummy dipping and spreading choices, snack time will never be the same.
Kick snack time up a notch with Alouette's Le Bon Dip and Le Petite Fromage.
What is your favorite food to dip?