Picking out the perfect Mother's Day gift for your Mother, Mother-in-Law, Grandmothers and even yourself (or your wife) can sometimes be tricky. We don't always want just more "stuff" to clutter our space. This list of thoughtful mother's day gifts will help you pick out something she will truly love!
Whether she needs some "me time" or wants tools to make her life easier, there are picks for everyone on your shopping list — and you'll probably find some favorites for yourself, too!
16 Thoughtful Mother's Day Gifts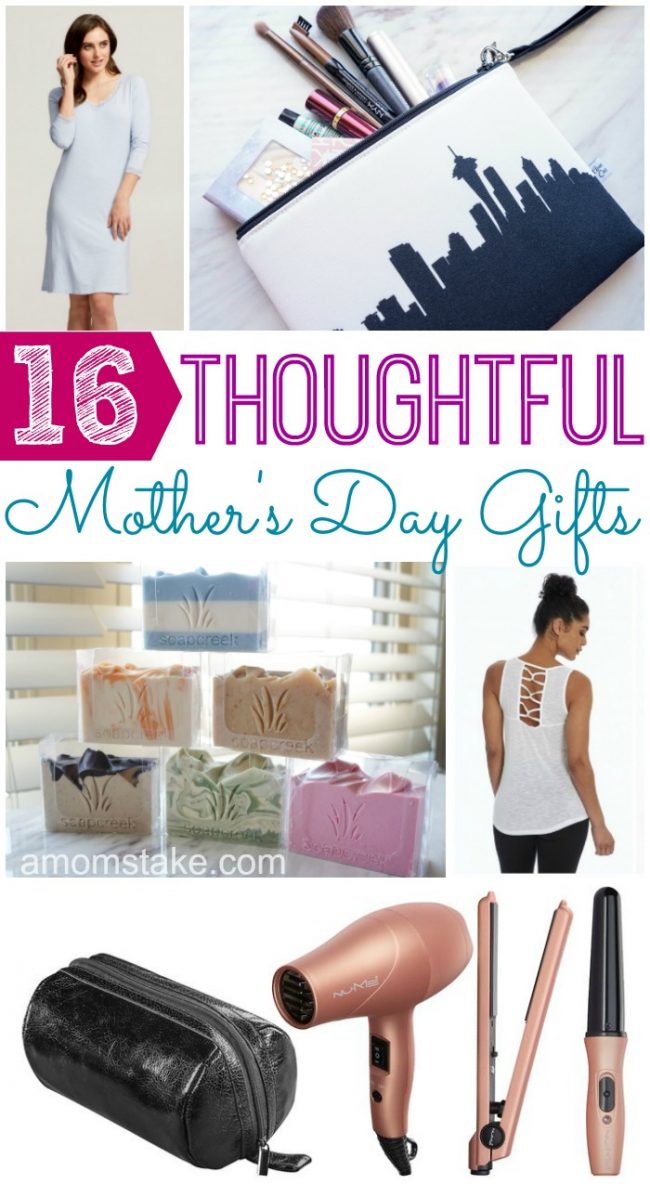 We received samples and/or compensation in exchange for this post. Affiliate links are used in this post. All opinions are our own.
For the on-the-go mom:
Give the busy mom who spends lots of time in her car an Audible gift subscription or audiobook! What a perfect way to enrich her life with good books when she may not have time to read! There is everything from fiction stories to captivate her to non-fiction and self-help for her to learn while on the go.
For example, Girl, Stop Apologizing is an Audible exclusive title and the follow-up book to the bestselling Girl, Wash Your Face. She'll walk you through how to stop giving excuses and instead adopt skill and start believing in yourself! Learn to drop unrealistic expectations we so often put on ourselves with the emotionally charged title Slay Like a Mother. Or pick up Happiness: A Memoir that was picked as one of Reese's Book Club Audible titles that covers all the unlikely ways a family comes together.
Great Audible listens for mothers:
If she travels a lot, what better gift could she receive than travel sized hair styling tools! This complete NuMe Jet Setter Pro – Mini Tools 7-piece set includes a mini iconic hair dryer, mini hair straightener, mini curling wand with cone barrel, plus a heat-resistant styling glove and diffuser, all in a convenient travel case. While each of these styling tools measures under 7.5″ in length, you'll still be able to prepare for the day, no matter where you travel!
NuMe is known for their quality styling tools, and these Jet Setter Pro mini tools are no different! They are made with tourmaline ceramic for smooth, friction-free, evenly heated tools. They create negative ions to maintain moisture and eliminate frizz. The straightener has floating plates to help get as close to your strands as possible for one-pass styling. Pick up the mini tools set in one of 4 color options!
Our cell phones have become a very important part of our way of living. How did we ever do anything before we had them? I know I spent a lot more time wandering around lost then I do now. So this year for Mother's Day, treat her to some new, fun mobile accessories from Ventev Mobile for her cell phone.
Ventev is the go-to place for mobile charging accessories. My favorite thing so far is their Wireless Chargestand. By setting your phone on the stand, you can charge and still do things like watch Netflix at the same time. Ventev also carries products like charging cables, Dash mounts, wireless car charging, multi-port chargers, and portable power banks.
Gifts that will help
her around the home:
Getting ready in the morning will be easier for her than ever before with a Philips Hue Adore Lighted Vanity Mirror. This large round vanity mirror has a lighted edge that adjusts to different hues from warm to cool white to fit the different needs throughout the day. Get ready with bright natural daylight hues and then transition the mirror to soft white lighting for a relaxing evening routine.
Another perfect pick is the Hue White Ambiance Starter Kit which includes 4 standard size E26 bulbs and a hue bridge that will connect all the lights and let you control your lighting by voice or app! Change the lights throughout the home to a variety of different white hues that will help her get energized in the morning, focus during the day, or relax in the evening.
Make mornings a breeze with an iHome iAV14 Bedside Alarm Clock! It's integrated with Alexa Voice Services to easily control your clock. Choose to play music, audiobooks, check the weather, or find traffic reports all before rolling out of bed in the morning. It's easy to find all the important news, entertainment, and information about the day while you're busy getting ready.
I really appreciate that the iAV14 bedside clock has a 1 amp USB charging port that helps eliminate extra cords and clutter and helps keep other devices charged and ready to go. I also love the simplicity of setting an alarm, just use your voice! Also check out their Himalayan Salt Lamp that has sound therapy built-in. What a great way to help her unwind at the end of a long day.
Give her the gift of something pretty to put in her space with Evolur. If she's wanting to redo a room, Evolur has a large selection of Bedroom furniture and supplies to create something she'll love. Quickly update a room or just add a color pop with a new area rug. Make baby's room more functional with a bookshelf or nightstand.
A new beautiful rug from Evolur is the perfect addition for comfort, warmth, and design in a room. Evolur rugs are a low pile, making them easy to clean and limiting allergens. Most rugs come in either 55X70inches or 31.5X55inches and are neutral in design and color. They're the perfect pop to decorate any room and add just the right touch.
If she's anything like me, she loves everything organized, in its place and looking clean. Nothing's worse than a messy, cluttered, inefficient space. That's why organizers from Mindspace will be the perfect gift for her this Mother's Day. Whether she's a lady with a desk, or with a house to run, Mindspace has something to make her job easier.
Keep the kitchen drawers tidy with a new Cutlery tray or Utensil Caddy. Her workspace will be more functional with a desktop organizer or Folder sorter. There's even organizing fun for the closet and bathroom. She can have all her makeup and brushes easily organized and manageable for quick mornings.
Speak to her favorite interests:
Remind her of one of her favorite places with a customized Anne Cate skyline product! They have over 85 skylines to choose from with cities all around the globe. Pick London, Paris, New York or even a college hometown for a flashback to a favorite vacation or her college days. You can even request a custom skyline if you don't see your city listed.
Anne Cate's skyline products are available in a variety of perfect picks for mom! They offer makeup bags, clutch, a weekender, even a throw pillow! I got to check out the Skyline Wristlet Clutch customized with my hometown Seattle's skyline! I love how it turned out and it's roomy enough to carry all my essentials on-the-go. I've been using it as a grab-n-go makeup kit but it just as easily holds whatever you need to take with you. Stash your keys, phone, and wallet and skip the bulky purse on your next girls night with a clutch that will be a conversation starter!
For those who love to play games, try these fun titles from Thames & Kosmos! The EXIT series of games provide an escape room experience from the comfort of your own home. The puzzles and riddles are challenging and fun to try to solve. We've played several from the series and always have a great time! There are clues included, in case you get stuck, and overall we've highly enjoyed the EXIT series! Two of their newest titles to try to solve are Dead Man on the Orient Express and The Sinister Mansion.
Mercado is a board game that's not too difficult and great for families. You'll play as the wealthy upper class trying to bid on different market items for sale in the hopes of beat out the other players to your purchases! There is built in variety to help the game feel fresh each time you play and some luck to keep things exciting!
Try these Thames & Kosmos games:
Make reading a whole new type of adventure with Once Upon a Book Club subscription! Each month includes either an adult or young adult newly released fiction book, 5×7 quote print, and surprise gifts themed to the book title! Each of the 3-5 included gifts for the month are individually wrapped and labeled with a page number from the book. As you read through your monthly book, you'll get to unwrap a surprise that helps bring the book to life!
A Once Upon a Book Club gift subscription would be a perfect gift for those that love to read or even those that might need some extra motivation to take that "me time" to unwind with a good book. Each month features discussion questions, read-a-long dates, and live discussions on both Facebook and Instagram to help her join a new, welcoming, community of book lovers!
For moms that need
some relaxation:
She'll love the excuse to relax and unwind with the artisan soaps by The Soapcreek Company. Their artisan soaps are made with high-quality ingredients and handcrafted one bar at a time. They are certified organic and made in America!
I love that each bar of soap has its own unique personality with a different design, colors, and scents. They have unique benefits, too, with qualities such as nourishing, moisturizing, antioxidant, exfoliate, soften skin, and more. Look for your own perfect combination or try one of our favorites!
A few of our favorite Soapcreek Artisan Soaps include:
Have you ever struggle to find a skincare routine that fits all your unique needs? Y'OUR skin care has changed the game with a completely unique-to-you skin care regimen. You start with a skin care quiz to outline any trouble areas and help to customize your products.
Over time, as you use the Y'OUR skin care products, you can give feedback and adjust the personalized products to keep up with your skin care needs and changes over time. They'll even reformulate the product up to two times during your first 3-month supply to make sure it works just right for you! The Y'OUR skin care is effective, yet gentle, using only clean ingredients with no extra fillers, parabens, or toxins. They are cruelty-free and do not test on animals.
Have you tried one of the latest trends – a weighted blanket? The Sleep Number Relaxation™ Weighted Blanket can help her relax with pressure simulation that can help reduce stress and anxiety. It's great for either sleeping at night for a better night's rest or for lounging when you just need to relax.
Designed with a no-shift diamond box construction, the weight is evenly distributed and never shifts for an even weight distribution across the blanket. The Relaxation Weighted Blanket comes in 3 neutral color choices: navy, gray, or cream. Then, just select the weight that's closest to 10% of the body weight.
Comfortable fashion
favorites just for her:
This Mother's Day, she will absolutely adore new activewear from Marika. Whether she enjoys wearing her workout clothes to the gym, running errands, or lounging around the house, she'll love the comfort and style that Marika provides.
Available in a variety of patterns and colors, Marika's tummy control leggings are perfect for every new mom! Also available in a variety of colors and patterns, you've got to check out Marika's tanks, t-shirts, jackets, leggings, sports bras, plus size apparel, and accessories. Thanks to Marika, she'll be stylish and comfortable this Mother's Day.
Here are our favorite picks from Marika:
Give her the ultimate relaxation gift with Lusomé moisture reduction sleepwear. Their styles are designed to keep her comfortable all night long with extreme moisture and odor control. It will help wick away and accelerate the evaporation of moisture to keep her cozy. They have a simple classic design with feminine touches that will make her feel pretty.
I adore the subtle stretch lace detailing, like on this Lucienne Nightie, and the way the super soft fabric feels. Lusomé has a variety of mix-and-match styles to fit her personal tastes. Pick from sleepshirts or nighties or coordinating tops and bottoms for the right amount of coverage and comfort for each season.
My favorite Lusomé styles:
Spoil her feet with the most comfortable shoes around with Lamo Shoes! They have a variety of on-trend styles slippers and boots to choose from lined with a thick and fluffy premium faux fur. Like the Lamo Women's Jaurez Scuff Slippers that are easy on and easy off with a full comfort-flex sole so they can be worn both indoors and out. This style has two cute color combos to choose from!
Another of my favorite styles is the Lamo Women's Taylor Fashion Boot. This cute pair of lined boots can be worn Fall through Spring and pairs perfectly with skinny jeans or leggings! They have a soft sueded upper and a synthetic sole with a lace-up front and of course their soft premium faux fur lining and collar detail!
Which of these are your personal favorite Mother's Day gift ideas?