This is a Sponsored post written by me on behalf of Walmart. All opinions are 100% mine.
When I had my first baby, I remember being sent samples of Enfamil cans and being offered Enfamil in the hospital for my infant. I ended up nursing my son and only needed to rely on formula a few times in his life. I was blown away to see this price comparison, knowing that as a new mom I would have just stuck to the one brand I tried and was introduced to at the hospital.
Switching to Parent's Choice™ infant formula, you can save almost $600 a year! Even if you just needed to buy one tub of formula it is nearly half the price.
How much could you save switching to Walmart's brand of infant formula, Parent's Choice™? Parent's Choice Formulas are clinically proven to be as well tolerated as the national brands. All formulas go through a strict screening process by the FDA and Parent's Choice™ is no different. It contains DHA and ARA, calcium and prebiotics just like the name brands. It's made off a milk-based formula and is iron-fortified. This means, there is no reason to hesitate to switch and save you tons of money.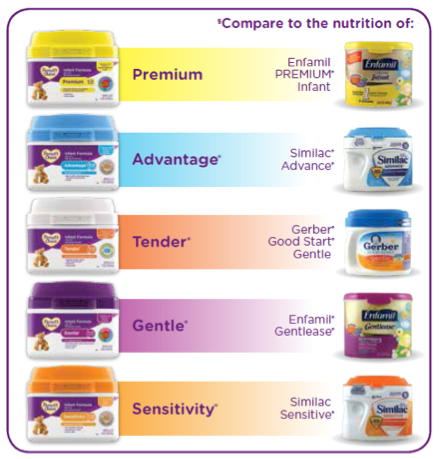 With all the expenses a new baby can bring, your choice of formula shouldn't be breaking your bank. Head over to Walmart to see how much you could save by switching to Parent's Choice™ infant formula!