Coppertone is searching across the US to find a modern Little Miss Coppertone!
Does your daughter embody the spirit of youth, fun of summertime, confidence and a love of the outdoors? You can submit a photo of your daughter between the ages of 2 and 7 to enter to be the next Little Miss Coppertone until June 22nd! The finalists will be selected by a panel of judges and then America will vote for their favorite finalist to be the grand prize winner! Hurry over to submit your own photo and enter!
No Purchase Necessary. Contest Ends on 6/22/12.
What Kind of Coppertone Girl Are You? Quiz
Little Miss Coppertone through the Years!
Have you ever wondered where Little Miss Coppertone began? Check out some of the great ways she has been seen through the past nearly 60 years!
Little Miss Coppertone and her dog are first introduced in 1953!
Here, they are pictured in a print ad in 1955.
After a fire destroyed the original painting, Joyce Ballantine Brand
created this oil painting in 1956 using her daughter Cheri as the model.
This is the artwork known today.
Little Miss Coppertone appeared as part of a 35′ billboard ad on
Miami's Central Pier from 1959 until 1991!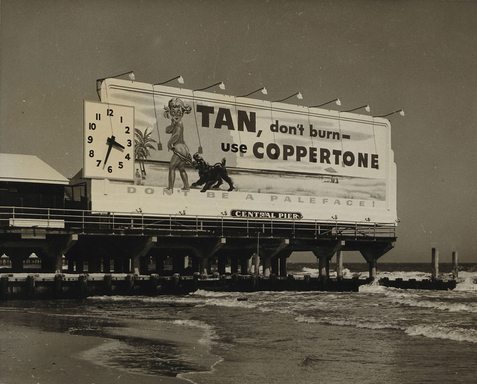 In 1993 in celebration of Coppertone's 40th Anniversary, they held a contest
to find the next "Coppertone Girl". The contest was hosted by Regis Philbin.
What will the modern day Little Miss Coppertone look like in 2013!?
Disclosure: This post is part of a compensated campaign with the Coppertone Water MOM and MomSelect. All thoughts and opinions are my own.