My two oldest boys have completely different styles. My 7-year old son will nearly always pick the most mismatched and strange outfits he could ever possibly grab from his dresser drawers. Of all of his choices, he'll dig through the drawers to find the lonely shirts we've buried at the bottom as "laundry day emergency" picks. We let him get involved in shopping and choosing his own outfits that fit his style, but helping guide him towards styles that look great together to minimize mismatched outfits.
My second son likes to look good. I'm not sure where he gets it from, but he has a very particular sense of what is stylish and what he just doesn't like at all. He often gets passed the hand-me-downs from big brother and will refuse about half the wardrobe telling me he can't wear "that" or he'll look silly and the girls will laugh at him. Letting his pick out his own styles for the start of this school year was a must.
We set out to Target to shop and pick out styles for the new school year seeking out uniforms to meet the school policies as well as cool styles for after school, weekends, and breaks. With my boys both having fall birthday's, it's the perfect time for us to stock up on the next size up.
Picking out their everyday outfits and style was pretty easy. My boys love to go for superheroes and cool tops that match their interests. Shorts are worn nearly year-round here and a couple of good pair of bottoms and we were set.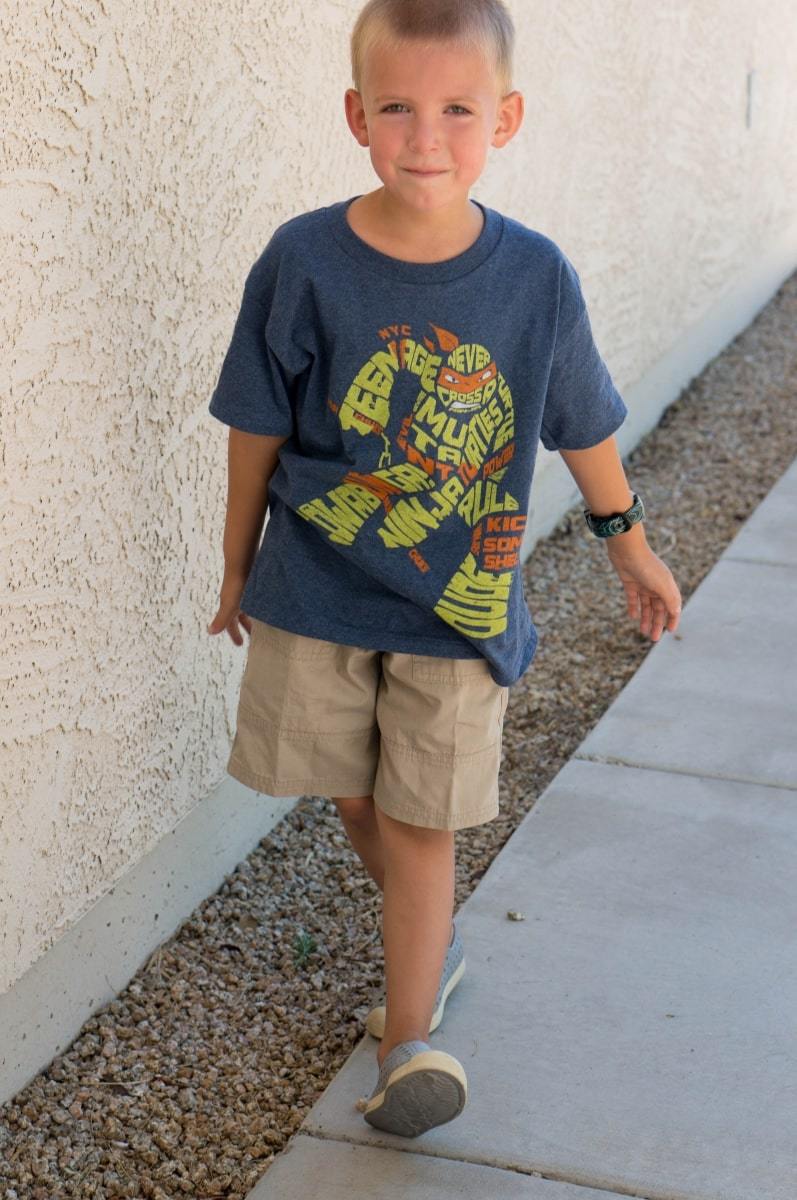 However, letting them show their personality while they head off to school was more of a challenge. Their school requires uniforms which gives them very little room to personalize and feel like an individual. This also let us get creative and have some fun with accessories and often overlooked parts of their outfits, which made it really fun to shop with this in mind.
How to Show Unique Style with Uniforms
Socks
– Picking out fun and funky socks is a really easy way to add personality to an outfit! We found really cool, colorful socks for each of my boys in their favorite characters at Target. One picked out Star Wars and the other grabbed Spiderman. You may not be able to see them in their outfits, but it's a big deal to them getting to wear fun socks they love! It's the one area of their outfits they have complete control over daily!
Belt – A belt is not only functional for keeping up pants on those skinny waists, but doubles as a fashion statement for uniforms. A belt is a super easy way to add in color and personality while staying within the dress code. Since most uniform dress codes also want the shirts tucked in, a belt also finishes off their look.
Shoes – When planning for back to school styles, you'll want at least two good pairs of shoes including a pair of tennis shoes or similar for P.E. days and cold days as well as a cooler pair of shoes for warm summer days. We usually do a closed toed sandal, tennis shoes, and then a "cool" pair that they tend to pick for most classroom days such as a character shoe. Let your kids help pick out their styles, here, as this is the other big area they get to have a say in their daily outfits around their uniform.
Jacket – Generally, jackets don't have to fit within the uniform restrictions, so feel free to go for something fun!
Accessories – Find little ways to add personality such as hair accessories for girls, fun shoe laces, maybe a scarf or a pin if allowed with the dress code. My boys absolutely insisted a watch was a back to school necessity, and I have to agree. It really makes them look "cool" and is really educational as well.
After-school / Weekend Outfits – If the school's dress code is pretty strict, let your child have fun breaking outside of the box for their after school or weekend outfits. Pick out fun patterns and a change of color from their uniforms to help switch up the routine.
Target had everything we were looking for this back to school season with affordable uniform options in their school-approved colors as well as everyday styles to get them through the school year. We had a great time shopping and picking out their outfits to help both my boys feel ready to tackle the new school year and moving up to their next size of clothes.
Every little thing is a really big deal.
How does your child show their personality for back to school?
Disclosure: Compensation was provided by Target via Glam Media. The opinions expressed herein are those of the author and are not indicative of the opinions or positions of Target.