We love Italian food in our house. I am Italian, and my husband lived in Italy for 2 years. Pasta is a staple in our house. We eat it at least once a week. And usually my husband is in charge of those meals – he learned from the best! But this is one of the pasta meals that I make. Don't get me wrong – this is
not
authentic Italian, but it is oh-so-yummy nonetheless! And you know what makes it even greater? It is super easy to make – just throw the sauce ingredients into the crockpot all day, and come dinnertime, you've got a delicious, hearty sauce simmering away. You will want to add this to your favorite
easy dinner recipes
! Without further ado, here's my
Italian sausage & peppers recipe
..
Italian Sausage & Peppers Recipe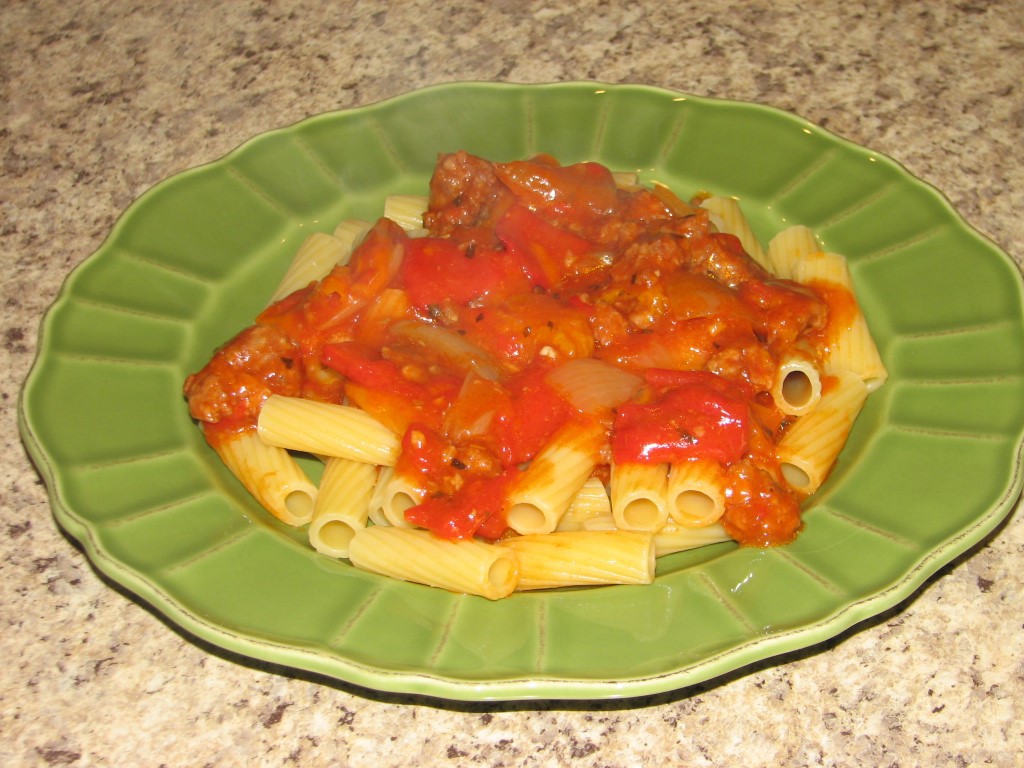 Crockpot Italian Sausage & Peppers
Ingredients:
3 bell peppers cut into 1" cubes (mixed colors - I don't use green)
1 small onion cut into wedges
3 cloves garlic, minced
1 lb. hot (or mild, if you're not spicy eaters!) Italian sausage (I like to use ground Italian sausage with no casings...or you can get links and just de-case them and break them up with a spoon)
1 c. marinara sauce (you can use a jar of sauce, but I make my own - see note below)
¼ c. red wine vinegar (less)
1 tbsp. cornstarch
1 tbsp. water
Directions:
Coat your crock pot with cooking spray. I love to use the crockpot liners - they make clean-up a breeze!
Place your peppers, onion & garlic in the bottom of the slow cooker. Arrange the sausage over the veggies. Combine pasta sauce & vinegar over the top.
Cover and cook on low for 8-9 hours or on high for 4-5 (sausage needs to be cooked through and the veggies tender). Skim off any fat from the liquid.
Mix cornstarch & cold water in a separate bowl until smooth. Add to crock pot.
Cook 15 minutes or until sauce has thickened. Serve over pasta. We also love this sauce over polenta, and it would probably make a pretty dang good sandwich on yummy bread, too.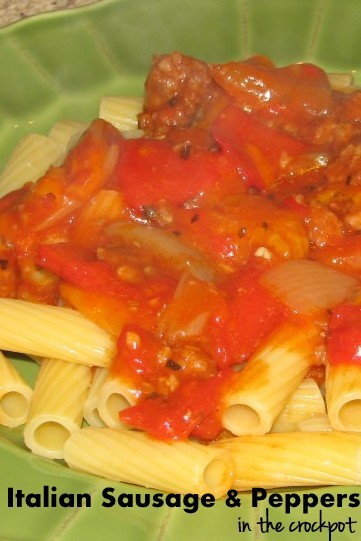 Sometimes people are intimidated by making their own sauce, so they just use a jar. But you can make a really simple sauce for this – there's so much in this recipe (with the veggies & sausage) that it doesn't need to be ultra fancy. I just use some tomato sauce, a little water, some basil & oregano, maybe a pinch of garlic powder, & we like to add red pepper flakes too (we LOVE spicy). In this case, I just throw them all into the crock pot, and after it's cooked quite a while I stir it all up. Once everything's ok for the taste-testing, I adjust my spices.
Si mangia! (Essentially 'let's eat' – said before every meal in our house!)
easy dinner recipes, italian sausage & peppers recipe, crockpot recipe, crockpot recipes