Hyatt Regency Mission Bay hotel in San Diego, California offers 529 newly redesigned guestrooms and 30,000 square feet of indoor and outdoor function space. They are located close to Sea World, San Diego Zoo, PetCo Park, Beaches, Balboa Park, and many other popular sites to visit.
Their rooms feature Hyatt Grand Bed, an iHome Stereo with iPod dock, and 32″ Flat Screen TV. Rooms also have a balcony with views of the Pacific Ocean, Mission Bay, or Gardens!
Included at the resort is their Eco-friendly Blue Marble Spa, Water playground with multiple pools and waterslides, a waterfront 24-hour StayFit Gym and private marina, water sports including kayaks, jet skis, sport fishing sailboats and whale tours.
Their location features 3 dining options, Red Marlin Restaurant Bar and Terrace, SWIM Lounge, and Einstein Bros. Bagels. They offer in room services as well.
My Experience!

We stayed in a suite which has a family room as well as a bedroom which you can separate with a pocket door. The family room couch had a fold out bed so we pulled out the bed to give the boys their own sleeping area!
The main bedroom area had two very comfortable queen beds, TV, and desk, as well as a walk-out patio off the pier and boat docks. It was a really fun view and we all enjoyed watching the boats as they came and went.
We were given a welcome kit as part of the review which included a S'mores Kit so we went on down to their fire pits and beautiful seating areas and all enjoyed S'mores! This was so fun as we typically only make S'mores while camping but will definitely have to do this again at future hotel stays that have Fire Pits!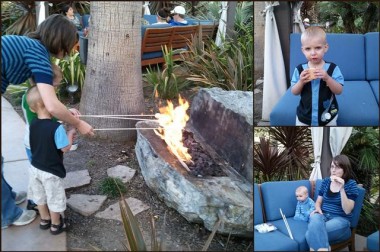 The next morning the boys and I went down to the pool to play. They have three separate pools all in the same area with different depths. We hung out the whole time in my favorite of the pools, it is reminiscent of a beach and starts at 0′ deep and goes up to 3.5′ I believe.
But a big portion of the pool is less than 2′ and my children loved that they could walk into the pool and have it just as deep as they wanted! The pools have waterslides as well, though we didn't stay at the pool late enough in the morning to enjoy them.
I also loved the convenience of on-site food options as my husband was leaving early that morning to go Scuba Diving so I was able to quickly grab breakfast before he took off.
Hyatt Regency Mission Bay is located at 1441 Quivira Road in San Diego, California. You can book a room online as well as by calling (619)224-1234.
Disclosure: We received 1-night accommodations for free in order to try the product and form an opinion for this review. I was not compensated in any other manner. The opinions expressed above are my own and any claims should be verified on the sponsor's site. Thank you to the sponsor for allowing me to review their products!