Babies and Toddlers are SO much fun to shop for. I love seeing the excitement on their face opening gifts Christmas morning; let's be honest, most of the time they are most excited to play with wrapping paper. Whether you're looking for your new baby or talking toddler, these gifts are sure to bring them joy and keep them entertained this Holiday season!
Holiday Gifts for Babies & Toddlers
We received a variety of samples in exchange for this post. All opinions are our own.
Meaningful Toys for Young Kids
Nothing is more comforting than a plush friend! Gift your little ones a plush from the newest collection by Wild Republic! The Comfortkins line features there new styles of plush friends that are so timely to our global situation! I adore the Comfortkins stuffed animals that come dressed in a removable darling little hoodie and a include a face mask sized just right for the plush! It's a great tool for helping to normalize the difficulties of young children wearing face masks!
If your child is participating in online preschool, clubs, or facetime calls with loved ones, try the darling new Screen Grabbers! These little 3″ friends hang onto the top edge of a laptop, device, or hangout on their backpack to come along on whatever new adventures they face! A perfect gift for under the tree this year are the darling Pillowkins animal pillows with bright colors and imaginative patterns that bring these friends to life!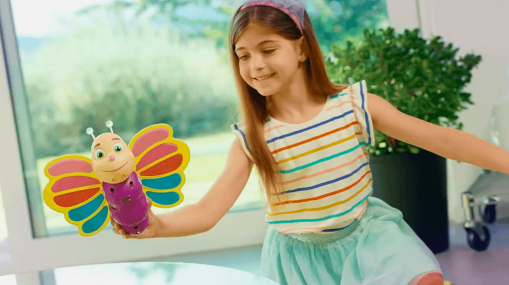 I love finding toys that my toddler finds exciting and innovative – trust me, she gets bored quickly. This year, I plan on keeping her entertained with Flycatcher's Smarty Line; perfect for ages 3-5. I really feel that the Smarty line is just that – toys that help your child learn through play.
I love that Smarty Flutter (pictured above) teaches shapes, colors, and directions, all while your child is playing with a butterfly! The Smarty JoJo is a toy airplane that reinforces actions and reactions while flying through the sky on a scavenger hunt for shapes, colors, etc. The Smarty Pad is a LED interactive tablet comes with 12 fun games that teach the alphabet, colors, numbers, ect. Your kids will have so much fun with these Smarty toys, they won't even realize that they're learning!
Perfect for Growing Little Ones
The gift of sleep is the best gift any parent can ever receive. That's why you'll love gifting adorable bedtime wear and accessories from Nest Designs x World of Eric Carle line. My babies always have such a difficult time transitioning from being swaddled. Thankfully, the transition hasn't been that hard this time around because of these Nest Designs x World of Eric Carle sleep bags. The bamboo fabric is SO soft, keeps my baby safe, warm, and helps my baby sleep more soundly.
The World of Eric Carle patterns are to die for. A few of my favorite patterns includes the Eric Carle Red Green Dots, Flamingo, and Citrus. sleep sack. Whether you're looking for sleeveless sleeping bags, winter sleeping bags, sleep suits, or blankets, you'll fall in love with clothing and accessories from the Nest Designs x World of Eric Carle line.
Make learning with your little one fun with the series Think Tank Scholar series of flashcards! Like this gorgeous set of colorful Alphabet Flashcards that will help you teach letter recognition and then move on to letter sounds with two-sided cards that include both the upper and lower case letters along with a picture that represents the sound to help build those early sound connections!
When they've master letters, you can move onto fun flashcard sets including rhyming words, sight words, and math skills flashcards! All of the flashcards are made with a thick, high quality card stock that is laminated to ensure it lasts! They've thought of everything, including one angled corner to make sorting easy! Think Tank Flashcards include teaching technique guides and educational game ideas within each set of flashcards to help you make learning fun.
My toddler is always wanting to be like the big kids. In fact, she's recently started throwing a fit every single time I try and put her in a high chair. Thankfully, she can now safely join us at the dinner table with Little Partner's MOD Booster Seat.
Little Partner's MOD Booster Seat is so trendy that it doesn't even look like a baby gadget – it flows nicely with the vibe of every kitchen. Talk about the perfect practical gift for your little one. The awesome straps and buckles help hold your child safely in place while they're sitting at the table. This takes your toddler to the perfect height in order to participate in mealtime, crafts, ect. Whether you prefer light colored wood, dark, or white, MOD Booster Seats come in many adorable colors and cushion designs.
In the winter time, my little girl LOVES playing in the snow. However, I always dread how long it takes to find and put on all of her snow clothes. That's why SnowOtter's StowSuit makes the perfect Holiday gift.
SnowOtter's StowSuit is the perfect all-in-one snowsuit for kids. What I love about the StowSuit is that the zippers keep the snow pants and mittens perfectly in place. No more looking for hours to round-up your child's snow gear. If your child wishes to wear the snow pants or mittens separately, you can quickly unzip each item. The StowSuit is compact, provides optimal warmth, and makes playing in snow a breeze. You'll love browsing the different StowSuit colors and knit hats; perfect for all boys and girls.
I am all about gifting fun and functional presents. The Bentley 6 in 1 Stroller Trike may be the coolest and most innovative stroller yet. What makes this Bentley Stroller Trike so unique is that it truly grows with your child; from stroller to trike, they can enjoy a luxurious ride sporting the Bentley logo wherever they go.
When your baby is smaller, they can go for a ride in the Bentley Stroller Trike with the ability to face mom or face forward. The rubber, air filled tires provide a smooth and effortless ride. As the child grows, you can adapt the swivel seat, footrest, canopy, and push handle to your child's specific needs. When your child is old enough to use their own trike, you can remove the push handle for the cutest Bentley Trike on the market. It will be a toss-up between mom and baby who will love The Bentley 6 in 1 Stroller Trike more! Visit Bentley Trike to browse various trike colors and ways to adapt the stroller trike.
Cool Tech They'll Love
Give your kids volume protected headphones to help them connect to the digital world and media in a safer way! With eKids you'll be able to find kid headphones featuring favorite characters they love including Super Mario Brothers, Pokémon, super heroes, Minnie Mouse, and more! They are easy to adjust to fit young children and give them the maximum comfort with a fit that goes over the ear.
These Bluetooth Portable Kids Headphones can be used wirelessly for up to 30 hours of battery life or can be connected with the included, detachable, 3.5mm audio cable! Your kids can even use these headphones to talk to grandparents with the built-in microphone that makes it easy to connect with loved ones in our digital world. Most importantly, these portable headphones help provide a safe listening experience with volume reduction that keeps loud volumes and sounds capped at a safe decibel level.
Give them their very own Codi the Storytelling Robot! This loveable friend is made with a soft silicone and has darling changeable outfits to bring his personality to life! He is preloaded with 130 classic stories voiced by engaging voice actors to help bring stories to life! They'll also love that Codi comes with 100 classic songs that will be fun to play or dance along to!
Codi does even more than just play stories and music, though. You can use Codi to help establish healthy routines and reminders to alert your child when it's time to brush their teeth, get ready for bed, when it's time for snack or whatever you choose! Then, use Codi the Storytelling Robot to send voice messages back and forth between a parents device! Codi will use WiFi to make the most of it's capabilities, but can use stories and music completely offline!
Shop for holiday gifts for all your loved ones! We've got ideas for school aged kids, tweens and teens, and adults too! Head here to view our other Holiday Gift Guide posts for the perfect gifts for everyone on your list this year.
Which of these gifts would your little ones love this holiday?