Teens and tweens are the hardest age group to buy for. At least for me. My mom has always been good at it. It seems when they get to that age group, they get a lot more picky. They no longer want the easy to buy little kid toys. It has to be trendy, it has to be fashionable, and that means it is usually more expensive.
If you are struggling to find the perfect gift for the teen or tween in your life, check out these awesome finds. There's something for everyone here that is sure to be a favorite on any kid's gift list.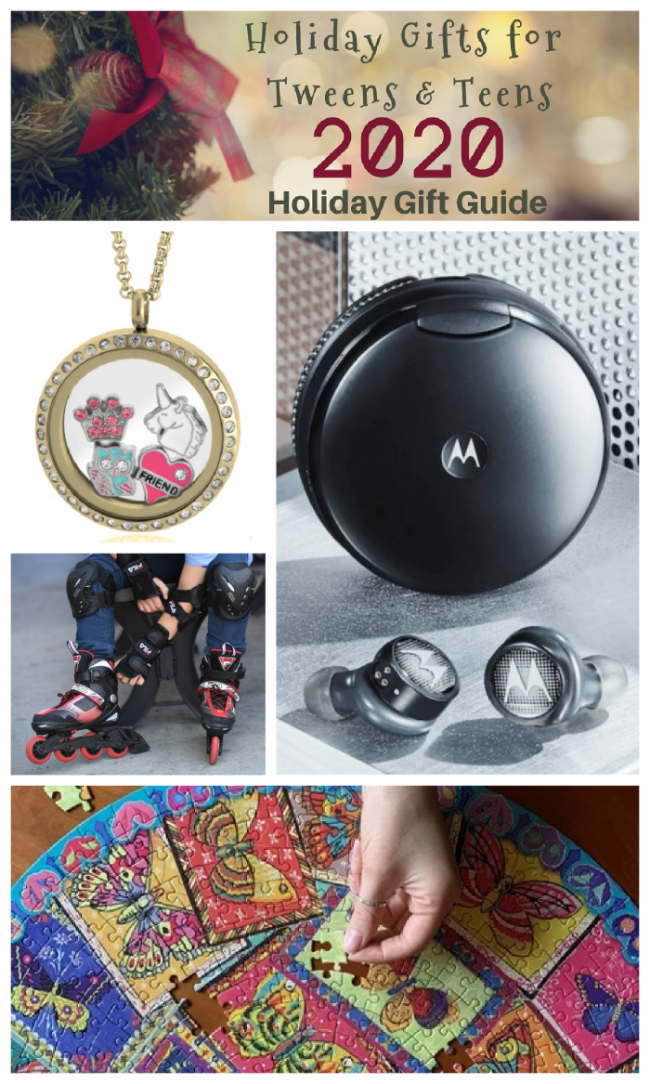 Holiday Gifts for Teens & Tweens
We received a variety of samples in exchange for this post. Affiliate links are included below. All opinions are our own.
Gifts to Develop a Skill
I'm all about gifting experiences and knowledge. Thanks to Skoove, you can gift your teen the ability to learn how to play the piano in the comfort of your own home; talk about the perfect way to social distance and still learn a new skill!
Skoove is an interactive online program that walks you through all of the basics to help teach you how to play the piano. You can learn at your own pace and receive all of the instruction needed to help you play songs that you will love. With Skoove, you'll learn how to read music, build cords, play songs, and so much more!
Who wouldn't love to show off that they can skate with ease? Roller Skating is still as fun as it ever was and with RollerSkateNation you can find the perfect indoor or outdoor skates and rollerblades to help your tweens and teens get moving! They have guaranteed fast shipping and the lowest prices to make picking the perfect skates out stress-free!
Try the FILA J-One Kids Adjustable Inline Skate that will grow with them and fit a range of sizes. These were really great for my boys as their feet grow out of shoe sizes so quickly! Or for teens, go for the FILA Legacy Pro 84 Inline Skates that are sized just right to fit their feet. No matter what you choose, it's sure to be a fun time for them to get out and skate!
Gift for Tech-Enthusiastic Teens
What tween or teen wouldn't love headphones or earbuds to listen to tunes, audiobooks and podcasts, or all the other content they love. Try Motorola's Tech 3 Smart True Wireless Earbuds that bring innovation and adaptability to make an affordable wireless earbud that can do it all! It's truly wireless with integration for Alexa, Google Assistant, and Siri.
Tech 3 Smart True Wireless Earbuds will last for up to 7 hours of battery and can be recharged in the small portable case to give you additional 3 hours of playtime with just a 15 minute charge. Or, enjoy unlimited playtime by connecting the headphones into your smartphone using the included audio plug-in. Look towards the Motorola Escape 500 ANC headphones for full headphones that have a rich sound and long playtime!
Most teens and tweens spend hours a day in front of a screen. From school to phones and video games, it all adds up. The blue light from all of those screens is not good for their little eyes. With all the screen time, it makes it essential to protect them by filtering the blue light. That is why Tifosi has come out with a line of gaming blue light filtering glasses.
Tifosi has been in the sunglass market selling many different styles and colors. Sunglasses, for everyday wear as well as for golfing, running and various other activities. Now, they have added the Tifosi Gaming line to their already great selection. You can pick from different colors, shapes and styles of blue light filtering glasses. If you don't like the color and style combinations, then you can even build your own. Protect their eyes from the damaging effect of blue light with blue light filtering glasses from Tifosi.
Video & Board Game Gift Ideas
Activision video games. With everyone stuck in their homes this year having nothing to do, video games are a big hit. For the video gamer in your life, Activision games are a great choice. Activision has many of the popular games that your teen and tween will know and love. Games like Tony Hawk's Pro Skater 1&2, where your kid can have a blast as a pro skater. Take their gaming talent to the half pipe and show off their ability to do tricks and stunts. Beat the levels playing as one of their all-time favorite pro-skaters.
Another great Activision game they'll love is Crash Bandicoot4: It's About Time. This action-packed, cartoon adventure awaits your teen or tween. In this virtual adventure, Crash and his sidekick Coco must keep N.Sanity from conquering this dimension as well as all of the other dimensions. Beat the challenges, ward off N.Sanity and save the universe. It's every kid's dream.
Get the kids out from behind their devices and gathered around the table with games from Winning Moves Games. Nothing brings family and friends together, having fun, like a board game or card game can. Games can teach kids strategy and critical thinking skills. They can bring laughter and good memories. With Winning Moves Games' selection, you're sure to find something they will love.
Winning Moves Games has a few new games that they will enjoy trying, as well as some classic favorites. Help your child learn how to play Chess with No Stress Chess. Kids can have fun stacking tiles and racking up points while trying to create shapes in Tile Up. Throw in some classics like the game of Life, Scrabble, Yahtzee, Risk or Monopoly. Whatever game will have them laughing, playing and creating memories together, Winning Moves Games has it.
They will love exploring the newly released open world action-adventure game Immortals Fenyx Rising by Ubisoft. You'll explore through the world as you discover unique regions that were inspired by the different Greek gods all across the Golden Isle. Climb enormous mountains or glide through the skies while completing quests and puzzles using your character's unique abilities. Then, tackle battles to upgrade your skills and continue growing in power!
You can find Immortals Fenyx Rising available now on Stadia, Xbox Series X|S, Xbox One consoles, PlayStation 5 and 4, Nintendo Switch, Amazon Luna, the Epic Games Store, and Ubisoft Store on Windows PC. It is also available as part of the Ubisoft+ subscription service. Immortals Fenyx Rising is rated T for Teen.
Creative Gifts for Tweens & Teens
A perfect outlet for teens and tweens is slowing down with something more creative! We love the products by eeboo! They have these really neat circular designed puzzles that give an extra challenge, and interest, with beautiful artwork that brings it all together. This Vintage Butterflies Puzzle features a colorful collage of butterflies across 500-pieces that all curve towards the center as you work to assemble the puzzle!
They also have beautiful sets with colored pencils and sketchbooks that are great for working out those tween and teen emotions. They'll love this Zodiac 12 Fluorescent Pencils and Sketchbook gift set! The 60-page spiral bound sketch pad will come to life with the vibrant florescent colored pencils! eeboo has a wide assortment of gifts for a variety of ages! Shop their entire Holiday Gift Guide to find even more creative gifts.
Gifts that they can create with are perfect for this year. Chalkola offers a variety of unique creative gifts that are sure to please all the tweens and teens on your list. Practicing some Hand-Lettering with one of the Chalk Markers Variety Packs will be hours of fun. They also have all sorts of other Art Supplies like Brush Pens, Paint Markers, Dot Markers, Chalkboards and more.
A Perfect gift idea from Chalkola would include a Chalkboard, cleaning-kit, and Pack of 30 chalk-markers. Chalkola is rewarding A Mom's Take readers with a 10% off promo code of MOMSTAKE10 so grab your gifts early this year!
STEAM Gift Ideas
They will love opening a unique Paint by Number kit from Winnie's Picks this year. These are not the simple paint-by-number pictures that you did as a kid, they are specifically made for the skill level of adults, so your teen will love the challenge. There is a variety of categories to choose from: famous paintings, landscapes, animal kingdom, vintage, etc. and offers a variety of skill levels.
One of the coolest things that Winnie's Picks offers is a Custom Paint-By-Number where you can upload any digital picture and they will turn it into a beautiful paint-by-number canvas for you to complete. Every artist will love receiving one of Winnie's Picks this year.
Turn to Thames & Kosmos for a wide assortment of fun and STEAM oriented gifts and games! Your budding engineer will love building and creating a Mega Cyborg Hand! As they building they will explore concepts of hydraulics, pneumatics, and robotics as they combine over 200 pieces and piston tubes to create a working mechanical hand that uses hydraulic power to simulate movement of a human hand! It's a perfect project for kids ages 10+ to work on by themselves.
One of my favorite game series from Thames & Kosmos is their EXIT line of escape room inspired games you can play in the comfort of your own home. They're so much fun and a great challenge! Perfect for your tween to work on with an adult or for teens to try as they solve riddles and puzzles and attempt to escape the game! Try the latest titles: EXIT: Theft on the Mississippi or EXIT: The Stormy Flight to get started!
Trendy Picks
You will never go wrong gifting oNecklace jewelry. With so many different styles, colors, accessories, and way to personalize each item, your teen will fall in love with these fashionable finds.
My daughter has been begging for a locket for Christmas. I can't wait to see the look on her face when she opens this Floating Gold Locket Necklace. Something that I love about this necklace, is that it gives a new twist on the traditional locket. You can choose the charms that are found inside of the floating locket; charms include unicorns, smiley faces, meaningful words, etc. oNecklace also offers a variety of customizable jewelry suitable for everyone.
Do you have a teen or tween that loves collectibles? If you have a collectible fan that loves Harry Potter, Star Trek, Lord of the Rings, DC or Universal Monsters, then we have the perfect gift for them. We found these super cool BendyFigs figurines.
BendyFigs are a brand new, hot on the market, line of collectible figurines. Each character stands approximately 7 inches tall. All BendyFigs figures include a removable display stand, so you can show off each character in the set on a shelf or in a display case. The characters are highly detailed and are able to bend. Being bendable makes them easy to manipulate and bend into the perfect pose for display. BendyFigs is a great present for trendy teens and tweens that love their favorite characters.
There's more in store! Head over to see the rest of our Holiday Gift Guides including great gift suggestions for babies and toddlers, school aged children, men and women and more!
Which of these holiday gift ideas would your tween or teen love best?