Get ready to shop for your 5-10 year-old's in this gift guide specially geared towards school aged children! We're sharing hot toys, engaging STEAM and educational gifts, stocking stuff ideas, and more! In this School Age Holiday Gift Guide you'll find a variety that will help you find a great gift for all the kids on your shopping list!
Holiday Gift Guide for
School Aged Boys & Girls
We received a variety of samples in exchange for this post. All opinions are our own.
Exciting Toy Gifts for Kids
NASCAR is a favorite past time for kids and adults. The roar of the engines, the shiny sleek design of the cars and the speed as they race to the finish. My boys have always enjoyed going to NASCAR with their grandpa. Now, Far Out Toys has brought that love of NASCAR to their toy line with NASCAR Adventure Force Crash Racers.
Your kid will love Far Out Toys Crash Racers. They can spend hours building their track and racing their cars to the finish line. With all the pieces in the box, they will be setting up the track, cones, barrels and more. These Far Out Toys motorized electric crash cars fly around the track. But be careful, they may crash and break apart! Then they can rebuild and race again and again. For hours of racing, wrecking and rebuilding, grab Crash Racers from Far Out Toys. Check out their other super fun toy options while you're there.
Let them explore, play, and create their own adventures with Playmobil! The exciting Novelmore Fortress will keep them busy for hours. It includes a full 2-story fortress complete with a working catapult, crossbow, and more surprises to discover like a pulley to transport supplies! The set includes a variety of ready-for-battle characters including four figures, a horse and a wolf, and a variety of accessories to make the set come to life!
With Playmobil, there are darling playsets for every interest and fascination! Choose from Christmas themed sets or explore dinosaurs, dwarfs, pirates, history and so many more creative themes! You'll also find a full series of city life playsets to explore and replicate their everyday life through play!
What child wouldn't be excited to open one of the amazing dart blasters from Buzz Bee Toys this year? My boys and girls love getting the newest dart blasters and it creates fun battles all through their Christmas break. The Adventure Force Rebel Mech with its rapid fire 30 dart drum clip will bring the battles up a notch. Your child will love unwrapping one this Holiday Season
In fact, the entire family will love opening up the Arsenal this year. You may think that your kids will be the most excited, but I can guarantee the adults will be just as excited for an all out dart blaster battle Christmas morning! You'll find a dart blaster for everyone at Buzz Bee Toys and Walmart.
Kids will be creating for hours and hours with Relevant Play's Mad Mattr kits this Holiday Season. Endless creations over the holiday break with the soft building compound that never dries out! Mad Mattr has fantastic pretend food activity kits with their Ice Cream Store, Bakery and Burger Shop. No other ingredients needed-they can play with it right out of the box!
Parents will love gifting the Ice Cream Set this season. Not only will the kids enjoy the easy molding and shaping that Mad Mattr gives, but the clean-up is so easy with no sticking or staining! Our entire family can create with the Mad Mattr Bakery! Of course it is known as "The greatest Mattr in the Universe!"
Board & Video Game Gifts
If you're looking for fun video games as gifts, check out the wide selection of games designed around favorite movies and characters by Outright Games! Your children will love diving into the adventure of Jumanji The Video Game. Recover the jewels and try to escape with up to 4 players including support for online play or solo with AI companions.
In Trollhunters Defenders of Arcadia, you will try to defend Arcadia while venturing through the Trollhunter Universe. Upgrade armour and boost the characters ability as you navigate throughout an action-packed adventure game! Then, turn to Dreamworks Dragons Dawn of New Riders that takes you to the skies! Fly on your dragons back as you help to defeat the evil villains who destroyed a dragon sanctuary. Outright Games can be found across a variety of platforms including Playstation, Xbox, Nintendo, and Steam!
If you have video games in mind for your kids this year, extend the fun with some non-tech video game inspired toys they are sure to love! Fun.com makes finding exciting gifts easy. Just browse by interest, ocassion, or recipient and you'll find really unique and fun gifts for all ages. We're loving their video game themed plushies like this 12 inch Zelda Breath of the Wild Link Plush. It's so detailed and soft and oh-so-darling!
They can recreate the battle scenes from their favorite video games with this Legends of Zelda Link Sword or an Ahsoka Accessory Lightsaber. I've yet to meet a boy that doesn't love to play with swords (and lightsabers) as they pretend to battle. It's one way to get them off of tech and still having fun with the world of games they love so much!
Give them a screen-free way to enjoy time together with these two fun board games from Playroom Entertainment. In CuBirds you'll take turns taking tricks trying to be the first to build a flock of cards featuring a beautiful array of birds. It plays with 2-5 players so it's perfect for siblings and for the whole family to play! There are two different ways to play for even more flexibility and fun.
Then, take on the exciting and fun challenge of flipping burgers! In Burger Academy you'll attempt to make the perfect burgers – in as few of moves as possible! The 19 foam burger parts are eye catching and unique making this a game everyone will be talking about. It plays with 1-6 players making it perfect for solo play or for a group! Playroom Entertainment has a variety of fun games for families including the new release RingMaster: Welcome to the Big Top!
My daughter LOVES all things L.O.L Surprise! From dolls and pets to journals and smartwatches, there are adorable L.O.L.Surprise! toys and accessories that fit every little girl's Christmas wishlist.
What makes L.O.L Surprise! dolls so much fun is unboxing each and every surprise! The L.O.L Winter Chill Dolls comes with 25 surprises; shoes, accessories, bags, and a fashionable doll. The L.O.L. Surprise! Smartwatch does SO much more than just tell time; your child will love using this watch to play games, take photos, record videos, and so much more! Another fun L.O.L. Surprise! product is the fashion journal. Can you believe how many fun L.O.L. Surprise! Christmas picks there are?
STEAM Educational Gifts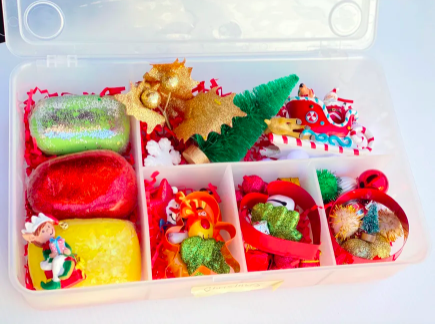 One of my goals this Christmas is to give my children gifts that can keep them entertained (without mom having to entertain them). Perfect for exploring, creating, and learning through play, Busy Box Child's Activity Kits will provide hours of entertainment for your kids.
Created in a variety of themes, each Busy Box Child Activity Kit comes with colorful play dough and themed objects to help stimulate your child's senses. Best of all – it comes in this cute container with a lid that keeps everything together in one place. Although it's hard to choose a favorite theme, my kids absolutely adore the Unicorn Fun Kit, Mission Space Kit, and the Family Pet Kit. What Busy Box Child activity kit are you most excited to try?
Unplugged entertainment makes for great Holiday gifts! This year, I plan on keeping my little ones busy and entertained through Tiger Tribe's fun activity kits. Tiger Tribe has a variety of fun activity kits for children of all ages; not to mention, they help save Australian wildlife!
Each activity kit comes equipped with all of the activity materials needed – crayons, pictures, stickers, etc. Whether your little one loves exploring the outdoors, coloring mermaids, or unicorns, there is an activity set for every child. With each toy kit less than $20, your little one will love each and every activity.
This year your children will be learning while they are having fun when they receive GeoMag toys. STEM and learning are built into the various magnetic mechanics that GeoMag offers. Truly something for all ages!
The GeoMag Mechanics 86 Magnetic Motion set will have your child building and inventing constantly. There are so many different creations to invent, the possibilities are endless. They will discover magnetizing, rotating, and chain reactions as they build over and over again. I love toys that my kids don't get sick of after a week of playing, and GeoMag is definitely one they will play with throughout the year.
Kids Stocking Stuffers Ideas
Books are one of my favorite holiday gifts to give my children! When they're over the buzz and excitement of a new toy, there's nothing better than a little downtime with a good book from Scholastic! They can read Roald Dahl's original masterpiece, The Witches, in a brand new format! The Witches Graphic Novel comes just in time for the movie adaptation coming in 2021. Another popular new graphic novel is The Invasion Animorphs Graphix #1 that takes a wildly popular series to a new format!
Get your child hooked on a new series like Eerie Elementary that's part of the Branches line perfect for newly independent readers! It's a funny read about an elementary school that comes to life! Or try The Bad Guys hilarious book set that feature supposed bad guys doing good deeds (whether you want them or not!) It will have them laughing out loud, my 10 year old's review was, "It's definitely really funny!"
The coolest stocking stuffers this year will be the World's Smallest toys from Super Impulse. These are some of the favorite retro toys in completely working, tiny form! You can find the World's Smallest Kerplunk Game, or the Tiny Arcade Teenage Mutant Ninja Turtles which will have you and your kids playing some of your favorite vintage games.
Super Impulse also carries Wacky Packages Minis which are 3D puny products based on actual household products. They even come with their own trading cards. Your child will also love their Micro Action Figures which include Masters of the Universe and TMNT and more! World's Smallest Toys will be a HUGE hit in stockings this year!
If you're not yet done with your holiday shopping, continue on to our Holiday Gift Guide landing page to find more perfect gift ideas for everyone on your shopping list!
Which of these gifts would your kids most love to receive this holiday?