It's that time again, time to start back up the routine that a school year brings and get your family ready for a full year of learning and fun as they head back to class. There are a few simple things your family can do to turn your school year from rushed and hectic to an amazing school year for the whole crew! The secret is in planning efficiently for your time and making sure expectations are clear upfront. Let's get started with these tricks and school hacks!
This is a sponsored post with Jet.com. All opinions are my own.
10 Amazing School Hacks
1. Get Ready the Night Before – Prepare lunches, layout the next day's outfit, fill out water bottles and have your snack in your backpack and ready to go. This is the single most important thing, I can't stress enough what a difference getting prepared the night before makes on the next day running smoothly. We even go as far as making sure my boys have lined up their shoes on top of the shoe shelf. No more running around hunting for a shoe when you're running late! I make it as easy as possible for my boys to help, and the Glad Fold-Top Sandwich Bags are so easy for them to handle!
2. Organize Everything – Have specific spots for everything your children will need for the school day. For us, that means we have a place to hang their backpack, designated spot in the fridge for lunchboxes and water bottles, even a specific spot for their school folder!
3. Plan Clothes for a Week – Take a few minutes over the weekend to have your child pick out all of their outfits for the week. This eliminates those times when your child comes to tell you last minute that they have no clean underwear or no shirts left in their drawers. This is an extra important step if you have to wear uniforms. We include everything they'll need when planning for the week – including socks and underwear!
4. Make Breakfast Easy – Have quick and easy breakfast options ready for those in a rush days to keep your day moving smoothly. When you find you have a bit of extra time in the morning you can use those mornings for the homemade omelets and breakfast skillets. Otherwise, stick to cereal favorites like Cheerios, toast, yogurt, pop tarts, Quaker Instant Oatmeal, or even Nature Valley Crunchy Granola bars. A quick oatmeal with a crumbled up granola bar is delicious, filling, and so fast! Have at least one option that's a grab-and-go breakfast for when you're late!
5. Unload the Backpack ASAP! – Have your children unload everything from their backpack when they step into the door on their way home from school. Water bottles get refilled and put in the fridge. Lunchboxes get lined up on the counter to remind us to make lunch for the next day. Folders and notes from the teacher are placed on the table for mom or dad to go through.
6. Set a Time for Folders – Once my boys have unloaded everything from their backpacks and put away their shoes and anything else they are toting along with them, I give them a little bit of time to unwind. I'll look through their school folders and planner and get an idea of how much homework or study time they'll need each day. After they've had a chance to relax and be kids, I'll have each of my kids come sit with me at the table and go through their folder and get them started. I'm usually in and out after that working on dinner or tidying up, but my kids can ask for help as needed.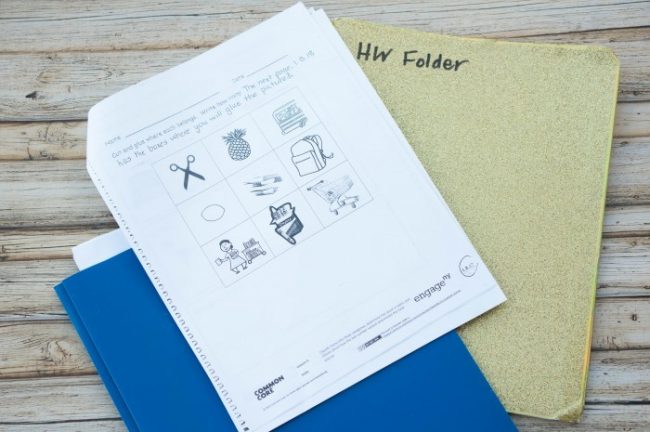 7. Have After-School Snacks Ready – Kids always come home from school hungry and clambering for a snack. If you have snacks ready to go and easy to access, the rush into the door will go smoother. I like to keep some fridge snacks with easy to access and pantry snacks that are easy to grab and go like Snyders of Hanover 100 Calorie Pack Pretzels or Motts Original Applesauce. It's fun to through in an exciting snack once in awhile, like Oreo Mini Cookies!
8. Read Aloud Together – The best thing you can do together as a family is read together. It will help your children meet their reading logs and assignments and give you a platform for conversation to blossom. Reading does wonders for their ability to learn new words and create their own imaginative worlds. We're really excited to start The Giver and Flora and Ulysses as a read-aloud this school year!
9. Out-the-Door Backpack Check – One last thing before you head out the door is peek inside their backpack and make sure they didn't forget anything. My boys are notorious for forgetting something, anything, no matter how many times I've asked them. I'm always surprised by what a quick backpack check will reveal. This ensures your kids have everything they need for the school day (and no return trips with a forgotten lunchbox or homework).
10. Have an Early Bedtime – My boys have a 7:00 pm bedtime. It's early. The reason their bedtime is so early is because my boys have a long, busy, full day while at school. They need sleep, and lots of it for their ages. Often, they'll stay up in bed reading a book or chatting with each other for an hour or so. That means, even when they dawdle before bedtime, they're still getting in enough sleep to leave them well rested for the next day.
Bonus Tip: Save time and energy with all your back to school needs with Jet.com. They offer a really neat way to shop! Everything you add to your card lowers the everyday low prices! It reminds me of buying in bulk, but customizing your "bulk" to fit your family needs.
Everything in your order is delivered in just 2-days, making it perfect for restocking for the snack supply you're running low on and that replacement water bottle you'll need when your kids lose theirs, or whatever else it may be that you need – Jet.com has it! They carry thousands of items including household basics like sandwich baggies and paper towels to other items for fun and for the home. Jet.com offers free shipping on all orders over $35.
When you no longer have to worry about that mid-week shopping trip to stock up on lunch supplies or a new pack of kids socks, your whole week will go better! Turn to Jet.com and get ready for an amazing school year! Here's what we stocked up on for the Back to School year:
Breakfast – Cheerios Cereal / Quaker Instant Oatmeal / Nature Valley Crunchy Granola Bars / Pop Tarts
Lunch/Snacks – Glad Fold Top Sandwich Bags / Jif Peanut Butter / Motts Original Applesauce / Snyders of Hanover 100 Calorie Pack Pretzels / Oreo Mini Cookies
Favorite Read-Aloud Books – The Giver / Flora and Ulysses The Illuminated Adventure / Mercy Watson Fights Crime