I received Hapari Swimwear in exchange for this post. All opinions are my own.
Swim suit shopping is not my favorite activity. I think a lot of people feel that way. I always thought that when I got older and had kids I would hate swimsuit shopping because of my weight or body type, I was so wrong. After having kids my body changed, and I am more than okay with that. Sure I would love to have a toned, flat stomach, but at the moment that is not the case! I may not be as skinny as I once was but I will take a few extra curves if it means I get to have my kids in my life. I hate swimsuit shopping for an entirely different reason!
The thing I hate about swim suit shopping is trying to find a suit that is mom friendly. One that lets me move freely while chasing my kids around the splash pad. One that lets me bend over to pick up a baby without exposing anything I don't want to! I need a suit that makes me confident in it's ability to stay put while I actually swim, not one that simply looks good while laying on a beach chair!
Hapari Swimwear came to my rescue this year! Their suits are so cute. I was so excited to find a wide variety of styles and colors. I choose the Red Diamond Dot V-Neck Tankini Top ARV $59 and I love it! It is bright and flattering. You can tell that it is made from high quality fabric and will last for a really long time. My favorite feature? The straps can be tied three different ways: as a halter, criss-cross, or tank!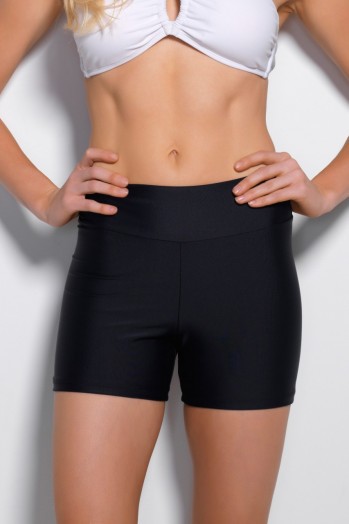 The real stand out from my purchase are these swim bottoms. These are called the Black Tummy Tuk Swim Shorts ARV $35, and they are the most amazing invention! Think swim bottoms meet shape wear, hello! Best idea ever! So no, I do not have flat, toned abs, but at least my shorts conceal my post baby belly that I am still working off! They are amazing shorts and so comfortable plus they have great coverage.
I am so happy with my Hapari Swim Choices, next year I plan on getting a different top and bottom set that can be mixed and matched with the ones I got this year. That way I have more options! This suit totally allows me to move and be a mom while swimming with out worrying about a wardrobe malfunction! Hapari suits can be bought online here and vary in price depending on what items you choose.