If you are looking for a quick and simple breakfast idea for your kiddos, this Fruity Pebbles Yogurt Parfait is exactly what you need!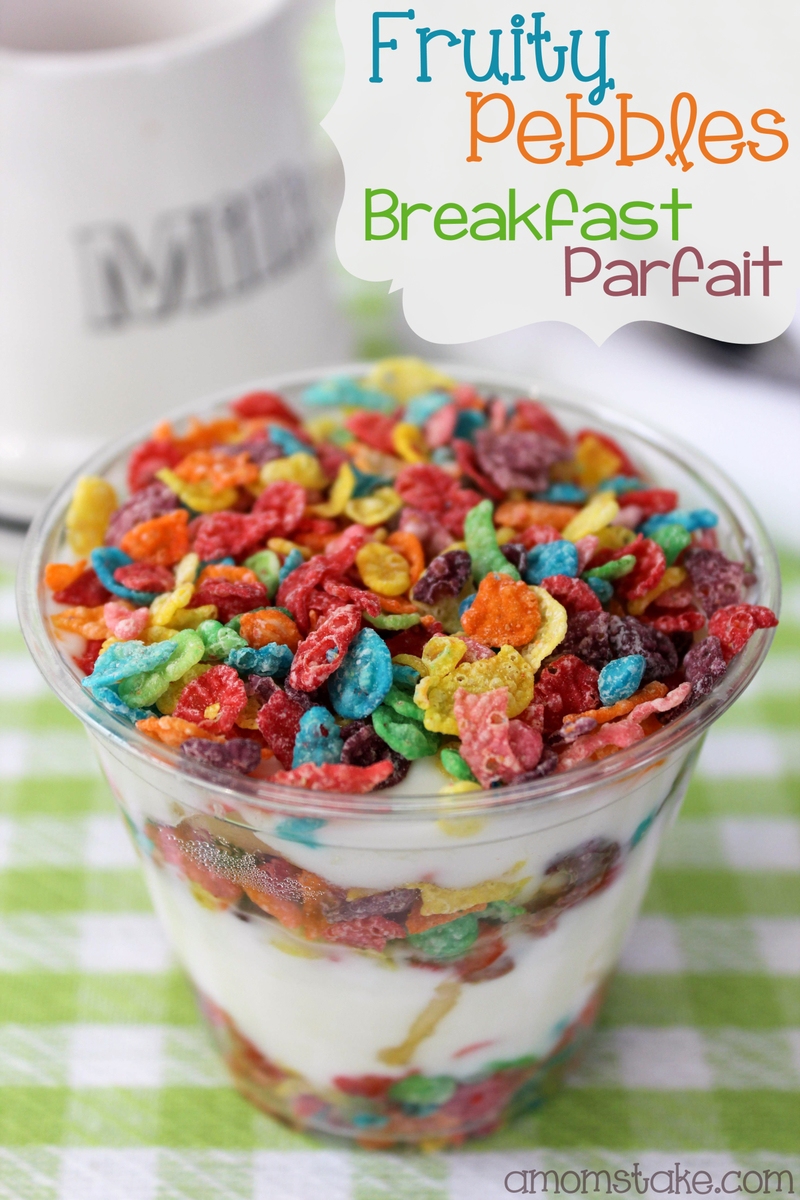 Click HERE
to save this recipe on Pinterest!
Not only is this recipe tasty (and colorful!), it's so simple to make, and even more simple to eat!
Everyone in your house will go crazy for this breakfast parfait!
Affiliate links are used in this post.
Fruit Pebbles Yogurt Parfait
I love yogurt parfaits. Even better, my kiddos love them. But truth be told, eating the same type of parfait or breakfast each and every day can get a bit old…This is why I LOVE this fruity pebbles yogurt parfait!
It's just "different" enough, to be something new for my kiddos to love while still getting the healthy ingredients of yogurt and bananas into their tummies.
And the best part, it's ridiculously easy to make!
How to Make a Fruity Pebbles Yogurt Parfait
First, gather up all your needed ingredients. (Don't worry, there's only a few!)
Once you have those 3 (yes, just three!) simple ingredients ready to go, you're already halfway through with the recipe!
Start by adding a layer of cereal to the bottom of the cup. You'll just want a little bit, like 1/2″ or to your preference. Just enough to give the bottom a "crunch".
Next, add a layer of sliced bananas on top of the cereal. Maybe about 1/3 of the banana sliced thinly.
Now, you'll add a layer of yogurt. (Add as much as you need here as there's a lot of goodness in yogurt!)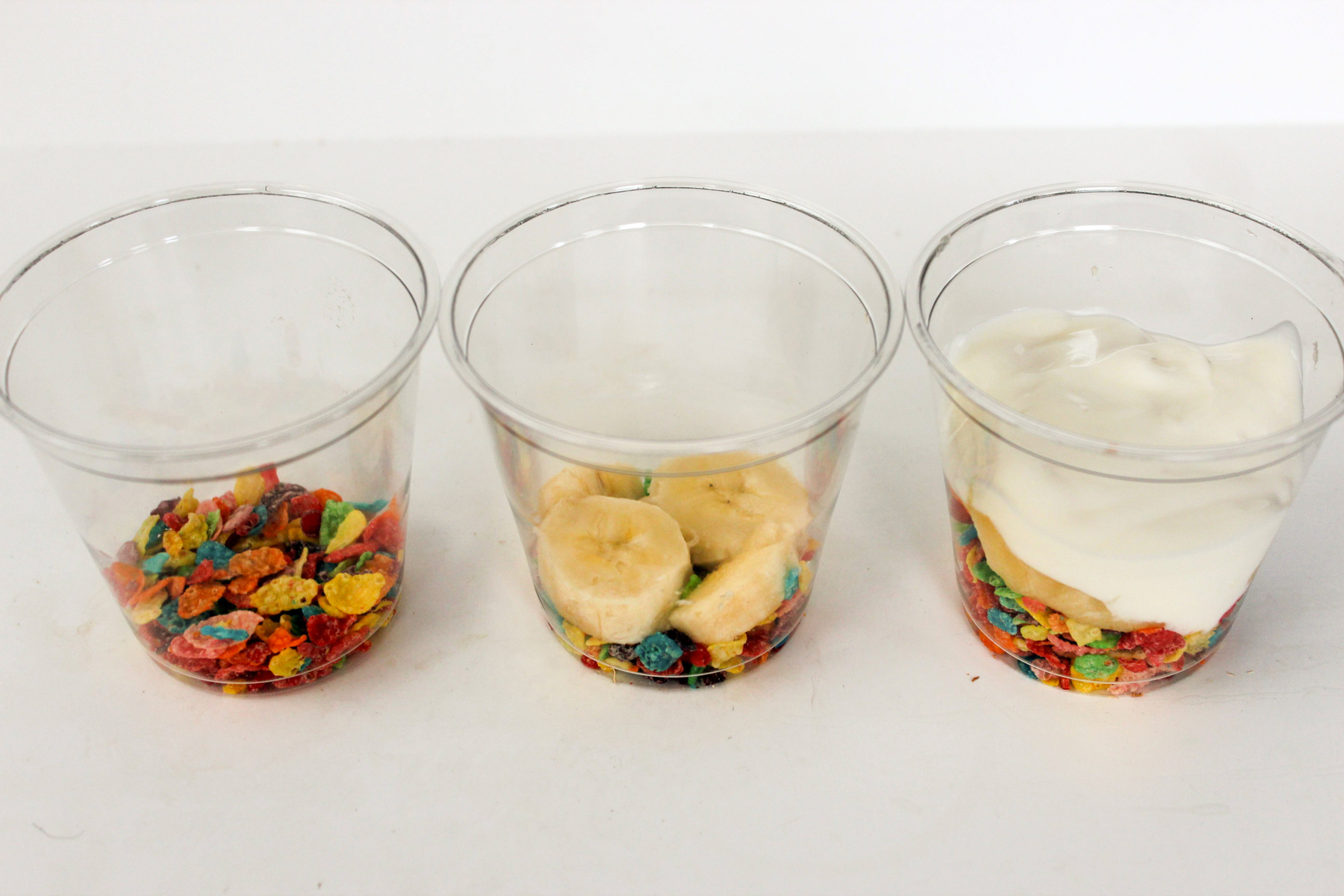 Repeat your cereal, banana, yogurt layers one more time, if you have room in your cup.
Top with a final layer of cereal only. Fill it to the top! Don't leave any wasted space inside that parfait cup!
Now, it's ready to enjoy! Get those spoons ready because your kiddos will be digging in in no time!
You can also stick the parfait treats in the refrigerated until you are ready to serve. (Keep in mind the cereal on the bottom may get soggy by doing this)
I like to keep this recipe in my back pocket on days that we're just a little scattered. You know what I mean, right?
Those mornings when we maybe woke up just a little too late…or when I don't have time on my end to cook up anything else. This yogurt parfait is made for those mornings!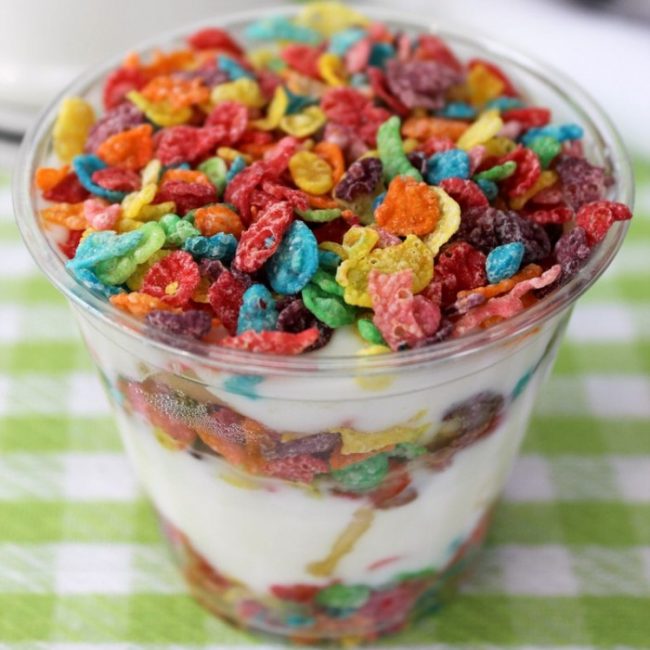 FAQS about Breakfast Yogurt Parfaits:
Q: What fruits can I use in a yogurt parfait?
A: We use bananas in this yogurt parfait, but strawberries work wonderfully as well! Or really, any type of fruit that your kids enjoy! Try sliced grapes, blueberries, or raspberries.
Q: Can I substitute with a different cereal in this breakfast parfait?
A: Of course! The options are truly endless with this yummy yogurt parfait!
Q: Can you make a yogurt parfait with greek yogurt?
A: Yes! That's one of the best parts about this yogurt parfait, you can alter it to any type of dietary needs.
Don't be afraid to experiment and share your experiences in the comments to help others that may have the same question.
If you love this Fruit Pebbles Parfait recipe, spend a few minutes to see these other breakfast recipes that will be an
amazing part of your recipe collection!
Connect with A Mom's Take on your
favorite social channel for more recipes!
You can find us on:
Instagram | Facebook | Pinterest | YouTube | Twitter
Fruity Pebbles Yogurt Parfait
Click below to print/save this recipe or pin it to bookmark!
Fruity Pebbles Yogurt Parfait Recipe
Healthy breakfast that is filling and easy to make, with just 3 simple ingredients.
Author:
Janel at A Mom's Take
Ingredients:
Vanilla Yogurt
Fruity Pebbles
Bananas sliced
Directions:
Pour a layer of cereal into a cup.
Add a layer of slice bananas.
Add a layer of yogurt.
Repeat all 3 layers a second time.
Then add a final layer of cereal on top.
Keep refrigerated until ready to serve.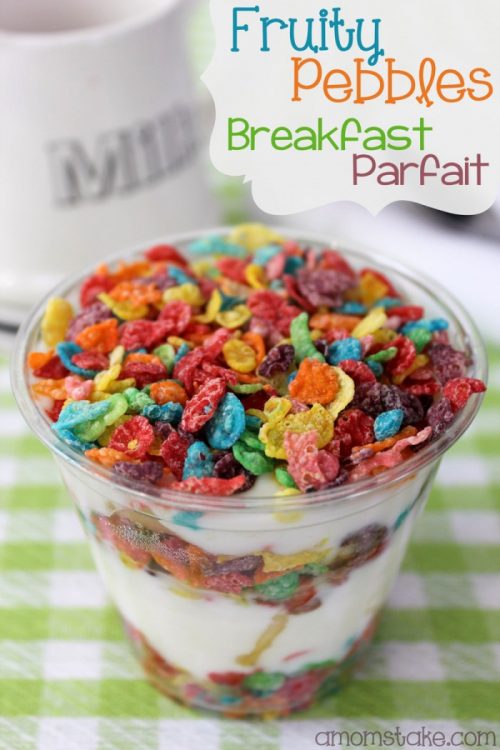 What kind of layered yogurt parfait would you make?